---
Gold Soars, Credit Cracks, Stocks Sink As Putin, Powell, & The President Pontificate
Today was a microcosm of the week with headlines dominating the swings as traders focused on what Powell will do, what Putin has done (or not), and what the President will threaten to do, and what chaos they will unleash...
Somewhat predictably (ahead of a 3-day weekend), today was a chaotic mess of headline-chasing in US equity markets.
OVERNIGHT Rally: Lavrov Agrees to Meet Blinken, U.S. Says
Then:
0809ET *DONBAS SEPARATISTS SAY WOMEN, CHILDREN TO LEAVE FOR RUSSIA: IFX

0838ET *PUTIN: RUSSIA ISN'T AGAINST TALKS ON U.S. SECURITY PROPOSALS

0845ET Russia creating 'false provocations' in Ukraine in past 24-48 hours: Blinken

1040ET *FED'S EVANS: POLICY WRONG-FOOTED, NEEDS SUBSTANTIAL ADJUSTMENT

1049ET *ECB OFFICIALS EDGE TOWARD 2022 RATE HIKE TO STEM INFLATION

1100ET ITAR-TASS: Powerful explosion rocks downtown Donetsk — Donetsk News Agency

1107ET *BIDEN CALL WITH TRANSATLANTIC LEADERS SET FOR 2:30PM ET

1240ET *WILLIAMS: HAVE ROOM TO TRIM BAL SHEET MORE QUICKLY THAN BEFORE, SEES FED MOVING TO NORMAL RATES QUICKER THAN '16, '17

1256ET *DRAGHI: DISCUSSED WITH PUTIN INCREASING GAS SUPPLIES TO ITALY (just made us laugh)

1448ET *BELIEVE RUSSIA BEHIND CYBERATTACKS ON UKRAINE BANKS: NEUBERGER

1510ET *BRAINARD: I BELIEVE WE WILL TURN NEXT TO BALANCE SHEET RUNOFF

1515ET *U.S. BELIEVES RUSSIA POSITIONED FOR UKRAINE ATTACK: PSAKI

1555ET *SUBSTANTIAL PROGRESS BEING MADE IN IRAN NUCLEAR TALKS: PSAKI
All of which erased the Blinken bounce and sent stocks into the red for the week, before a mid-afternoon buying panic ensued to take stocks back perfectly to unchanged before selling off into the long weekend...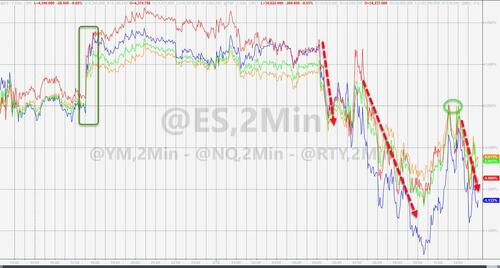 The Dow and Nasdaq were the week's biggest losers...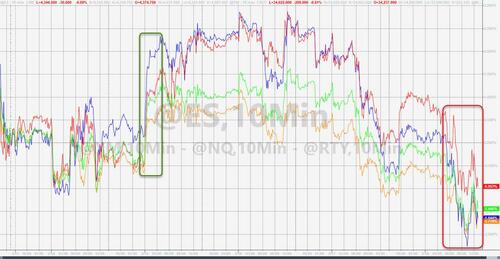 Notably this week's weakness took the S&P, Dow, and Nasdaq down to their YTD closing lows from Jan 27 - which is where everything bounced today...
ROKU crashed 22% on the day - with record volume - to its lowest since June 2020...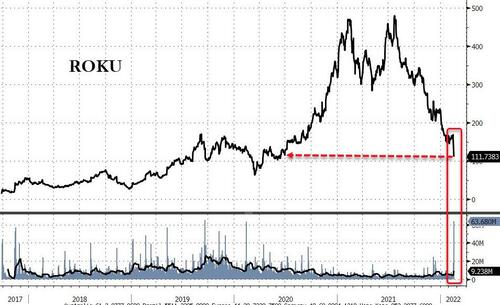 Source: Bloomberg
DraftKings was clubbed like a baby seal today to its lowest close since April 2020...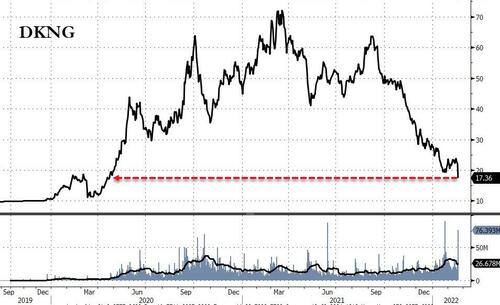 Source: Bloomberg
Interestingly, as stocks fell, so did rate-hike expectations with the market now pricing in less than 6 hikes by year-end and only a 25% chance of a 50bps hike in March...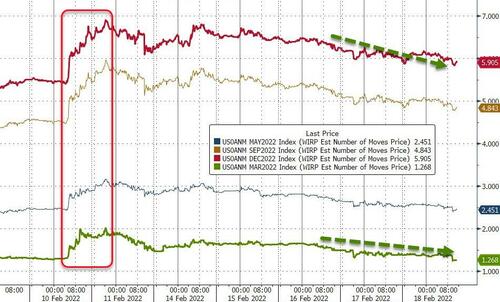 Source: Bloomberg
Credit markets blew out further this week (HY spreads up for the 4th week of the last 5 to their widest since early Dec 2020)...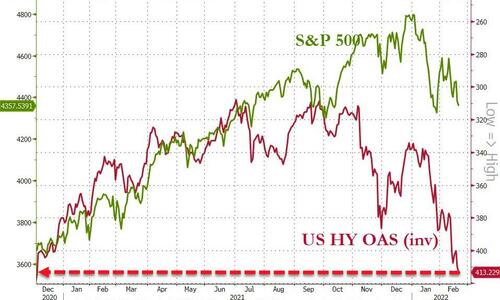 Source: Bloomberg
... as higher new issue concessions...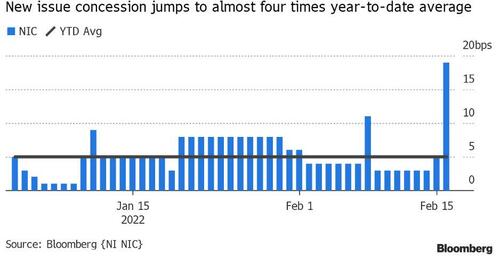 ...and significant fund outflows and spreads popping above the five-year average are signs of stress.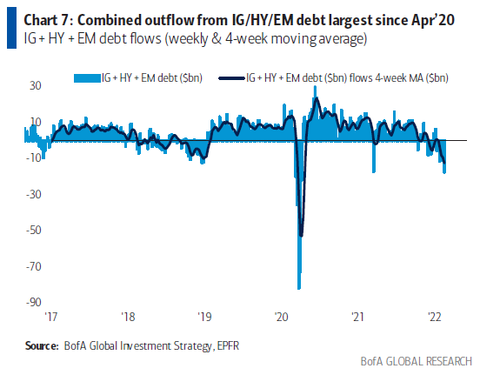 All of which leaves credit risk notably decoupled from equity risk (as presumably investors still believe The Powell Put will rescue them)...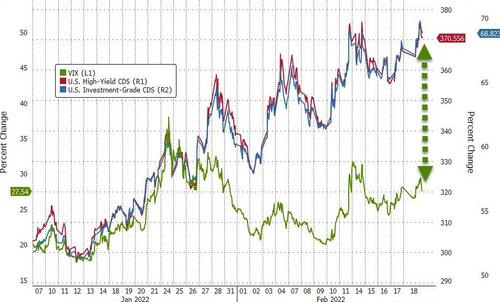 Source: Bloomberg
The week was a roller coaster for Treasury yields as early weakness gave way to an aggressive bid in the latter half of the week with the short-end outperforming and the long-end unch...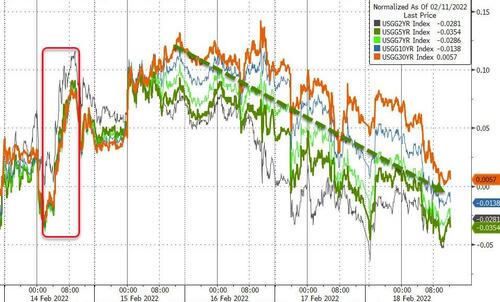 Source: Bloomberg
The 10Y yield tested above 2.00% again but could not hold it...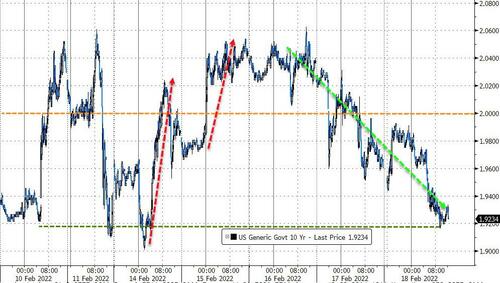 Source: Bloomberg
The Dollar ended the week marginally lower...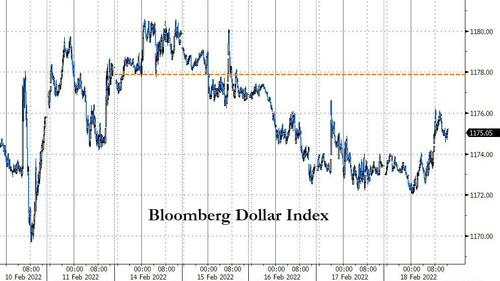 Source: Bloomberg
The Ruble was volatile this week with the last two days seeing the currency get hammered lower, near key support...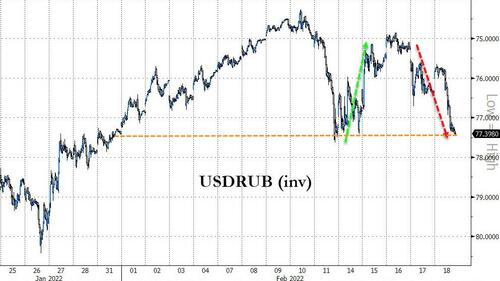 Source: Bloomberg
Crypto had another tough week as its correlation with big-tech continued to rise...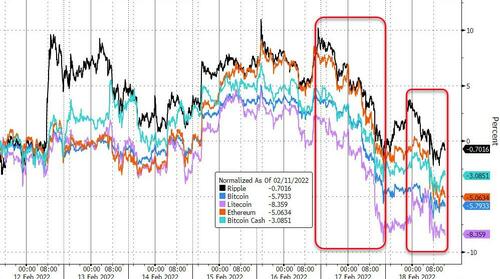 Source: Bloomberg
Gold rose for the 3rd straight week, rising over 3% - its best week since May 2021, rising back above $1900, its highest since June 2021...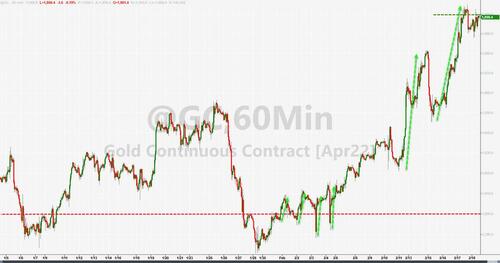 Source: Bloomberg
This is the best 3-week jump in gold since Aug 2020.
Interestingly, amid all the chaos on the Ukrainian border, oil suffered its first weekly loss of the year as optimism over Iran nuclear talks (and the subsequent supply) sent prices lower. It was a chaotic week however as traders came to terms with the push/pull of Russia/Iran headlines...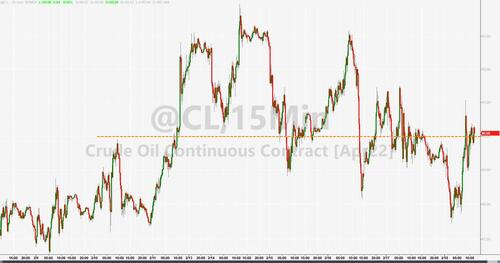 Finally, consensus estimates provide a median probability of a recession in the next 12 months at 15%...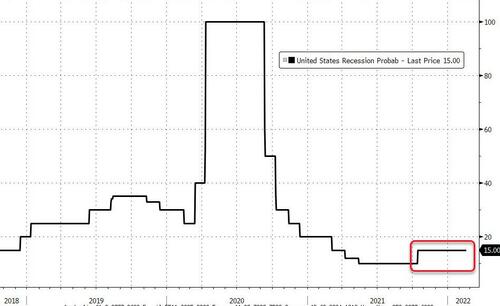 Source: Bloomberg
With quite a distribution (from Guerilla Capital's 60% odds to SocGen's 5% odds)...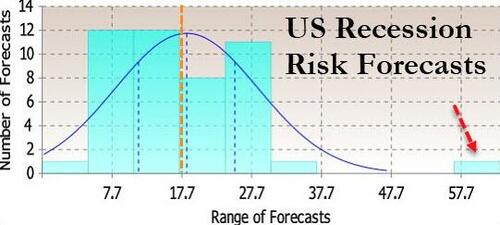 Source: Bloomberg
JPM real-time recession tracker shows about an 18% chance of a recession over the next 12 months but rises to 40% over the next 2 years, 60% over the next 3 years, and almost 80% over the next 4 years.
Which may help explain why the market is already pricing in rate-cuts (even more shocking is the fact that the end 2024 rate is below the end 2022 rate!)...screaming recession...
Source: Bloomberg
What have you done Mr.Powell?!