---
Goldman Announces Formation Of New Crypto Trading Desk
2018 was not a good year for bitcoin, and for cryptos in general: after hitting an all time high of (only) $20,000 in December of 2017, much of the remainder of 2018 was spent with the crypto bubble deflating, with early crypto investors first casually than fervently taking profits and dragging the price of cryptos ever lower. The punchline came in September, when as we reported at the time Goldman - clearly disappointed with the lack of upside momentum - suspended its fledgling crypto trading desk plans...

... sending bitcoin tumbling back below $7000. In retrospect anyone who bought then can now retire.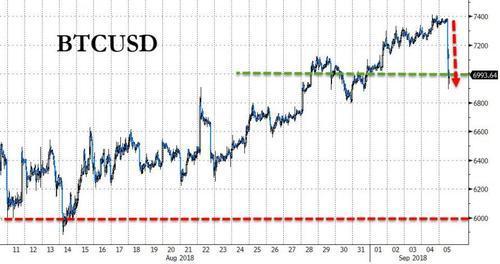 But fast forward a little over two years forward when following the 8-fold increase in the price of bitcoin since Goldman's cowardly exit, the bank - which has lost some of its top executives in recent weeks - has made a less than triumphant return and as we reported back in March, had restarted its cryptocurrency trading desk effort and was preparing to deal bitcoin futures and non-deliverable forwards for clients from next week.
As of today, this effort is complete with Goldman's Market Division officially announced the formation of the firm's cryptocurrency trading team which will be part of Goldman's Global Currencies and Emerging Markets unit, and reports directly to Rajesh Venkataramani, the head of Goldman's GCEM Foreign Exchange Options Trading.
As part of the initial launch, Goldman said it had successfully executed Bitcoin NDFs and BTC future trades on the CME on a principal basis, with all cash settling. The bank said that it is selectively onboarding new liquidity providers to help expand the firm's offering.
Furthermore, Bloomberg yesterday reported that as part of its NDF derivative offering, Goldman then protects itself from Bitcoin's volatility by buying and selling Bitcoin futures in block trades on CME Group Inc., using Cumberland DRW as its trading partner. Goldman, which still isn't active in the Bitcoin spot market, introduced the wagers to clients last month without an announcement.
"Institutional demand continues to grow significantly in this space, and being able to work with partners like Cumberland will help us expand our capabilities," said Max Minton, Goldman's Asia-Pacific head of digital assets. The new offering is "paving the way for us to evolve our nascent cash-settled crypto-currency capabilities."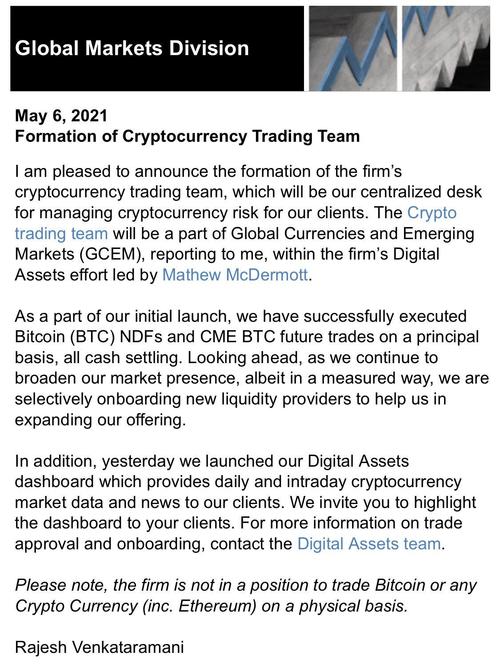 After Wall Street initially shunned cryptos, with Jamie Dimon's infamous 2017 outburst slamming bitcoin now in the running for the dumbest thing ever said by a bank CEO, soaring client interest and Bitcoin's astronomical gains - reaching a high of almost $65,000 in April - have turned most bankers around, with Morgan Stanley making a Bitcoin trust product available to its customers and JPMorgan working on a similar offering.
"Goldman Sachs serves as a bellwether of how sophisticated, institutional investors approach shifts in the market," said Justin Chow, global head of business development for Cumberland DRW. "We've seen rapid adoption and interest in crypto from more traditional financial firms this year, and Goldman's entrance into the space is yet another sign of how it's maturing."
Goldman Sachs may next offer hedge fund clients exchange-traded notes based on Bitcoin or access to the Grayscale Bitcoin Trust, Bloomberg reported.
"The crypto ecosystem is developing rapidly," Chow said. "There is progress being made in offering ETFs, new custody providers coming online and optimism that regulatory efforts are coming into focus. It's a great time to be in the space."