---
Goldman Axes Credit Card Bet On Subprime Americans
Goldman Sachs' credit card business, anchored by the Apple Card since 2019, has arguably been the company's biggest success by lending to America's sub-660 FICO population. Goldman has since wanted to develop its own credit card for retail customers, but as CNBC just learned, the idea has been scrapped.
After the COVID money drop and various moratoria on payments/bankruptcies/delinquencies, Goldman thought it was well suited to be the next big subprime lender to people with credit scores below 660 on the commonly used FICO scale.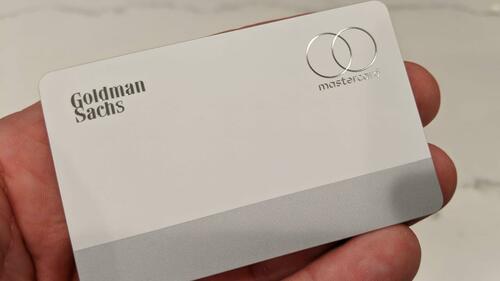 But as we explained last year, there was a major canary in the unsecured lending coal mine. Goldman reportedly "planned to stop originating unsecured consumer loans." 
The move was a noticeable pivot from the bank's previous plans of trying to get closer to retail banking, which they were doing through their Marcus offering, which provided services like personal loans and high-yield savings, similar to combining the features of lenders like Sofi and Upstart with the savings products from companies like Capital One.
Months later, CNBC reported that the bet on subprime America has unraveled as the Goldman-branded credit card for retail customers is no more. 
One person familiar with the situation said the plan to kill the Goldman credit card occurred last year following the shuttering of its Marcus personal loans business and shelved plans for checking accounts. 
Last month, CEO David Solomon said the bank's move into consumer finance slowed due to its inability to execute. It also didn't help that the Consumer Financial Protection Bureau was looking into existing card products the bank offered. 
"The idea of a consumer-facing proprietary Goldman Sachs credit card was discussed but never became a meaningful part of our strategy," a Goldman spokesperson said. 
Why would Goldman abruptly pivot from offering a suite of banking products to subprime borrowers? The timing comes as the economy experiences a downturn that could expose the bank to higher losses. 
US consumers, especially low-tier ones, are in dire straits. The savings rates have collapsed... While many are using credit cards to survive the inflation storm.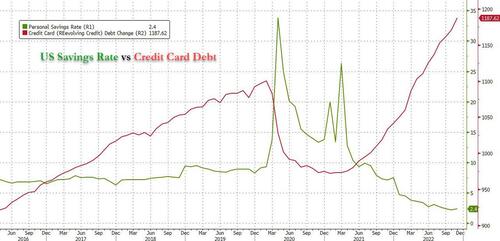 The average rate across US credit cards just rose to an all time high 19%+.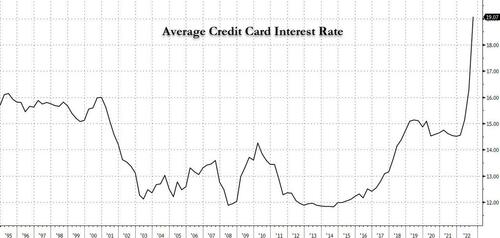 Twenty-one months of negative real wage growth has crushed many low-income households.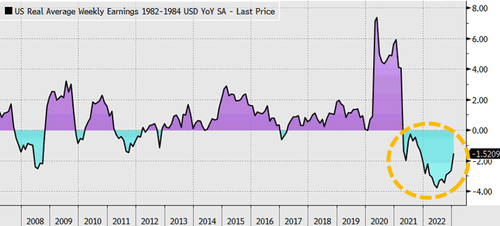 ... and here's the big issue. Credit loss provisions at top US banks are rising.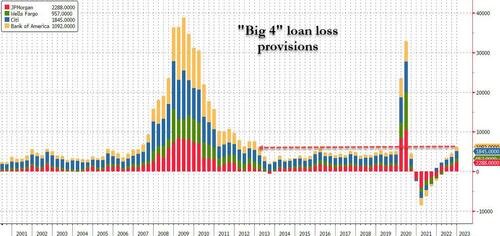 More or less, Goldman got cold feet to launch its own credit card because the economy was in a downturn, and betting on subprime at this point of the cycle would've turned out very messy. So much for the strong consumer narrative... 
Loading...