---
Goldman, BofA Warn Of Sharp Reversal To "Euphoric Sentiment" Amid Sudden Selling Frenzy
Less than a week ago we reported that after Morgan Stanley and BofA, Deustche Bank joined the growing bandwagon of sellside researchers warning that the market is facing a period of severe turbulence, investors appear to be heeding the caution in what BofA calls a significant shift to the "increasingly euphoric sentiment."
According to the latest institutional and HNW client data published by Bank of America, the bank's flow desk just saw the biggest outflows in five months as clients were net sellers of a whopping $5.2BN in US stocks last week - the biggest sales since mid-Nov. and fifth-largest on record - which paradoxically took place just as the S&P 500 reached new highs ("paradoxically" because most investors tend to stay with momentum and buy even more at record high levels).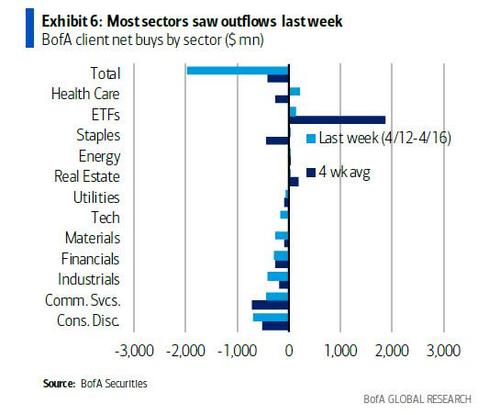 So with the selling having started in earnest, and now dragging the broader market for the 2nd day, BofA warns that "market weakness could continue near-term" and calculates that in the prior times weekly flows were this (or more) negative, the subsequent week's returns were -1% on avg/median (chart below) with negative returns 75% of the time.

At the same time, the four-week average client flows tracked by BofA have been trending lower in recent weeks and have now turned negative for the first time since mid-Feb, suggesting a pause to what BofA calls "increasingly euphoric sentiment."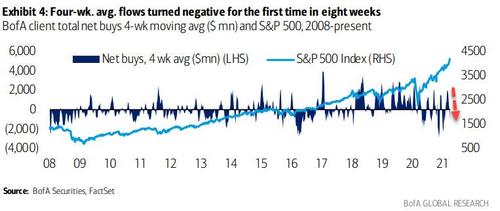 Not helping matters is the Buybacks blackout period: one month after we observed that stock buybacks had quietly soared back to all time highs...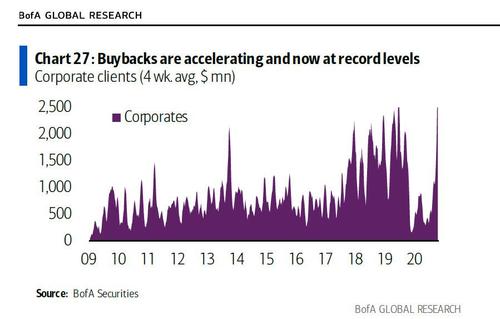 ... BofA now writes that the last few weeks in the quiet period ahead of earnings results, YTD cumulative buybacks are just +9% from levels at this time last year, but -5% vs. 2019 levels.
And while the bank expects a modest boost to EPS growth from buybacks this year, cash deployment strategies may shift more toward capex.
One last point from BofA worth noting: while institutional and hedge fund clients sold, and have been selling for weeks, tetail clients were the only buyers last week, and have been been buyers for the eighth straight week (hedge fund clients sold for the third straight week).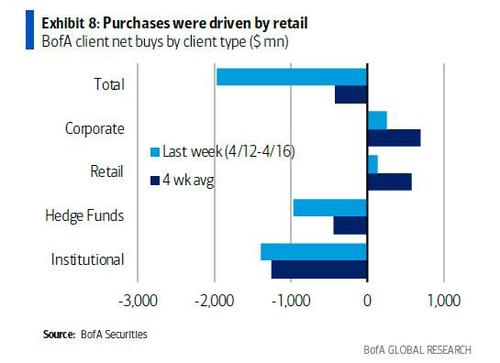 And yet, as Goldman's David Kostin warned over the weekend in his latest Flows and Liquidity, even retail euphoria is now fizzling, perhaps driven by the calm across equity markets.
According to Kostin, S&P 500 average trading volume as a share of market cap thus far in April has registered as the lowest since January 2020, with the Goldman strategist blaming the slowdown in retail trading as a key contributor:
"While online retail broker daily average trades are still up about 75% year/year, the growth in trading has dropped sharply from the peak of 250% in August 2020."
Similarly, and as we discussed several weeks ago, total US equity call option volumes have also dropped to their lowest level since late 2020. The good news, for now, is that despite low volumes, most measures of market liquidity, such as bid-ask spreads or top-of-book depth remain healthy. However, a few more days of today's price action and all this could change with selling guaranteed to accelerate - and liquidity to vaporize - if and when stocks hit an air pocket in the coming days.