---
Goldman: Over 40% Of The US Has Reversed Or Placed Reopenings On Hold
In its latest state-level coronavirus tracker, Goldman calculates that 40% of the US has now reversed or placed reopening on hold. As the bank recaps, Arizona has now joined Florida, Texas and California in beginning to reverse reopening policy, bringing the share of the population in states where policy is becoming more restrictive up to 30% over just the past five days. Governors of several smaller states have announced their reopenings are on hold, and yesterday the governors of New York, Pennsylvania, and Connecticut each said they are considering postponing reopening plans as well.
With case growth still accelerating nationwide, Goldman writes that "states are likely to continue to take further targeted measures to attempt to mitigate virus spread and maintain available healthcare capacity at sustainable levels."
Some more details from the report:
On Monday, the governor of Arizona issued an executive order closing bars, gyms, movie theaters, and water parks. In the order, the governor acknowledges that "there has not been sufficient time for mask mandates and limiting groups to have a demonstrable effect on containing the spread" and as a result the state must take further measures to contain the virus. The governor was pessimistic about the near-term outlook and said in a press conference that he expects the data to deteriorate over the next week.
It will likely take several days or longer for these latest change to have an effect on virus spread and health care resource utilization. Arizona meets none of the federal gating criteria recommended for reopening, and further steps in the state may be necessary to limit the spread of the virus, especially if hospitalizations continue to increase.
With Arizona now reversing the direction of its reopening policy, over 40% of the population is in a state that has halted reopening or reversed course. Yesterday, officials in other states including New York and Connecticut said they may follow  other states' lead in putting reopening explicitly on hold. In Pennsylvania, localities in the Pittsburgh and Philadelphia areas have put their reopenings on hold, and the state governor has indicated he could take action at the state level.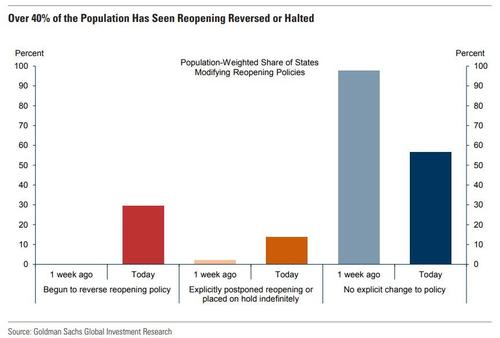 States that have re-imposed stricter policy:
Florida: on-site alcohol sales prohibited at bars. Restaurants may continue in-person service.
Texas: restaurants must return to 50% occupancy limits, down from 75%. On-site alcohol sales prohibited at bars. Certain hospitals in large metro areas must postpone non-critical elective medical procedures. Further reopening plans placed on hold.
California: for 15 counties on the state's "monitoring list," on-site alcohol sales prohibited at bars. Restaurants may continue in-person service.
Arizona: the governor issued an executive order closing bars, gyms, movie theaters and water parks.
States that have postponed reopening plans or placed them on hold indefinitely:
Nevada, June 15: the governor said in a press conference the state is still "in the middle" of the pandemic and is not ready to move to its third phase.
Michigan, June 23: the governor announced the state would not move into its fifth phase, as expected, until new data show such a move is appropriate.
North Carolina, June 24: the governor announced the state will remain in its second phase of reopening for three more weeks and also imposed mask-wearing requirements.
Arkansas, June 25: the governor said in a press conference that the state is "on pause at two-thirds...until we feel comfortable [lifting] additional restrictions."
Delaware, June 25: the governor delayed the third phase of reopening, which was scheduled for June 29, and plans to reevaluate in the next few days.
Idaho, June 25: the governor announced the state had not met the necessary criteria to move forward to its next phase and will remain in its fourth phase and adopt a regional reopening approach.
Louisiana, June 25: the governor extended the state's second phase of reopening by four weeks, saying the data are "crystal clear" that the state is not ready to move forward.
New Mexico, June 25: the governor said in a press conference that the state will "pause a week or more" and that if new case counts increase further, the state may "slow reopenings, or worse."
New Jersey, June 29: the governor said in a press conference that the state will not move forward with reopening in-person dining this week because of worsening virus conditions in other states.
Below is Goldman's latest state-level coronavirus summary tracker: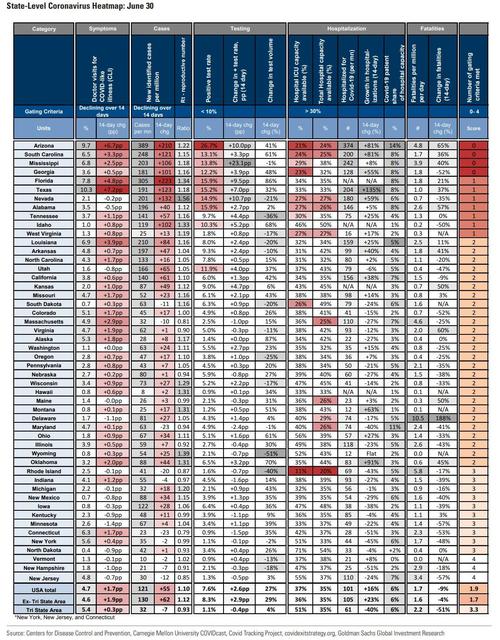 As the next chart from Goldman shows, the pace of virus spread is increasing in several states, pulling the trend higher nationally. The estimated effective reproductive number (Rt), which measures the change in growth in new confirmed cases adjusted for testing volume, has risen to 1.10 on a population-weighted basis, indicating an acceleration in case growth nationwide.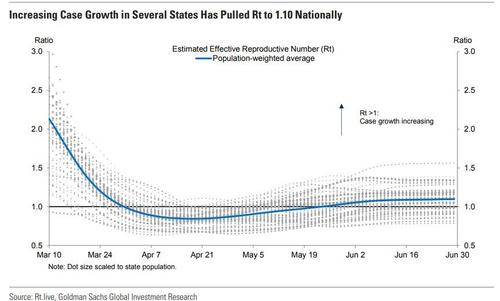 Separately, in testimony to Congress, Anthony Fauci said the virus trend is "going in the wrong direction" nationally, and he expects new case counts could rise significantly further with Goldman adding that nationally, prevalence of symptoms, daily new cases, and the positive test rate are still increasing, and noting that states representing 8% of the population– Arizona, South Carolina, Mississippi, and Georgia–are meeting none of the federal criteria for reopening, and only 3 states representing 4% of the population are meeting all 4 criteria.
Additionally, Goldman writes that hospitalizations continue to increase in a few states across the South and Southwest where available hospital capacity is already low; at the same time, the prevalence of Covid-like illness symptoms and new cases per million are declining only in a few states, and the estimated effective reproductive number Rt (growth in new cases adjusted for testing) stands at 1.10 nationally. The positive test rate is rising nationally but remains below 10% in most states, and hospital capacity remains in passing territory for states representing most of the population.
In addition to the four gating criteria recommended by the Centers for Disease Control (CDC) that we track, several states also list adequately high levels of contact tracing as one of the benchmarks they should meet to proceed with reopening. Today CDC Director Dr. Robert Redfield said that contact tracing infrastructure nationally is in poor condition and "in need of aggressive modernization." According to Dr. Redfield, contact tracing is only valuable when conducted "in real time."