---
Goldman Sachs Cuts Over Hundred Managing Directors As M&A Activity Sours
The higher interest rate environment has weighed on merger and acquisition activity in recent quarters. Interest rate swaps show rate traders are expecting the Federal Reserve to hold rates around 500 bps to 525 bps through the end of the year. Tougher financial conditions are sticking around for now, and perhaps the continued slowdown in dealmaking is why Goldman Sachs is preparing to cut higher seniority staff members. 
Bloomberg reported that 125 managing directors, some in investment banking, across many offices worldwide, will lose their jobs. These are higher-level staff members versus the thousands of lower-tier staff that lost their jobs earlier this year in a cost-savings plan amid waning dealmaking activity. 
In May, Goldman prepared for the third round of layoffs. Last September, the investment bank cut hundreds of jobs, followed by a massive 3,200 layoff, or about 6% of all employees, in January. 
At the end of the first quarter, Goldman had a total workforce of about 45,400. The bank has been reducing its headcount since peaking at 49,000 in the third quarter of 2022. 
Goldman's hiring spree is over.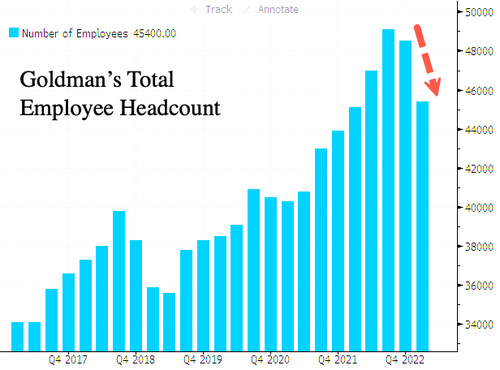 Data compiled by Bloomberg shows deal values have plunged more than 40% this year to $1.2 trillion, with Goldman ranked the number two adviser globally. 
Bloomberg reported last Friday that JPMorgan Chase & Co. fired 40 investment bankers to reduce spending as elevated interest rates and economic uncertainty have crushed investment-banking activity for more than a year. 
Thousands of banking jobs have been lost this year -- as Bloomberg Vonnie Quinn said, "the worst year since the banking crisis for banking jobs." 
As for the outlook of M&A activity, JPMorgan President Daniel Pinto recently warned that the firm expects second-quarter investment-banking fees to slide 15% from the $1.7 billion it pulled a year ago. And down 54% versus the second quarter of 2021. 
Meanwhile, in a separate report, Bloomberg said Goldman plans to add Tom Montag to its board. He is a former Goldman and Bank of America exec who is seen as an ally of Chief Executive Officer David Solomon. This development comes as internal frustrations at the bank soar as a slowdown in its core business lines persists.  
While it's routine for boards to make periodic changes, appointing someone who once worked closely with Solomon at Goldman would likely signal that the CEO — who also serves as chairman — is shoring up support. Some executives say it could help quash any speculation on his immediate future as Solomon approaches five years running the firm. -- Bloomberg
And back to dealmaking this year, well, it appears to be a lost year. 
Loading...