---
Goldman Sachs Prepares For Third Round Of Layoffs As M&A Activity Slumps
As macroeconomic headwinds mount, merger and acquisition trends are pressured downward. The Federal Reserve's ongoing policy of interest rate hikes to combat the highest inflation seen in decades has created less-than-optimal conditions for dealmaking. Consequently, such a challenging environment will result in Goldman Sachs Group carrying out its third round of job cuts in less than a year. 
Sources familiar with the upcoming layoffs told The Wall Street Journal that a wide range of employees, including managing directors and other senior executives, will be let go. The person said about 250 employees would be slashed but wasn't sure when the announcement would be made. 
If announced, this would be Goldman's third round of job cuts in less than a year. In September, the investment bank cut hundreds of jobs, followed by a massive 3,200 layoff, or about 6% of all employees, in January.  
At the end of the first quarter, Goldman had a total workforce of about 45,400. The bank has been reducing its headcount since peaking at 49,000 in the third quarter of 2022.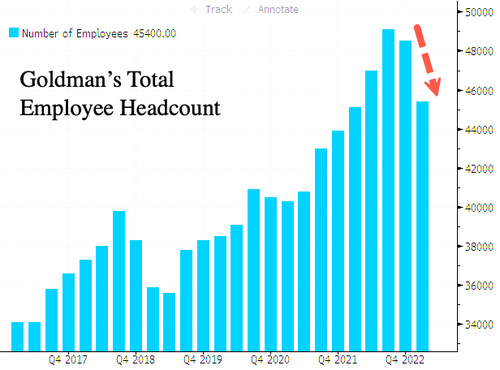 "The new cuts are largely the result of a dealmaking environment that remains in the doldrums," WSJ noted. 
Besides Goldman, Morgan Stanley and Lazard have recently announced headcount reductions due to a continued decline in dealmaking activity this year. 
Loading...