---
Goldman Slumps To 2-Mo Lows Amid Collapse In Trading Revenue, More Job Cuts Coming
Goldman Sachs - not a regional bank - is trading at its lowest since March this morning after tumbling following comments from Goldman President John Waldron warning investors of a sharp slowdown in its investment bank.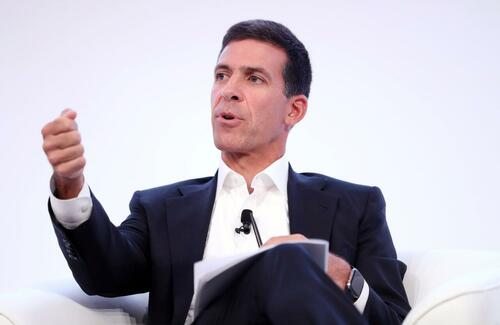 At a conference hosted by AllianceBernstein, Waldron said the bank's trading business is trending down more than 25% this quarter compared with a year ago, describing capital-markets activity as "sluggish."
Goldman is working on what would be its third round of job cuts in under a year, Bloomberg News reported earlier this week, and Waldron confirmed:
"We are now embarking on additional targeted action with our headcount," adding that "we are preparing for a tougher environment."
In February, Goldman Sachs outlined plans for about $1 billion in expense reductions. Waldron said the bank is on target to achieve that goal.
Goldman stock is trading back near its post-SVB lows...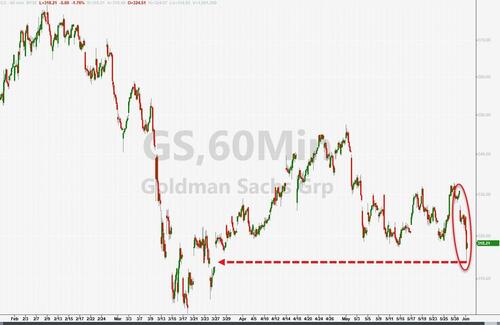 Waldron's comments follow Morgan Stanley Co-President Andy Saperstein yesterday offering a gloomy forecast for the bank's sales and trading and dealmaking operations.
"Sales and trading is softer this quarter," he said. "Results will be notably down year-over-year."

Saperstein also said investment banking is "very challenged. As an industry we have been in a sustained trough since last year."
Finally, Goldman's Waldron note that he is seeing "a pretty risk-off tone" from its clients with corporate CEOs pretty cautious.
"Feels like we are going to have a contractionary environment for a period of time."
But, but, but, A.I.!
Loading...