---
Goldman Steps Up To Defend Credit Suisse: "Weakness Is Unwarranted"
There was a moment of levity this morning for those who opened Goldman's research portal, Marquee, when the bank's clients were greeted with an "encore" research report posting of the bank's August 2 downgrade of Credit Suisse to Sell...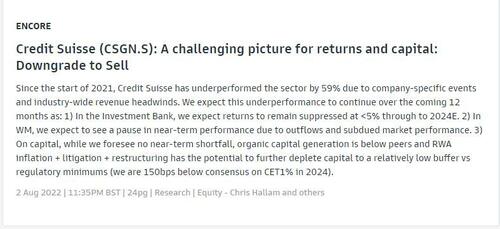 ... a recommendation that has yield a return of over 25% in the past two months.
But lest Goldman be seen as actively seeking to push one of its biggest iBanking competitors into oblivion, the bank also sent out the following comment from its sales and trading desk on recent market color/conversations discussing Topic #1 in capital markets today: Credit Suisse. Here is an excerpt from the note sent out by Goldman's Sarah Cha discussing the comments from Goldman London-based trade Jonathan Weetman, who weakness in the stock unwarranted  and explains why. To wit:
The unprecedented macro moves over the past couple of weeks have driven a lot of discussion around potential further cracks/weak spots from a market structure stand-point. Things continue to get hairier. For all the talk about relative outperformance in credit heading into last week, the UK GBP/Gilt dislocation seems to have changed the game there.  From our credit colleagues over the weekend: "The 21bp move wider between 9/22-9/29 was the biggest move in the IG index outside of March 2020 since 2011 and a 99th percentile 5 day move since 2000. The only larger moves over a similar period of time came in some of the most extreme periods of stress ever (March 2020 (Covid), 2H '08- Q1 '09 (GFC), May 2010 & August 2011 (Euro Sov crisis with a little assist from US downgrade), September 2001 (9/11) and October 2002 (tech bubble)).

CS off 7% following online/social media speculation and multiple press articles over the weekend around what appears to be a risk-off mkt fueled negative feedback loop around capital position. Weetman calls the  weakness in the stock unwarranted and walks through some of the considerations in his note this morning which includes:

the liquid balance sheet,
no Equities Prime business,
levered loans a very well covered bear point but that the composition & timing of a potential recap (he thinks consensus forming around CHF 4-5b) alongside IB restructuring the key question from investors.

As Weetman says:

"There is a lot of wood to chop in order to get a cap raise out the door. AM and SPG are reportedly for sale, and these processes take time even in easy markets. Cornerstone investors need to be found (the recent CS job promises in Qatar could be a sign). A strategic overhaul doesn't happen overnight, and management are relatively fresh in their jobs. An early strategic announcement is unlikely, and even 27 Oct looks a stretch. Bears love an info vacuum."

(The full GS note available to pro subs in the usual place)
While not a full-blown defense, and certainly Goldman has yet to upgrade the stock from Sell to Neutral, let alone Buy, Goldman does note that the "weakness is unwarranted" - something it certainly doesn't have to do if it plans on buying up the bank's assets out of bankruptcy auction and can simply keep its mouth shut - and today's bounce from a record low may be as bad as it gets for the troubled Swiss lender... because if it isn't, then the government and ECB will have to step in since none of the management team's attempts to stabilize the selloff have worked.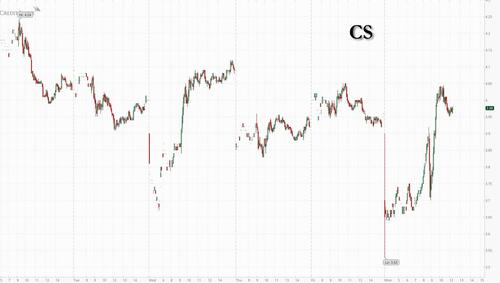 Loading...