---
Premium
Goldman Trader: "Signs Of [Upside] Capitulation Are Starting To Emerge"
The early-month exuberance in the S&P 500 has faltered into a sideways market for the last week or so (albeit with the BoJ-rumor-driven plunge mixed in)....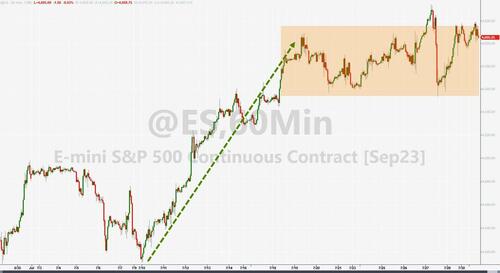 Still, the de-grossing regime-shift that we highlighted 10 days ago has continued as Goldman's Prime Desk notes that, from a trading activity standpoint based on Prime data, July is tracking to be one of the largest active de-grossing months for hedge funds in recent years (92nd percentile on a 10-year lookback), driven by short covers and to a lesser extent long sales (~3 to 1). The overall Prime book has seen de-grossing activity in 12 of the past 14 sessions.
Loading...