---
Goldman Warns Of "Short Term Indigestion" In Stocks, Expects European Double-Dip On Mutant Virus Surge
The global economy - or at least the US-Europe axis - is about to decouple according to Goldman.
Just days after Goldman Sachs chief economist Jan Hatzius raised his US GDP forecast for 2021 from 3.9% to 6.4% on the back of expectations for much more aggressive stimulus rollouts from the Biden administration which Goldman believes will enact a $750BN stimulus as soon as next month followed by more in the coming months...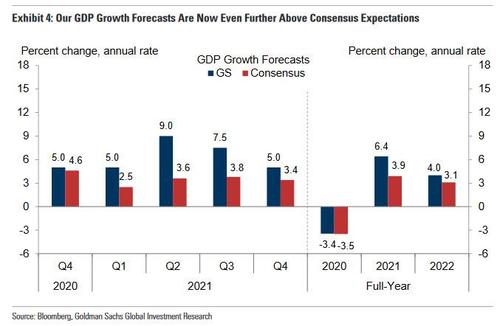 ... overnight Hatzius released a far more downbeat take on Europe's economy, where as a result of soaring covid cases on the back of the mutant virus strain...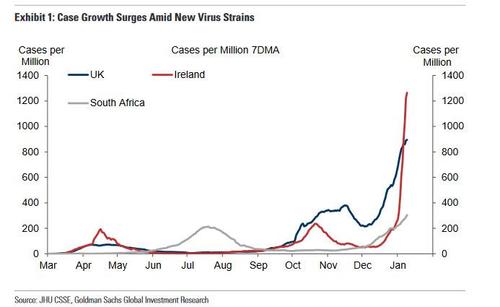 ... the Goldman economist writes that "the nature of exponential growth suggests that the greater transmissibility of the new variants could have serious consequences for new case numbers,hospitalizations, and ultimately fatalities across a larger range of countries."
So as a result of this "exponential" growth in new cases, "the virus deterioration and the resulting more severe restrictions" have persuaded Goldman to cut its "Q1 UK and Euro area GDP numbers into negative territory."
Meanwhile, over in the US, Hatzius writes that following the unprecedented riot at the US Capitol, "the next ten days are likely to remain turbulent as the US House of Representatives gears up for another impeachment of President Trump. After President-elect Biden's inauguration on January20, however, the focus will turn to further fiscal support."
Here, in addition to the $900bn package enacted late last year—with $600/person tax rebates that have already been largely paid out—Goldman expects another $750bn package - as we observed last week - one which includes a further round of rebates, aid to state and local governments, and an extension of the unemployment insurance top-ups."
In Goldman's forecast, this added impulse keeps Q1 at +5% (annualized) despite the negative virus impact and provides a net boost to subsequent quarters. It's why, as we also noted before, for 2021 as a whole Goldman has lifted its US growth forecast to 6.4%, a full 2½% above the Bloomberg consensus.
Yet despite a brief double-dip in Europe's economy in Q1, Goldman expects growth to return in the remainder of the year, arguing that "the biggest reason for the growth upturn beyond Q1 is a sharp improvement in infections on the back of higher temperatures in the Northern Hemisphere and, more importantly, our continued vaccine optimism" even though as even Goldman concedes, "cumulative numbers have disappointed projections so far and we have modestly pushed back our vaccination timelines." 
Still, the number of daily shots is trending higher and Hatzius expects further sharp gains "as deliveries pick up, broader groups become eligible, and demand rises on the back of continued good efficacy and safety news (as well as continued high case numbers)."
All told, Goldman expect 50% of the population to have received at least one shot by the end of Q2 across most DM economies. Together with the impact of prior infections, Goldman concludes that "this should result in herd immunity and a sustained upturn in activity in virus-sensitive sectors by the summer."
What does all this mean for stocks?
According to Hatzius, the last several months have seen equity and credit markets look through the near-term virus deterioration and have focused instead on the longer-term recovery theme, "while government bond markets have been reassured by low inflation and the promise of ample monetary policy support." However, since year-end, when "an important change in this friendly environment has occurred, with the 10-year US Treasury yield backing up sharply to its highest level since March 2020." This is problematic because as even Goldman concedes, agreeing with what we warned earlier, with yet another fiscal package, improving growth, and higher core PCE inflation in the spring, "the move higher in yields could well extend. If so, this might cause some short-term indigestion in risk asset markets."
This is basically a paraphrase of what Morgan Stanley's Michael Wilson said last Monday, when he warned that the "Market Is Ripe For A Drawdown."
Of course, it would be uncouth of Goldman to turn bearish, which is why the bank writes that "from a more strategic perspective, the backdrop for risk asset markets remains quite constructive" as we are "still at an early stage of the expansion, with labor market slack ample, inflation low, and central banks focused on boosting growth."