---
Santa Claus Rally Delivers Despite Hawkish Fed Minutes & 'Good' JOLTS Data
The 'Santa Claus Rally' (as defined 'last full trading week of Dec into first two days of Jan') ended positively this year (with the S&P above 3822 - 12/22 close), but only just...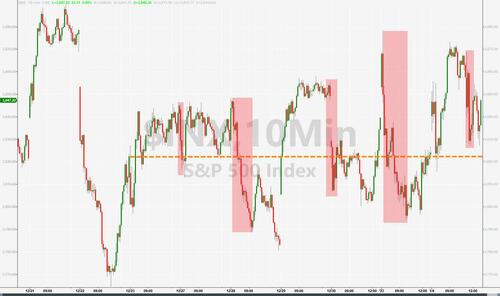 Overall dating back to 1985, if "Santa Rally" is POSITIVE, January has also seen a +0.6% median rise (62% hit rate), Q1 a +1.7% median rally (66% hit) and calendar year +12.7% (76% hit)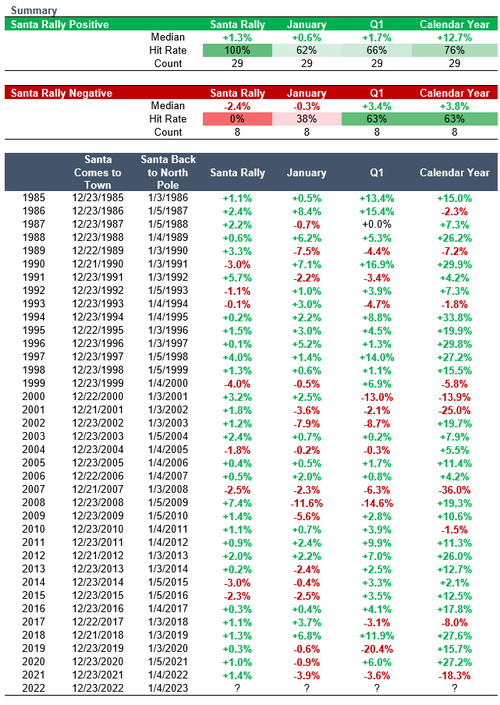 Today's trading was triggered off 3 main events
0900ET Minneapolis Fed President Neel Kashkari says he penciled in another 100 bps in rate rises this year, for a terminal policy rate of 5.4%. This is despite "increasing evidence" that inflation may have peaked.

1000ET JOLTS printed a lot better than expected while ISM Manufacturing was on the ugly side (but prices paid plunged)

1400ET Fed Minutes tilted even more hawkish with pointed reference to market's "unwarranted" easing expectations.
The market's terminal Fed rate expectations dropped on hawkish Kashkari and rallied on the good JOLTS data and extended hawkishly on the FOMC Minutes...
Source: Bloomberg
Stocks drifted higher overnight then tanked on the 'good' news about jobs, then rebounded. When the hawkish Fed Minutes hit, stocks were confused but the pushback against 'unwarranted' easing was enough to send stocks lower... which prompted some reflexive buying... but that was then sold in the late-day with The Dow and Nasdaq giving up gains before a panic-bid into the green to close the day...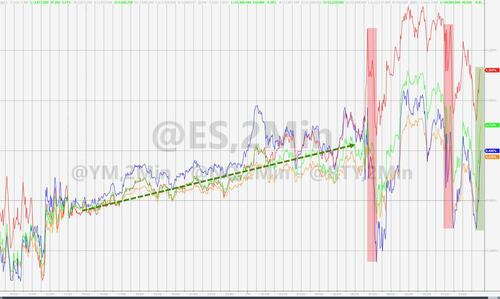 Treasury yields began 2023 with their best opening day performance since 2001, illustrating this is a bond market that favors recession and eventual Fed rate cuts later this year and extended those gains today with yields down 3-4bps across the curve...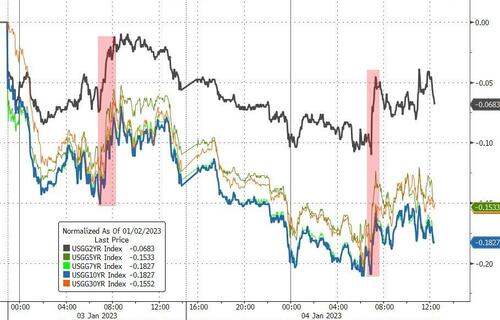 Source: Bloomberg
The dollar erased all of yesterday's gains overnight then bounced during the EU/US sessions...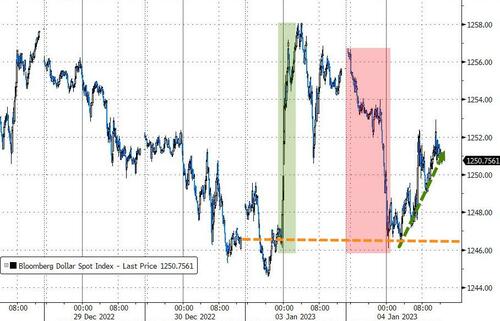 Source: Bloomberg
Bitcoin spiked up to near $17,000 intraday before fading back, but ended higher...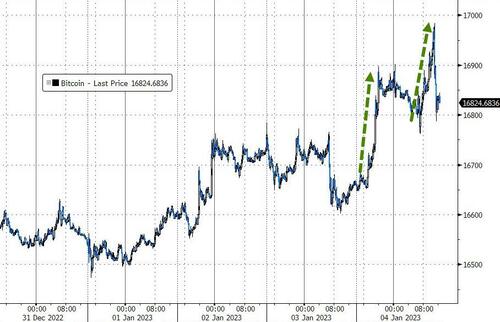 Source: Bloomberg
Gold topped $1870 today - the highest since June 16th 2022...
Oil prices tumbled after disappointing US manufacturing data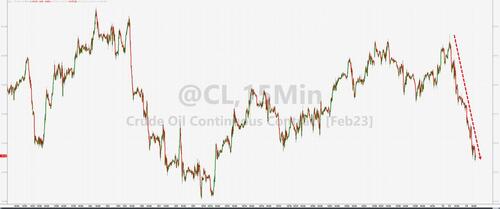 Notably gas (pump) prices are trading well below the 'equivalent' oil prices (so much for those greedy Big Oil hucksters)...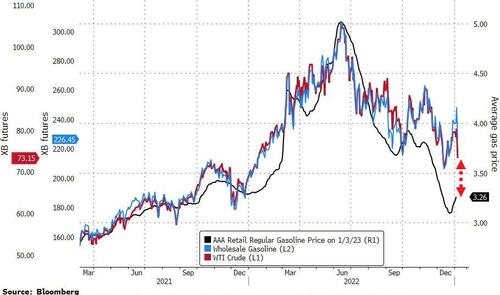 Source: Bloomberg
Finally, we note that The Fed explicitly called out the market's "unwarranted" easing expectations in the Minutes and financial conditions have been tightening since the Fed statement...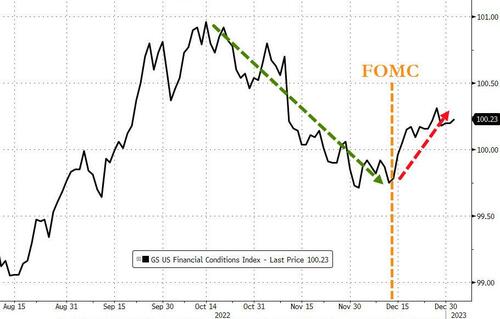 Source: Bloomberg
So it is clear that anyone now buying stocks on hopes of easing is directly 'fighting the Fed'.
Loading...