---
Good News Is Bad News Again: Jobs Data Jolts Markets, Sends Rate-Hike Odds Soaring
Good news was definitely bad news for markets today as ADP and JOLTS data both beat expectations, sending rate-hike expectations soaring to new cycle highs at 5.70%...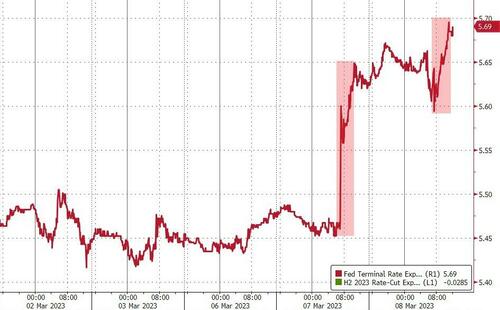 Source: Bloomberg
In fact, the market is now pricing in 70%-plus odds of a 50bps hike in March (and 40% odds of 50bps in May)...
Source: Bloomberg
Bear in mind that a growing number of options traders are betting on a 6% terminal rate by September already...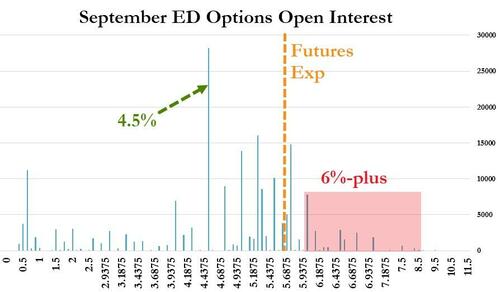 Source: Bloomberg
All of which piled up on the back of equity traders, pushing all the majors into the red, led by The Dow and Small Caps. A panic-bid MOC program hit with 20 mins to go lifting everything, and pushing Nasdaq and S&P green. Dow underwhelmed, closing red...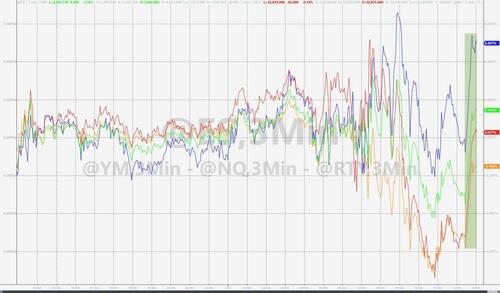 "Most Shorted" stocks fell for the 3rd straight day...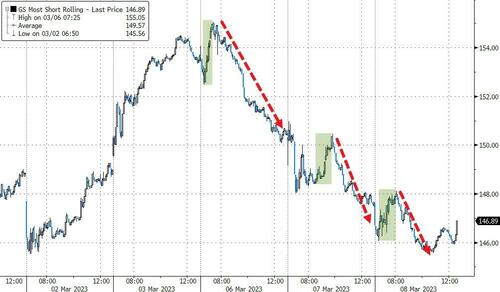 Source: Bloomberg
0DTE traders did their best to hold the S&P above the 50DMA (every dip below it saw positive delta flows), but around 1245ET they gave up and started selling...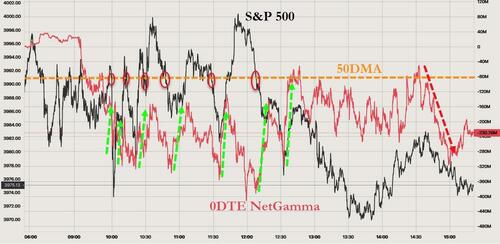 However, with about 20 mins to go, a wave of 0DTE positive delta flows ripped the S&P back up to its 50DMA (before reaching neutral positioning and reversing)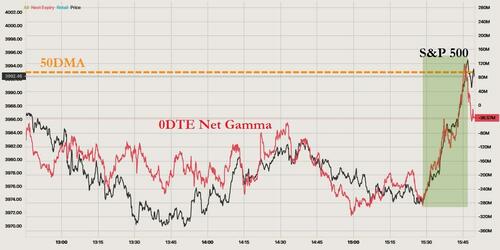 But, while the S&P 500 did briefly get back above its 50DMA, it couldn't hold it...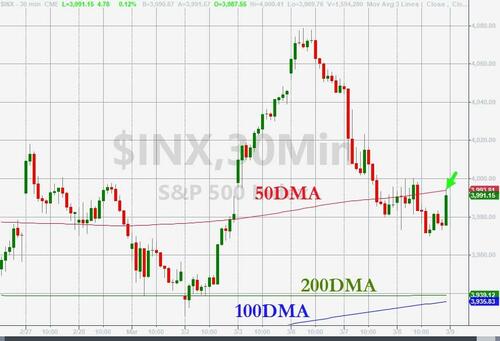 Bond market volatility expectations continue to soar while equity vol expectations remain subdued...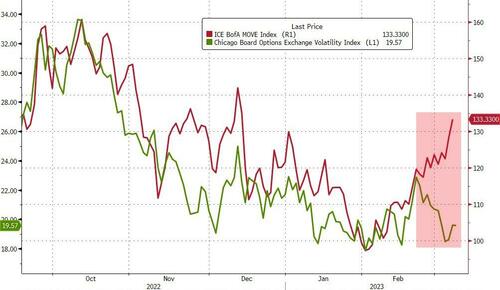 Source: Bloomberg
But in the short-term, equity vol is notably elevated ahead of this week's payrolls data and next week's CPI...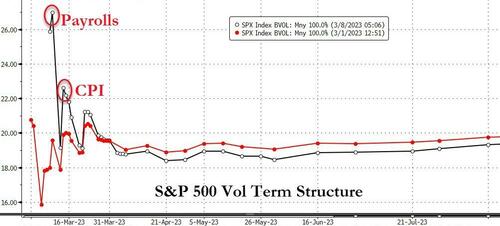 Source: Bloomberg
On a side note, VIX calls (implicitly a bearish position, expecting higher volatility) have soared relative to VIX puts (but we do note that this level is perhaps just post-Fed normalization after the COVID chaos)...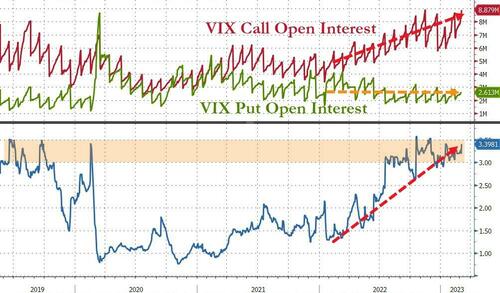 Source: Bloomberg
Yields were higher across the curve today, with the short-end underperforming, but the market saw a massive swing intraday after overnight strength evaporated into US-session selling. By the close, the long-end was basically unchanged while 2Y was up 6bps...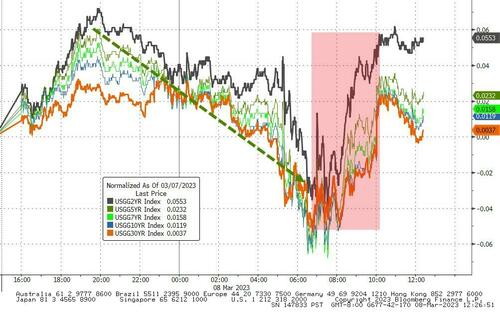 Source: Bloomberg
An ugly 10Y auction did not help as yields surged back from overnight lows after the strong labor market data. But the 10Y did not get back up to 4.00%...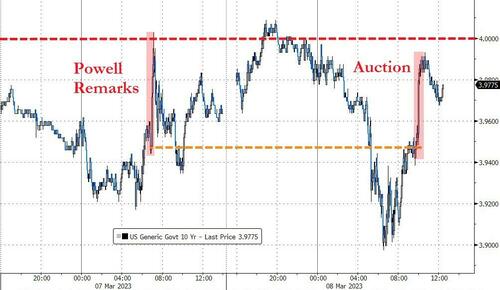 Source: Bloomberg
The yield curve (2s10s) continued to invert even deeper, hitting -111bps at its lows today...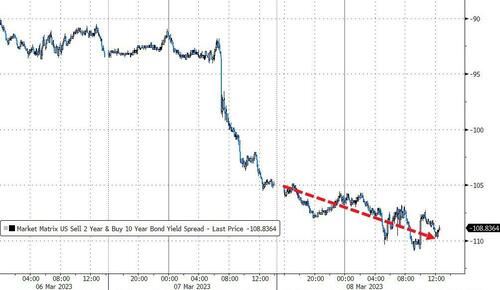 Source: Bloomberg
At the shortest end of the curve, a definite 'kink' is still observed in Sept due to the debt ceiling...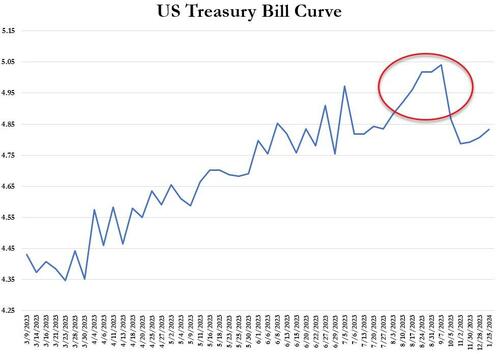 The dollar ended the day practically unchanged after overnight gains gave way into the US open before bouncing back...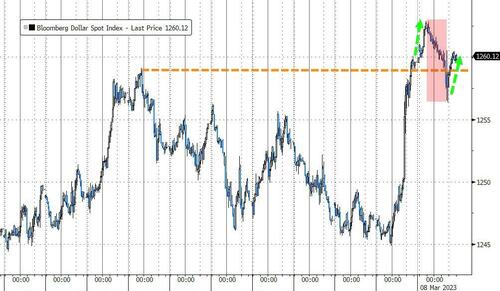 Source: Bloomberg
Bitcoin ended very modestly higher after a late day jump lifted it back off $22,000...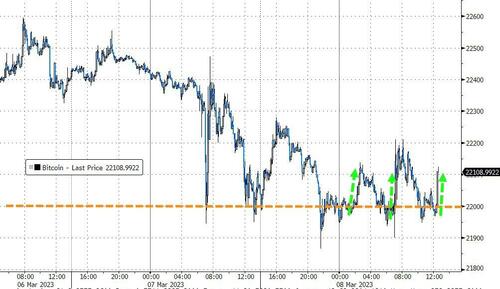 Source: Bloomberg
Oil Prices chopped around all day but ended lower after a crude draw with $77 WTI an apparent pivot...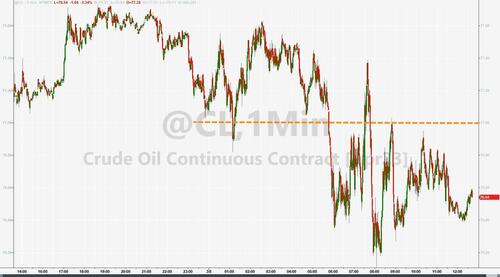 Gold ended the day unchanged, giving back all of the early US session gains...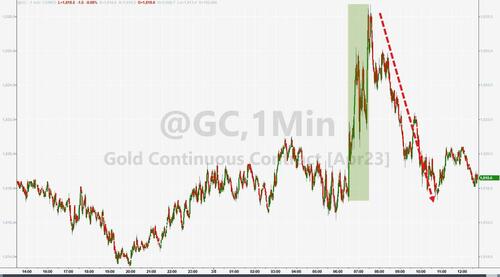 Finally, today's WTF Chart Of The Day. While 'soft' survey data and 'hard' industrial data has been notably disappointing since the start of the year, US labor market data has shown no signs of weakness at all...
Source: Bloomberg
Just how much longer can the Biden administration keep this depression alive with its fake jobs numbers?
Loading...