---
GOP-Led Maryland And Georgia Suspend Gas Taxes As Democrats Ironically Embrace Similar Federal Cuts
It looks as though progressives have finally been smacked over the head with reality long enough to realize that tax cuts are actually beneficial to American families and the economy. And just think - all it took was $7/gallon gas! 
Republican led states like Maryland and Georgia are working out ways to try and provide relief at the pump for consumers by suspending their respective states' gas taxes. The move comes at the same time that Capitol Hill is trying to pass similar federal legislation, according to a new report by Insider. 
The temporary gas tax holiday for both states was announced late last week, as gas prices in the U.S. continue to surge as a result of both the Biden administration's energy policies and geopolitical tensions and sanctions related to Russia's invasion of Ukraine. 
The current average price of gas was $4.26 as of Sunday, but had hit as high as $4.33 per gallon on March 11, the report notes. Crude prices nearly doubled from their Winter 2021 lows over the last few weeks, with WTI touching higher than $120/barrel at one point.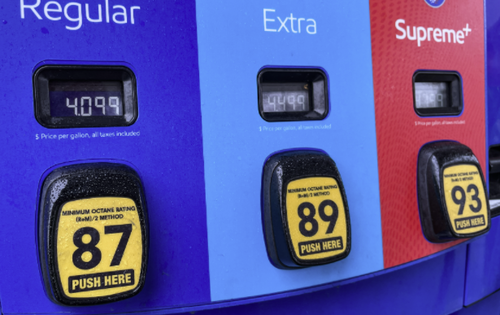 As the world continues to choke off Russian oil supply, many - including Russian government officials - are predicting that energy prices will continue to soar higher. 
Government in the U.S. is working to try and pass a gas tax holiday that would lower the price of gas by 18.4 cents per gallon. Ironically, it is Democrats that are trying to push for the tax cut while Republicans have called it a "non-solution" - which, of course, is correct. Whatever tax "cuts" are made on gas will have to be replaced elsewhere and price controls, the government's likely next forthcoming "solution", will only stand to further disrupt supply and demand. 
In keeping with embracing asinine solutions, the government was also reportedly considering sending out gas cards to Americans, but the idea was rejected by Democrats due to "expense and inflation" concerns.
17 states in total are considering legislation to reduce costs. "State gas taxes have ranged from $0.08 per gallon in Alaska to $0.58 per gallon in Pennsylvania," Insider wrote. 
Maryland Republican Gov. Larry Hogan said: "As we continue to stand in solidarity against Russian aggression in Ukraine and as Marylanders face the impact of surging inflation with the average price of gas rapidly rising, this bipartisan action will provide some relief from the pain at the pump."