---
GOP "Wrecking Ball" Erodes Support For Woke ESG Shareholder Proposals
Conservatives have been a "wrecking ball" to the environmental, social, and governance (ESG) investing movement, as well as other trends, including DEI (diversity, equity, and inclusion) and CRT (critical race theory). A growing number of Red states have pulled billions of dollars from BlackRock's management as they disapprove of the world's top asset manager's 'woke' investing policies. Now investor support for ESG proposals slides to a six-year low, a wake-up call for BlackRock's Larry Fink. 
A recent count of votes compiled by the Sustainable Investments Institute through the end of this week shows the average backing of resolutions centered around ESG, DEI, and CRT has dropped to about 22% at annual shareholder meetings, down from a peak of 33% in 2021, according to Bloomberg. Support for sustainable investing is at the lowest level since 2017.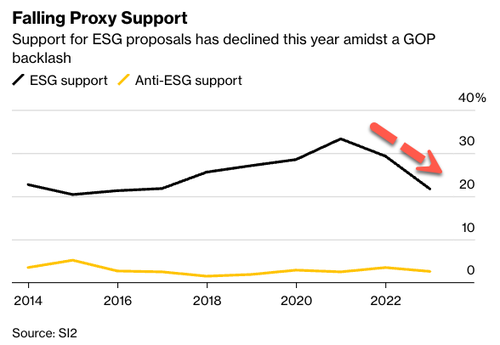 Heidi Welsh, who runs Sustainable Investments, described Republican opposition to ESG initiatives as a "wrecking ball." She said support for ESG is sliding "across the board." 
Elon Musk has called out ESG on Twitter, and many Republican lawmakers want to cancel it. Florida Governor Ron DeSantis signed a bill last month barring the use of public money for ESG investing. A growing number of anti-ESG bills are springing up in GOP-controlled states while these states also pull billions of dollars from BlackRock. 
GOP lawmakers have argued that ESG gives Wall Street too much control over companies, allowing woke asset managers to ram through radical corporate policies via shareholder votes. "We are concerned that taxpayers' best long-term economic interests might have become subordinated to environmental, social and political interests," a group of state chief financial officers wrote in a letter to 20 asset managers on May 15. 
The Center for Active Stewardship found support for climate-related proposals has been halved to 23% this year versus two years ago. Activist investors have been more "aggressive" in environmental resolutions this year, and that's led to a higher rejection rate, said Nolan Lindquist, executive director of the group. 
"Before, investors were merely asking for reports disclosing emissions goals and energy-transition plans.

"Recent proposals are much more specific about executing on those plans," Lindquist said. 
Waning ESG, DEI, and CRT support at the corporate level follows a massive backlash among consumers who have unleashed boycotts of companies that promote the ultra-radical woke movement, some of which have targeted children. 
BlackRock's Fink warned earlier this year about the 'demonization' of the ESG narrative.
Loading...