---
Gordon Johnson: Cutting Tesla's Q1 Delivery Estimates Due To "Demand Crush"
GLJ Research's Gordon Johnson was out with a new note this week, slashing his Q1 delivery estimates for Tesla and stating that a "demand crush" he expected to start in Q2 may have started earlier than expected. 
The revision comes as the firm examines new data out of China, with Johnson writing on Wednesday of this week: "Overnight, we got an update on TSLA's sale of vehicles in China (where demand fell -15.1% week-over-week for the Mar. 20th-Mar. 26th period)".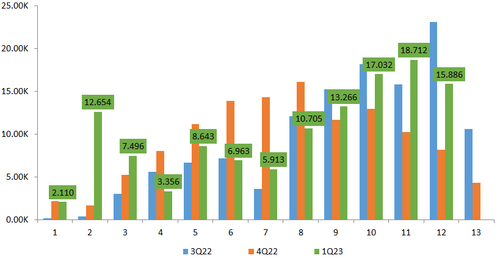 Johnson also cited data from checks in Germany, France and the U.K. as reason to cut estimates for Tesla's sale of cars in the EU for Q1 to 93,032 vehicles, down from 115,914. The cut represents a -19.7% drop. 
"So why such a big cut?" Johnson writes. "In short, and we apologize for such volatility over the past week in our estimates: (a) we now believe, similar to what happened in Germany last quarter (i.e., buyers of TSLA cars taking advantage of incentives in Germany, then shipping those cars to other EU countries, thus artificially boosting sales in Germany), demand in Norway + Netherlands + Spain + Sweden is trending stronger than demand in Germany + France + U.K., and (b) with inventory of TSLA's best-selling Model Y crossover creeping back up in the EU as of 3/28/23, the Q2 demand "crush" has started early."
Johnson adjusted his China delivery estimate to 132,948 from 135,382 "to reflect weaker-than-expected sales for the week of Mar. 20th-Mar. 26th" and has kept his U.S. estimates flat at 162,714 and his Canadian estimates flat at 9,400.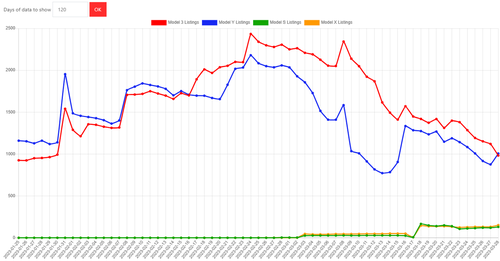 He says that consensus for the quarter currently sits at 418,756, suggesting a "beat" is on tap. But Johnson would look at such a figure starkly differently, telling his readers: "with our model pointing to an avg. 1Q23 price cut across all of TSLA's cars of -$6.0K/car, or -11.7% QoQ, vs. sales growth of just +5.2% QoQ, THIS IS NOTHING SHORT OF A DISASTER."
As he stated earlier in the year on a live debate with Ross Gerber, Johnson continues to expect earnings to deteriorate despite the delivery numbers. 
"Even if TSLA gets to 1.8mn cars sold in 2023 (i.e., 450K cars/quarter of sales), things still look (very) bad from an earnings perspective. Why? Well, TSLA's 4Q22 net profit was $3.727bn on 405,278 cars sold, or = $9,196/car in net profit (we remind our readers that this net profit includes ALL EV credits and FSD from 4Q22, thus assumes new credits replace old ones and FSD revenue recognition continues at the pace seen in 4Q22 in every quarter in 2023; we also assume the other business segments contribute little to net)," he writes.
He continued: "Consequently, given TSLA's 2023 price cuts, across all its cars, have averaged ~$6,000/car, assuming TSLA gets $1,500 recouped via cost savings/price hikes (and also doesn't cut prices anymore throughout the year), its profit per car for the full year would decline by $4,500."
Johnson's estimate is for $2.67/share in EPS versus consensus of $3.98/share: 
So, taking an assumed 2023 profit per car of $9,196, then subtracting $4,500, one arrives at a new profit per car of $4,969. Then, applying the low-end of TSLA's guidance for 1.8mn cars sold in 2023, or $4,969 * 1.8mn, one arrives at a 2023 net profit of $8.452bn. Finally, dividing this number (i.e., $8.452bn) by TSLA's shares outstanding of 3.164mn, one arrives at an EPS of $2.67/share (vs. the current Consensus est. of $3.98/share, suggesting sharp cuts to TSLA's earnings are on tap through 2023), or 71.8x earnings, and a -27.0% fall in EPS YoY. Consequently, even with a ~450K delivery number, the 2023 outcome for TSLA's stock, as Consensus is forced to reckon with falling earnings, is likely (much) lower.
Loading...