---
Gordon Johnson: Despite Positive China Numbers, Tesla's Q1 Earnings Setting Up For "Epic Disaster"
Tesla's 35% rise in sales in China for the month of March may be good news for today, but it likely won't change what will be a disappointing Q1 for the company, according to Tesla skeptic and bear Gordon Johnson of GLJ Research.
Johnson put out a note on Tuesday, following the China numbers being reported, claiming that despite the beat of expectations, he still believes there is a Q1 earnings miss of "herculean proportions" on its way. 
"In 1Q22, 2Q22, 3Q22, 4Q22, and 1Q23, TSLA produced 305.4K, 258.6K, 365.9K, 439.7K, and 440.8K cars, respectively. Stated differently, that's 2Q22 production growth of -15.3% QoQ (when TSLA's margins fell -226bps QoQ), 3Q22 production growth of +41.5% QoQ (when TSLA's margins gained +47bps QoQ), and 4Q22 production growth of +20.2% QoQ (when TSLA's margins fell -319bps QoQ)," Johnson wrote.
But he notes that Q1 production was essentially flat, sequentially, and then asks: "Where are the production efficiencies/cost savings going to come from?"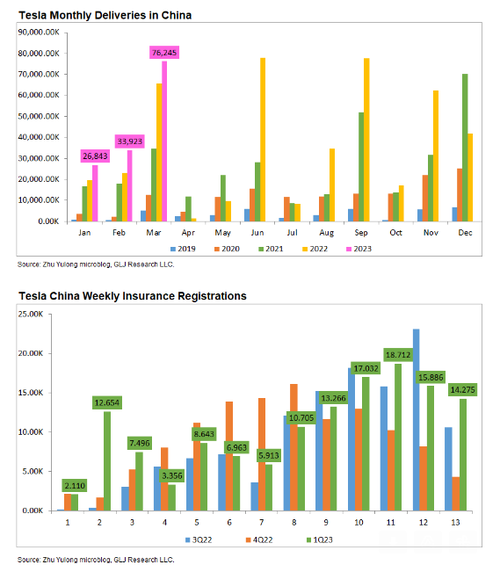 "In the car [manufacturing business] there are three ways to cut prices, namely lower labor costs (good luck with that in 1Q23), lower input costs (lithium is lower, but other items are up), and higher fixed cost absorption (i.e., TSLA's main cost driver historically). Yet, in 1Q23, with production essentially flat QoQ, there will be NO fixed cost absorption."
Johnson believes that despite today's "good news" from China, that "likely (very) bad things" are on the way for Tesla's Q1 earnings. Against estimates of $0.87 per share, Johnson estimates $1.18 billion in net income, or $0.37 per share for the quarter:
Taking this analysis a step further, observing TSLA's 4Q22 ASP of $51.1K, and adjusting for a -15% QoQ price cut, you arrive at a $7.665K/car hit to TSLA's pre-tax profit/car QoQ (i.e., $51.1K ASP * 15% = $7.665K/car). So, $9.835K - $7.665K = pre-tax profit/car of $2.17bn.

Yet, rounding up to $3bn, to account for cost savings/accounting-chicanery/1Q23-currency benefit (which was a headwind in 4Q22), then multiplying this number by 423K cars sold in the quarter, you arrive at a 1Q23 pre-tax profit of $1.269bn; then, adjusting for TSLA's ~7% tax rate, net income looks set to come in around $1.180bn, which, when adjusting for 3.2bn shrs outstanding, is $0.37/shr in 1Q23 EPS.
"Tesla's Q1 results are setting up for an EPIC disaster, which is currently FLYING COMPLETELY UNDER THE RADAR! This is what's important, not some weekly China number," he concluded. 
Recall, earlier today we posted that according to the China Passenger Car Association (CPCA) on Tuesday, Tesla sold 88,869 units of China-made electric vehicles for the month of March, a 35% increase from a year ago, according to Reuters.
The figure is up 19.4% sequentially after Tesla delivered 74,402 vehicles in February. Competitor BYD remains the name to watch in China, however, selling 206,089 vehicles last month. It marks the "second-highest China-made vehicle sales ever for the company, just behind the 100,291 units that were sold in November of last year," according to the Teslarati blog.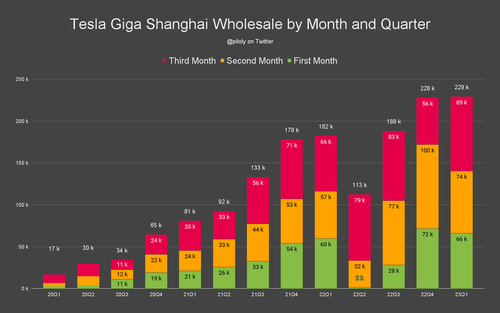 Loading...