---
Gordon Johnson: These Are The Tesla Numbers Journalists Need To Pay Attention To
Gordon Johnson, Tesla analyst and most recently well-known for having a Don Corleone-style animal head mounted on his wall behind him while on national television, has issued some new notes this week pointing out some "areas to focus on with Tesla" and stories that "no journalist is focusing on" with the embattled automaker. 
In his note, Johnson provides data that looks at Tesla's incessant need to expand their capacity and he examines where the demand (or lack thereof) is going to come from. 
Johnson first encourages his readers to look at why Tesla is ramping a ton of new capacity despite there apparently being no real demand for the vehicles that will ultimately be produced:
In 2Q20 TSLA said their production capacity was 690K cars/year, or 172.5K cars/quarter; they only sold 90.5K cars, which is down from the number of cars sold in 4Q18, 2Q19, 3Q19, and 4Q19 (in 1Q20 and 2Q20 they HAD AN ENTIRELY NEW FACTORY IN SHANGHAI AS WELL AS A NEW CAR IN THE MODEL Y THAT THEY DIDN'T HAVE IN 2019).
He asks: "Why are they building a plant in Berlin, and adding capacity in China as well as Texas if they can't sell out their existing capacity (oh, and they had just under 20K cars of inventory exiting 2Q20)?"
Johnson also talks about how the company's constantly shifting product lineup - as we pointed out in our lengthy post-earnings wrap up - appears to be the only thing that is barely keeping quarterly deliveries looking adequate.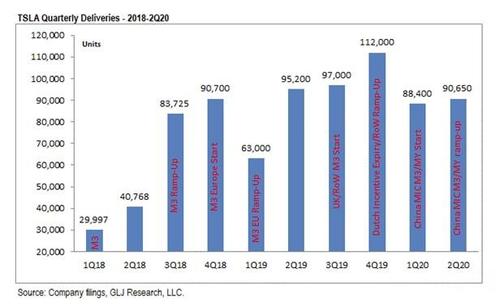 Johnson also wants to know why people are not focusing on the fact that Tesla's solar business continues to be in decline, despite the fact that media was quick to hype up Musk's claims to make 1,000 solar roofs per week by 2019:
Why doesn't anyone focus on the fact that since the SCTY acquisition (4Q16), TSLA's solar business has been in structural decline?

E. Musk said they would do 1000 solar roofs/week by the end of 2019 7/29/20 (link) – CNBC covered, a number of times, this claim by E. Musk; why no stories on this vs. what their solar installations are ACTUALLY doing?
Johnson also points out that Tesla's market share in Europe has dropped from 33% in Q4 2019 to 11% in Q2 2020. Despite this, Johnson notes, the company wants to build a factory in Germany that's capable of producing 500,000 cars per year. "How does this make any logical sense?" Johnson asks.
Finally, Johnson identifies that despite guiding for record deliveries in Q3 of this year, "boat shipments to the EU/Asia are materially lagging their prior record quarter of deliveries (4Q19, when they sold 112K cars)."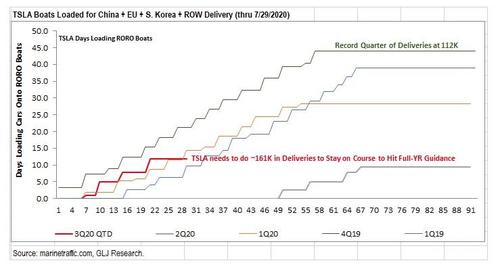 He reminds that "at 60 days, or the end of Aug., no more boats will make it to the EU/Asia ahead of quarter end, so the cut-off here is the end of Aug."
"Why aren't journalists digging into these numbers?" Johnson concludes in his note. "Musk doing things that seem highly unlikely. Why not question things here?"
"How are they going to achieve record deliveries with this data widely available?" he asks.
We could take a couple guesses.