---
Gov. Newsom Activates National Guard And Highway Patrol To Combat San Francisco's Drug Crisis
Gov. Gavin Newsom has called up the California Highway Patrol and the California National Guard to combat San Francisco's out-of-control open-air drug market as parts of the progressive-run city descend into chaos. 
According to ABC7 News, CHP officers will be deployed across Tenderloin and South of Market neighborhoods, while guardsmen will run intelligence analysis operations behind the scenes. The governor brought the two agencies together as the drug-related deaths in the city jumped 41% in the first quarter.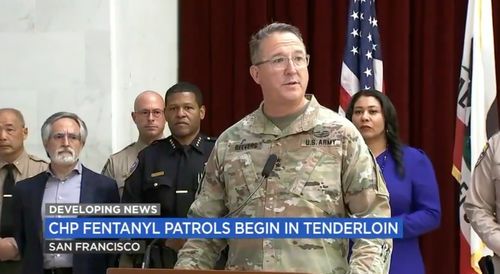 Newsom's announcement last Friday did not specify the number of personnel on the ground or which units of the Natural Gaurd will be providing intelligence analysis. Supervisor Matt Dorsey said:
"As we hopefully wind down the drug market, we also have to make sure that we are winding up support for the people who are going to have a harder time finding drugs." 
San Francisco recorded 200 drug-related overdose deaths in the first three months of the year compared with 142 in the same period last year. Homelessness doubled as junkies littered the streets in tent cities while crime soared.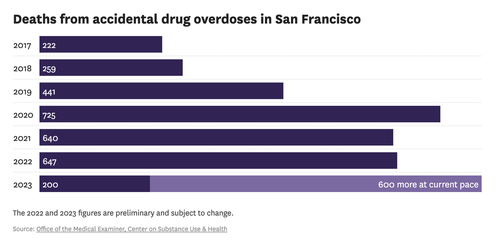 "It's a crying shame that a city as wealthy as San Francisco can't get its act together to deal with overdose deaths," Dr. Daniel Ciccarone, a professor of addiction medicine at the University of California San Francisco, recently told The Guardian. He said the city's approach to addressing the drug crisis has only worsened things. 
"We're a politically divided city between the people who have a lot of money and want the streets swept and those who think a compassionate, science-based, health approach is appropriate," Ciccarone said.
Last year, residents had enough of the Soros-backed district attorney, Chesa Boudin. They recalled Boudin and forced Mayor London Breed to appoint a new district attorney, Brooke Jenkins, who vowed to take a new path of law and order. 
Years of failed progressive policies are to blame for transforming some neighborhoods into third-world-like environments.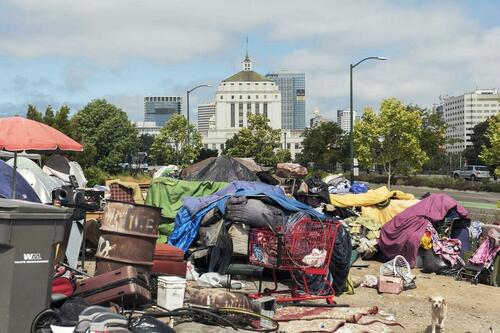 Newsom's call to deploy CHP and National Guard forces is an admittance that liberal policy is bad policy. And residents are waking up to this by booting out these reckless lawmakers. 
Loading...