---
"Great Deal Of Uncertainty": Walmart Slides On Disappointing Guidance, Forecasts 2nd Straight Annual Profit Decline
Viewed as the unofficial end of earnings season, Walmart's just reported Q4 earnings also served to send the stock of world's biggest bricks and mortar retailer lower after the company reported strong Q4 results but its profit forecast for this year fell short of analyst estimates, signaling more struggles for the world's largest retailer after it was hammered by a surge in inventory.
First, a look at what the company reported for Q4:
Adjusted EPS $1.71 vs. $1.53 y/y, beating estimate $1.52
Revenue $164.05 billion, +7.3% y/y, beating estimate $159.59 billion
Total US comparable sales ex-gas +8.8%, beating estimate +5.24%

Walmart- only US stores comparable sales ex-gas +8.3%, estimate +4.82%
Sam's Club US comparable sales ex-gas +12.2%, estimate +8.44%

eCommerce growth was 17% and 18% on a two-year stack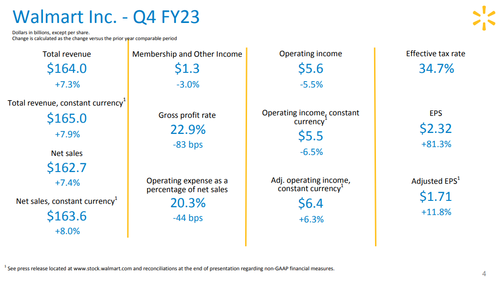 For the full year, Walmart generate $12.2bn in free cash flow, and paid $16bn to shareholders ($6.1Bn in dividends and $9.9Bn in buybacks).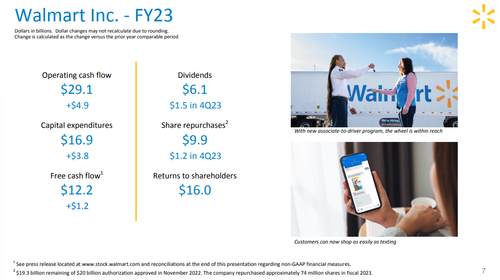 But while the company beat expectations for the current quarter, it was its forecast that spooked markets: the company projected that adjusted earnings will decline by as much as 6.2% in the current fiscal year, to a range of $5.90 to $6.05 a share, including an accounting impact of 14 cents a share from LIFO accounting provisions. Wall Street had estimated a gain of about 3.8% to $6.53 (for Q1 Walmart sees adjusted EPS $1.25 to $1.30, including an expected $0.03 impact from LIFO). Additionally, WMT sees total net sales +2.5% to +3%, broken down as follows:
Sees Walmart-only US stores comparable sales ex-gas +2% to +2.5%, missing the estimate +3.1%
Sees Sam's Club US stores comparable sales ex-gas about +5%, beating the estimate +4.39%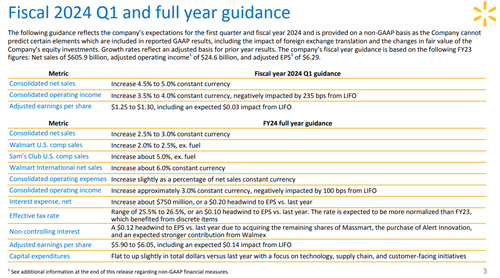 While WMT may be sandbagging, taken at face value the forecast would be the second straight annual profit decline. Fiscal 2023 adjusted earnings fell to $6.29, the first full-year decline for the profit measure in six years. UBS's Michael Lasser notes that the outlook for this year falls short of the company's long-term goal of posting 4% sales growth — a higher increase than that in operating income.
Furthermore, guidance commentary from the Walmart earnings call  hardly inspired confidence: "There is a great deal of uncertainty looking out to the balance of the year. There is still pressure on the consumer. As such, our guidance reflects a cautious outlook on the macroeconomic environment."
As Bloomberg notes, the cautious outlook points to a continued slow rebound from the missteps of the last fiscal year, when Walmart misjudged a shift in demand away from general merchandise such as apparel and home goods as inflation pinched US consumers. At the same time, the retailer has benefited from robust grocery sales and a jump in purchases by higher-income shoppers looking for bargains.
"We feel good about how the core business is operating, but we're being cautious with the macroeconomic outlook," Chief Financial Officer John David Rainey said in an interview. "There's a lot of unpredictability around what's happening, what will be the effect of Fed tightening on the consumer balance sheet, what is the effect of the declining savings rate."
On the call, John Furner, the head of the US unit, says the company has been seeing "some acceleration" in consumers switching to private brands in the last 90 days. That implies pressure on the makers of national brands as Walmart customers shift to the retailer's private-label goods.
And an interesting aside: CEO Doug McMillon said the business mix is indeed changing, and noted that the investment the company is most excited about is automation, which of course is corporate speak for more robots, more layoffs.. Rainey sees a marginal improvement in return on investment and says the company is mindful it needs to show a return on investment. He also promises "margin expansion over time."
Walmart shares fell 4.3% ahead of regular trading in New York. The shares climbed 3.3% this year through Feb. 17, while the S&P 500 index advanced 6.2%. Walmart outperformed the S&P 500 and major retail indexes last year.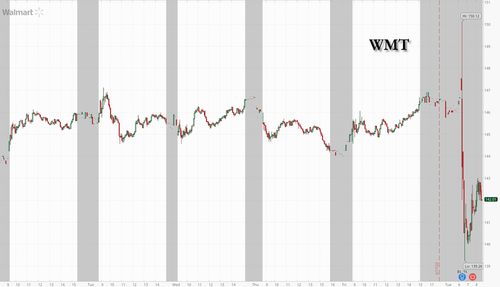 The company's full Q4 presentation is below:
Loading...