---
Greek Stocks And Bonds Jump As New Election Result Is 'Credit Positive'
Greece's government bonds and stocks gained Monday as market-friendly Prime Minister Kyriakos Mitsotakis received a strong vote from the people compared to his opposition in Sunday's national election. 
Mitsotakis' center-right New Democracy received 41% of the vote versus 20% for the leftist Syriza party of former premier Alexis Tsipras. However, Mitsotakis was short of achieving a majority in parliament, but political analysts expect he will secure a single-party government in the next elections in about a month, according to Bloomberg.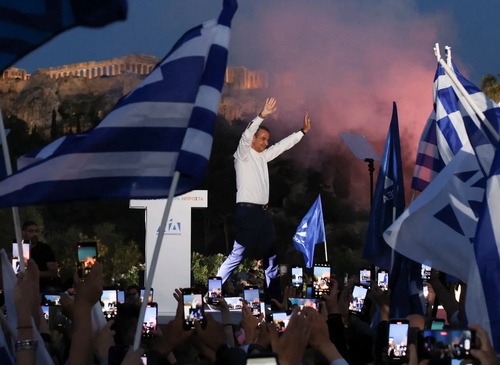 Analysts and investors view the election as one of the last roadblocks standing in the country's path to regaining its investment-grade rating that was lost 13 years ago during a debt crisis and resulting austerity measures to clamp down on debt. Last year, Greece recorded the fastest debt-to-GDP decline than any other country on the continent.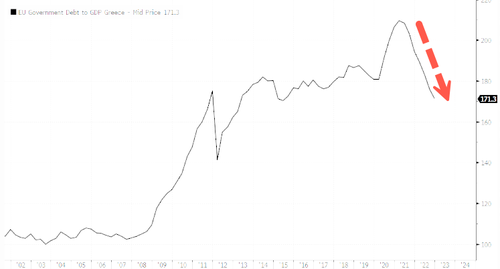 Moody's Investors Service said the election was a positive credit event: 
"In particular, continued focus on improving the business environment and banking sector health, together with implementation of milestones and reforms under Greece's National Recovery Plan will support economic growth," Moody's Senior Vice President Steffen Dyck said in an email statement to Bloomberg. 

Dyck continued, "Combined with commitment to fiscal consolidation and rising primary surpluses this improves the prospects for a further significant reduction in Greece's government debt burden." 
After years of austerity measures to tackle government debt, voters feel that Mitsotakis's plan to rebuild Greece and reclaim its investment-grade status will put the country on a successful trajectory. 
"New Democracy has the people's approval to rule alone.

"I know how much work we have ahead of us, which requires a government that truly believes in reforms and the ability to implement them," Mitsotakis said Sunday night. 
As a result, the benchmark Athens Stock Exchange General Index jumped nearly 7% -- the highest level in almost a decade.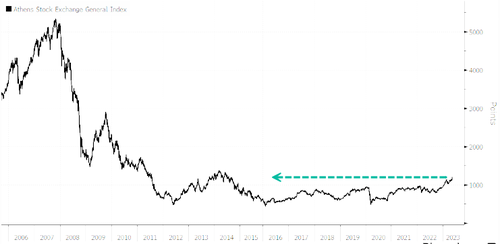 Also, Greek bonds moved higher, dropping to about 3.91% on the yield for the 10-year debt.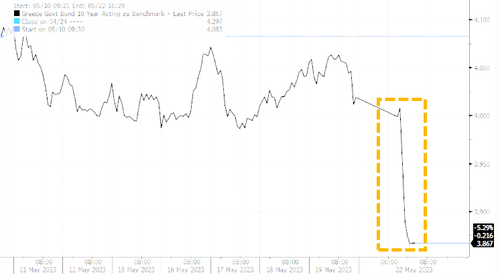 "The results were well beyond market expectations, with New Democracy being the clear winner," said Alevizos Alevizakos, managing director of Axia Ventures Athens.
Eurobank Equities strategist said, "We expect a sharp re-pricing of Greek assets in the coming weeks, as investors position for the compelling Greek thesis in the next few years." 
Greek stocks are surging in reaction to strong election support for market-friendly Prime Minister Kyriakos Mitsotakis

Paul Tugwell has more https://t.co/lVy4OpoBFN pic.twitter.com/B1MwmSdpAm

— Bloomberg TV (@BloombergTV) May 22, 2023
Greeks want an economic miracle after austerity measures that led to slow economic growth. If Mitsotakis wins the second election, planned for June or July, this will allow his party to consolidate victory and make it easier to govern with an absolute majority. 
Loading...