---
Green Switch To Electric Cars Could Cost Germany 100,000 Jobs 
As the green energy transition gains momentum, the broader transformation of the transport sector to electric vehicles will have profound changes in the automobile industry in Germany. For instance, more than 100,000 jobs in combustion engine production could be at risk, according to Munich-based Ifo Institute for Economic Research. 
Ifo released a report Thursday showing that more than 100,000 jobs in combustion engine production could be lost by 2025 if companies fail to reskill workers. 
"The transition to electromobility is a major challenge, especially for automotive suppliers, where medium-sized companies are dominant. It's important to maintain highly skilled jobs in the remaining production of combustion engines and in electric vehicles without putting the brakes on structural change," said Ifo President Clemens Fuest.
 Battery-driven cars require less assembly time than traditional petrol engine vehicles. The shift towards electric vehicles means German carmakers must address the risk of heightening unemployment in the coming years. 
Falck added: "The retirement of the baby boomers won't fully cushion the transformation that can be expected in headcount. Since companies are already aware of this gap, they have the opportunity to take appropriate measures in good time, such as retraining and further training."
The retirement of older line workers will not cushion the expected transformation in employment, the report showed. There's also the risk of increasing automation and artificial intelligence embedded into production lines that will displace workers.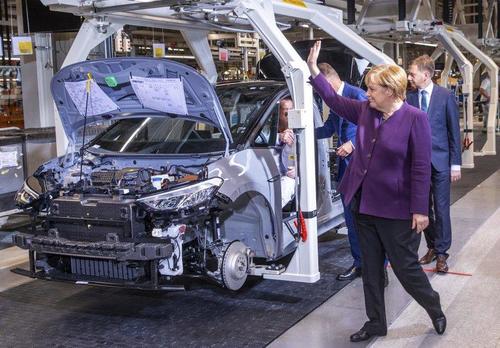 Ifo estimated that 175,000 car jobs will be at risk by 2025 and that only 73,000 workers in petrol engine production would retire in the coming years. This means around 100,000 workers face employment risk if they're not retrained. 
Germany has set out ambitious target bans on the sale of petrol fuel cars. BofA indicates that by 2030, Germany and a host of other countries plan to ban fossil fuel vehicles.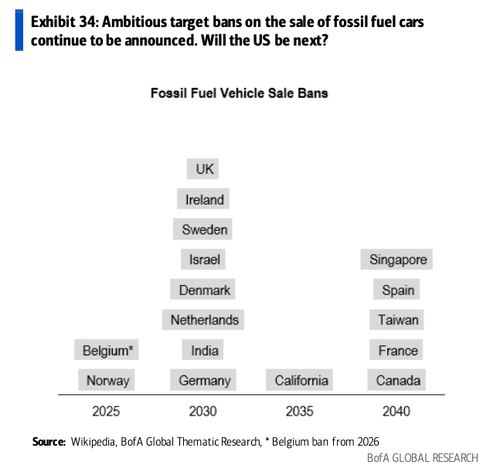 Government policies appear to be rapidly accelerating the transition to electric vehicles, which means entire supply chains have to be reworked. There will be winners and losers, but around 100,000 people appear to have received the short end of the stick in Germany.