---
Gross Profits For House Flippers Hits Record As Fed Turbocharges Real Estate Bubble 
The housing boom unleashed by the Federal Reserve during the virus pandemic was built on historically low mortgage rates, low inventory, city-dwellers moving to rural areas, and remote-work phenomenon. Housing prices in all 20 major US cities have been rising at the fastest pace since 2014. A red hot market has lured house flippers who are pocketing record profits.  
Research firm Attom Data Solutions' latest note specifies homes flipped in 2020 generated a gross profit of $66,300 nationwide (the difference between the median sales price and the median amount initially paid by investors). 2020's gross profits were up 6.6% from a year earlier and were at the highest levels since the housing boom in 2005.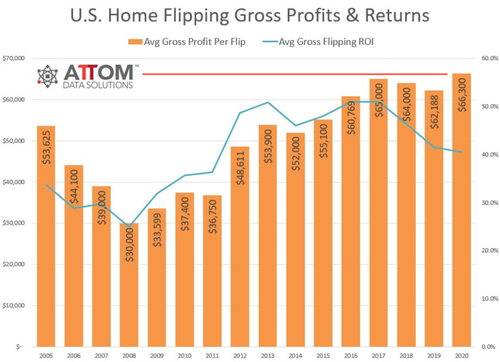 Even with a red hot real estate market, flippers find they have to pay up for homes, which is compressing their return on investment, averaging 40.5% in 2020 compared with 41.5% in 2019. Average home prices across the 20 cities rose a stunning 10% year-over-year in December, its fastest acceleration since 2014.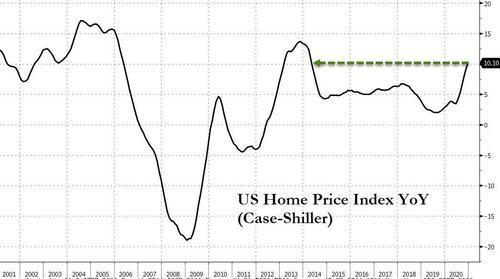 On top of soaring home prices, flippers found out everything from lumber to copper prices increased build costs and squeezed margins. The National Association of Home Builders recently said soaring lumber prices added an extra $24k in costs to builders for the average home in 2020. 
Even though margins are compressing, profits on flips remain strong, as second-tier regional banks are handing out fix-and-flip loans at increasing paces. Small banks, many of which most people have never heard of, such as Cutter Hill Capital, Builders Capital, and Temple View Capital, have seen a surge in loan originations for flipper loans. The average annual rate on a fix-and-flip loan is around 7.09%, about twice the level on a 30-year mortgage. These loans are short-term and are often measured in months than years - making them appealing for banks and other institutions attempting to obtain yield. 
John Piazza, a contractor, based in Wilmington, Delaware, said he's never seen business like this in four decades. 
"Banks are just throwing money at you," Piazza said.
There's an issue of speculation in the real estate market. As we've previously outlined, home prices are rising faster than personal incomes - the last time this happened was in the mid-2000s. We all know what happened next.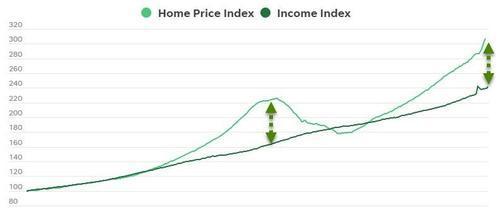 Last month, Federal Reserve Chairman Jerome Powell said the current state of the housing market is downright unsustainable and that the market is likely to calm down in the near term.
As for now, flippers are profiting off city dwellers who are fleeing urban pandemic life and looking to purchase homes in the suburbs. 
However, fears are mounting the housing boom is not just overheating but there could be a cooldown as 30-year mortgage rates jump and are no longer under 3%. 
Flippers expect the housing boom to continue this year as families still leave cities for bigger homes in suburbia or rural communities. AlphaFlow estimates that flippers could sell $75 billion worth of homes over each of the next two years, compared with the $56 billion average each year for the next three years. 
But not everyone is convinced the flipper paradise will continue. Curt Altig, CEO of Seattle-based lender Builders Capital, said low inventory is not producing enough opportunities for finding underpriced homes to fix up. He said more flippers are chasing fewer transactions. 
Maybe if forbearance programs for mortgages end, more opportunities will arrive for flippers, which would add supply to the housing market and reverse prices.