---
A Growing Number Of Investors Are Buying Any Dip They Can... They Are Also Buying Hedges
By Michael Msika, Bloomberg markets live reporter and analyst
An increasing number of investors are buying any dip they can, convinced that a more dovish turn from central banks is just around the corner against the comforting backdrop of a soft landing for the economy. But at the same time, they're bulking up on hedges, just in case.
All eyes were on Fed Chair Jerome Powell this week as he cautioned that rates may move higher than previously expected, given the strength of the job market. Suffice to say, any weakness in stock futures prompted by his warning was bought on both sides of the Atlantic.
According to Barclays strategist Emmanuel Cau, a pattern of short covering by hedge funds and systematic strategies adding equity exposure is now "well advanced." But long-only funds that missed out on recent gains are still defensively positioned and may be tempted to make up ground by capitalizing on any declines, he says.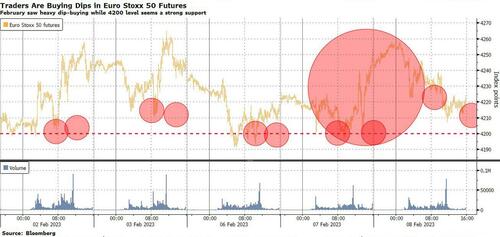 "Risk-reward after such a strong run feels more balanced, and some consolidation is logical," Cau says. "But for now, we think markets may still have good reasons to believe in a soft landing."
While some investors might be chasing the rally, others are boosting their hedges, with an eye on risks that still lie ahead. The total number of puts traded on the Euro Stoxx 50 was more than three times the number of calls this week, a relatively rare occurrence. Meanwhile, overall positioning in equities is still low and a good reason why markets could keep rising for at least a few weeks.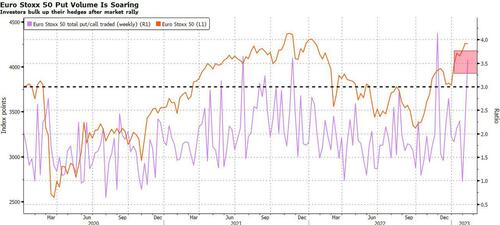 "Positioning remains relatively weak despite its improvement over the last quarter," says JPMorgan derivatives strategist Davide Silvestrini. "This in turn could support short-term performance." Low implied volatility offers a hedge against the risk of market squeezing higher in the near term — through April call spreads, for example, Silvestrini says.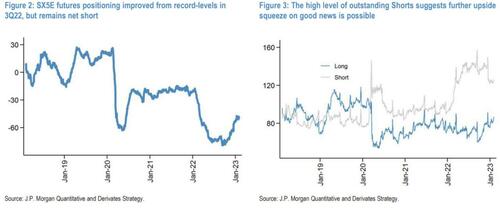 In the medium term, the picture is likely to reverse, according to JPMorgan's team of strategists. While markets are moving higher on expectations that disinflation can take place without significant weakness in economic growth, this scenario is unlikely to materialize, they say. They expect earnings and macro expectations to disappoint beyond the first quarter and recommend using current strength to reduce exposure.
Investors may have been too quick to price in a soft landing. The job market is still on fire, threatening to keep inflation higher for longer, something that central banks have warned about again and again.
US inflation numbers next week loom as a big test for equities. "The labor market needs to cool for the Fed to hit its inflation target," says UBS Wealth Management CIO Mark Haefele. "With unemployment at 3.4%, the lowest level since 1969, this looks hard to achieve."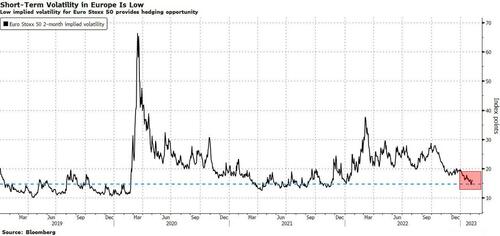 Down the line, many large asset managers remain skeptical of a benign outcome and expect the economy to weaken, which will eventually deal a blow to stocks. Developed-market equities have rallied on hopes of a rebound in growth, prompting some investors to dive in for fear of missing out. But those stocks "aren't fully pricing the recession hit we see ahead," BlackRock Investment strategists led by Jean Boivin say.
Loading...