---
Handle The JOLTS Data With Care
More than a month ago (see "US Job Openings Far Lower Than Reported By Department Of Labor, UBS Finds") and again yesterday, we explained why today's JOLTs job openings number should may come in far below consensus estimates, with even Goldman expecting an 800K drop in the increasingly unreliable headline series. But there's more: as Bloomberg's Imon White explains this morning, there are other reasons why traders should handle today's JOLTs data with care.
Below we excerpt from his note:
Jobs data in the US, such as the JOLTS survey released later today, should be treated with care due to small sample sizes, low survey response rates and backdated revisions.
Today brings the February update of the JOLTS job openings figure. We will also see a number of updates to the JOLTS report, with data back to January 2018 subject to revision. Normally these sort of minutiae would not matter, but when the path of increasingly tight monetary policy is inextricably linked to the jobs data, it's wise to dig a little deeper.
One of the many quirks of the post-pandemic cycle has been the rapid rise in job openings. Openings rose and have stayed elevated, both outright and versus hires and separations (quits + layoffs).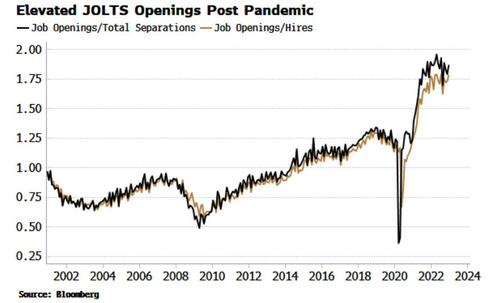 This is not just a US phenomenon. France, Austria, Germany, Australia and the UK are just some of the other countries that have also seen large rises in unfilled job vacancies after the pandemic.
One explanation put forward for this in the UK is that prior to the pandemic, up to half of jobs were offered internally, but since then there has been more movement between firms, pushing up recorded vacancies. In some cases, jobs in the US must be posted publicly even if they plan to hire internally, but in many cases they don't. So this could also be influencing the US data.
Possible behavioral changes are compounded by the JOLTS' dwindling de facto sample size. It covers 21,000 establishments, out of approximately 11 million in total. This is in contrast to the payrolls data which surveys about 400,000 establishments, accounting for about one third of jobs in the country.
But the actual sample size has fallen further due to the collapse in survey-response rates. All surveys have been impacted since the pandemic, but the JOLTS has been particularly affected, the response rate halving to 31% from close to 60% in 2019. Even with the increase in establishments in the survey from 16,000 to 21,000 just before the pandemic, the drop in the response rate means the actual sample size is now 35% smaller.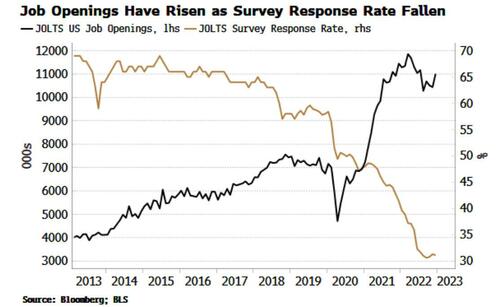 None of this may matter of course, but it pays to know what's behind the numbers, and be ready to act accordingly if the narrative of a super-hot jobs market begins to change.
Other surveys are giving a different picture, with LinkedIn's showing a 28% fall in the hiring rate since last February versus versus a 9% drop recorded in the JOLTS.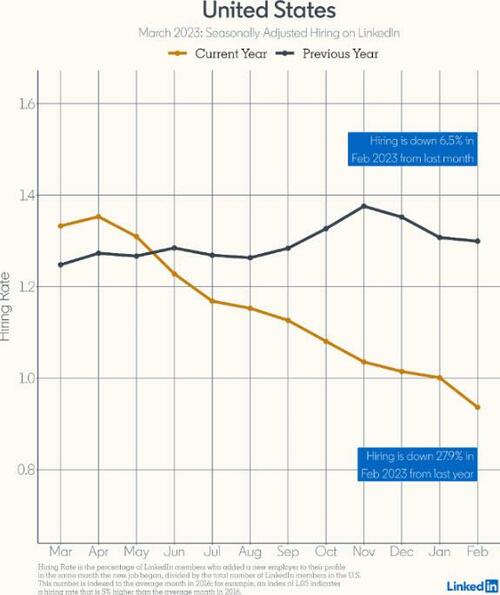 Loading...