---
Premium
Hartnett: It's The "End Of An Era" So "Buy The World"
After a brief break, Michael Hartnett launches his first Flow Show note (available to pro subs) for 2023 with a chart we showed this morning: specifically, the end of the era in in negative yielding debt. As the BofA CIO puts it, "monetary tightening caused collapse in value of negative yielding debt from $18tn in Nov'21 to zero today" a period during which NYFANG (Big Tech) market cap sank $5tn in value.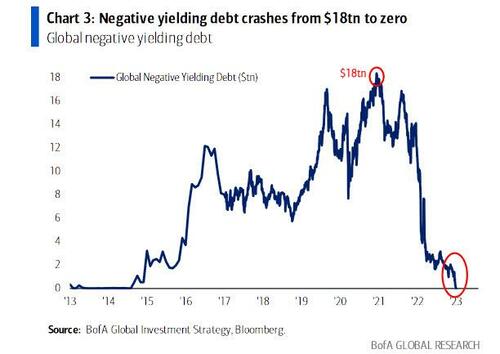 Looking ahead it's rather binary: with US/Japan/EU/UK governments all set to issue $6 trillion in bonds in 2023, the Fed will either step in and resume monetizing this debt, keeping yields manageable, or it won't... and there may be a big problem in the coming months when we may see a far more serious "end of an era."
Loading...