---
Hawaiian Rental Car Shortage Leaves Tourists Renting U-Haul Trucks 
Tens of thousands of travelers have flooded Hawaii this month. The state relaxed the mandatory ten-day quarantine policy, allowing travelers to present a negative COVID-19 test to bypass quarantine instead. A simple, rapid test (which only takes about 20 minutes) is required to visit Hawaii's beaches and resorts. The influx of travelers has strained the supply of rental cars as some tourists resort to renting U-Haul moving vans and trucks.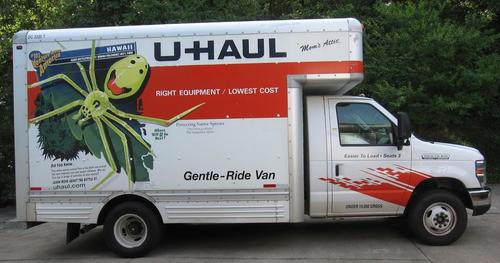 HawaiiNewsNow first reported the shortage of rental cars on Wednesday. The local newspaper said it's not uncommon to see tourists driving U-Haul vehicles around the islands. Last month, it was reported that rental car rates for a standard Toyota Camry jumped to $722 per day, from around the average of $100 due to shortage.
Hertz Vehicles Cuurently Soldout At Kahului Airport
U-Haul Marketing President Kaleo Alau told HawaiiNewsNow that an "uptick from tourism, the uptick from companies opening back up, from the economy restarting — everybody seems to need a vehicle." He said U-Haul facilities in the state are the busiest in years. 
"Most of the time, they're saying that they can't get a vehicle from any of the rental spots. They're all sold out," Alau said.
Maui resident Dave Morrell said the rental car supply in Maui has been depleted. 
"We had relatives from out of town come in and one couldn't even find anything," Morrell said. 
The pandemic might have skewed the supply of rental cars over the last year. Hertz, one of the largest rental car providers, filed for bankruptcy early last year and has been in an ongoing restructuring phase. Since then, the company has liquidated fleets of vehicles. Now there are not enough rental cars. 
Daily rental price spikes have been so concerning that the issue has caught the attention of state authorities:
"I don't want to prejudge anyone or any company but I think it certainly deserves our attention. We are going to be investigating the underlying basis for charging such great amounts to rent a vehicle," said Department of Commerce and Consumer Affairs executive director Stephen Levins.
When U-Haul rental vehicle inventories are exhausted across the islands, tourists can also explore rental vehicles at The Home Depots and Lowe's. But that's old school, internet searches for "turo car rental hawaii" are surging to record high.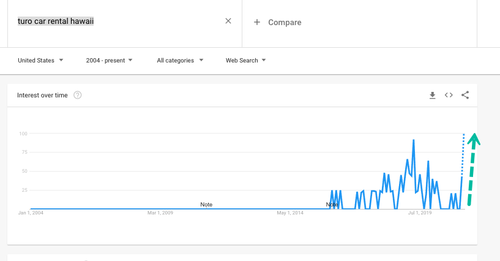 Turo is a peer-to-peer carsharing platform where anyone can rent out their vehicle. Only millennials would know this .