---
Hedge Fund CIO: We Are Left To Wonder At What Level Rising Bond Yields Will Matter
By Eric Peters, CIO of One River Asset Management
"Biden Warns Putin of 'Swift and Severe Costs' of Invading Ukraine," ran the WSJ headline. The situation sounds horrible. European stocks jumped 1.6% on the week, the euro fell less than 1%. Oil crept 0.9% higher -- nothing really.
"Inflation, Ukraine Stoke Outlook for More Stock Volatility," ran another headline. The VIX index rose +4.14 to +27.36, unable to break 30 on the eve of military conflict. "Elon Musk warns America is operating on borrowed time as national debt soars," ran Fox. The benchmark for US solvency – 30yr treasury bond yields - inched up 2bps on the week to 2.25%.
"Rapid Inflation Stokes Unease from Wall Street to Washington," wrote the NYT, after the CPI jumped +7.5%, exceeding forecasts and broadening. Markets priced faster rate hikes, with 2yr treasury yields leaping 19bps to 1.51%. 5-year/5-year inflation swaps rose a barely noticeable 2bps to 2.41%.
"As Protest Paralyzes Canada's Capital, Far-Right Activists Abroad Embrace It," wrote some paper, as Trudeau warned US Republicans to stay out of Canadian politics. The Canadian dollar rose 0.2%.
"Trump's Missing Call Logs Present a Challenge for Jan. 6 Investigators," ran a headline, as the November 2024 political collision steadily approaches.
"U.S. trade deficit soared to a record last year," wrote every paper. Naturally, Biden's approval rating extended its inexorable decline. Rumors swirled that Hillary would run again.
And yet, for all the carnage strewn across newspapers, the S&P 500 ended the week -1.8% (4% above the Jan 24 low and 8.3% below all-time highs).
Strip out the emotion and markets digested the awful news rather well. The S&P 500 is simply where it was 7 months ago. But 10yr yields at 1.94% are now where they were in July 2019, when the S&P 500 was 32% lower than today (Nasdaq was 44% lower).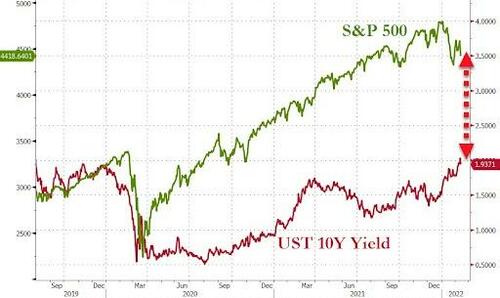 And we are left to wonder at what level rising bond yields will matter?