---
Hedge Funds Add China Stock Shorts Even As Growth Bottoms
By Ye Xie, Bloomberg Markets Live reporter and strategist
China's economy has shown signs of bottoming. Yet that hasn't prevented hedge funds from boosting their short positions in the stock market once again.
Wednesday's market highlight was, of course, the US Federal Reserve meeting, which turned out to be more hawkish than markets expected. Officials kept one more rate hike on the table for this year, while raising the median dot for 2024 to 5.1% from 4.6%. The shift in the "mode" – or the most-frequent dot on the plot — is even bigger, marking an increase of 75 bps.
The projections revealed the Fed's reaction function: upside growth risks will bring less easing next year, even with steady inflation expectations. In other words, the Fed will raise real yields in respond to stronger growth. That should put a bit more pressure on risky assets and support the dollar, particularly against lower yielding currencies, including the yuan.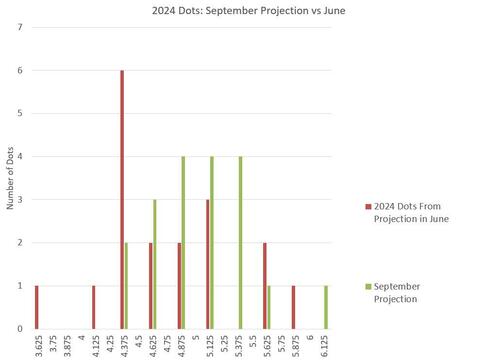 Back in China, recent data showed the economy has stabilized. Capital Economics' China Activity Proxy Index, an alternative measure to official GDP, suggested annual growth accelerated to 6.1% in August, from 4.3% in the previous month.
The main bright spot is the industrial sector, with a "strong upward trend" in freight traffic at the ports and across roads and railways, according to economists Sheana Yue and Julian Evans-Pritchard. While property sales have yet to bottom, a pickup in car sales also pointed to improvement in consumer sentiment.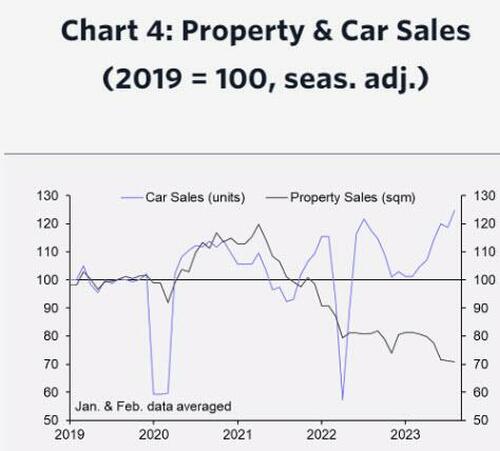 A Standard Chartered survey of small and medium enterprises also showed improvement, with the headline index edging up for a second consecutive month.
Yet the markets are sending conflicting signals. The 10-year bond yield, arguably one of the best indicators of China's growth momentum, is trading at the top of its range over the past three months. But the equity market remains under pressure, with turnover drifting toward the lowest in 2023.
Coincidentally, hedge funds boosted their bearish bets on Chinese and Hong Kong stocks. Short interest has increased this month pretty much across sectors, according to data compiled by Morgan Stanley. Among the prominent names, the pickup in short interest in PDD, an e-commerce company, stood out. Outflows from active long-only managers also continued, strategists including Gilbert Wong wrote in a report.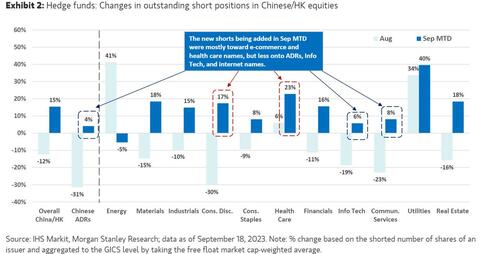 Apparently, fund managers didn't get the "China Recovery" memo.
Loading...