---
Here Are The 2 Trillion Reasons Why Stock Markets Are Soaring In The Face Of A Global Pandemic
After having extended its Lunar New Year break, and with yet more cities and firms still shutting down than doing any re-opening, Rabobank notes that Beijing is starting to become cognizant of just how deep and serious the economic damage is going to be if this goes on much longer. We are, after all, talking about 80% of the economy, and 90% of exporters, simply not functioning.
But one look at global stocks and you wouldn't know anything had happened...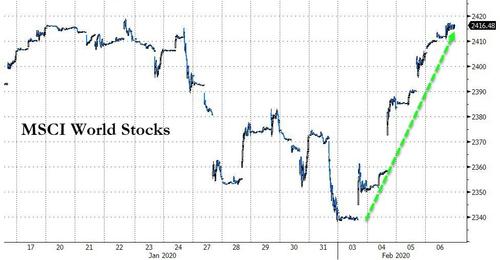 Source: Bloomberg
So the question is - why? Why are stocks shrugging off the biggest global pandemic killer in a century? Why are global stocks ignoring the world's second largest economy being shutdown? Why are traders bidding the cyclical stocks to the moon alice when this global supply chain shock is an unknown unknown?
The answer, it turns out, is the same as it always is - or has been for the last decade or more... LIQUIDITY!
Typically, China's central bank (PBOC) floods the system with liquidity ahead of the lunar new year holiday to ensure banks can fund themselves for the week off and window-dress/support asset-values to ensure optimism and consumption continue. Also, typically, that repo-provided liquidity is rolled off shortly after the holiday is over...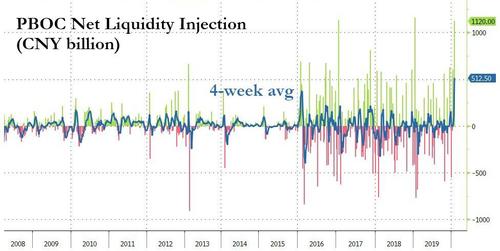 Source: Bloomberg
However, this year, as the lunar new year liquidity provision began, the ominous signs of a deadly virus were building and PBOC decided that instead of unwinding the large liquidity provision, they would double-down on it... and that they did in size.
The last four weeks have seen China supply over CNY2 trillion (net!) into its financial system - something we have never seen anything like before...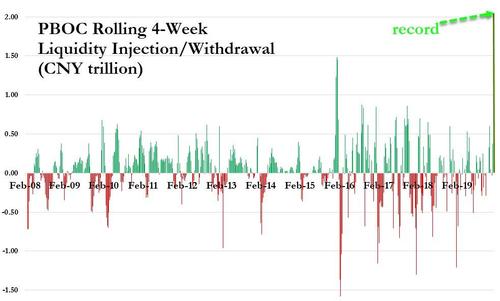 And that unprecedented wave of $300 billion liquidity injection lifted every boat in every storm, sending China's ChiNext (small-cap-tech stocks) soaring back to highs but at the same time, Chinese bond yields collapsed...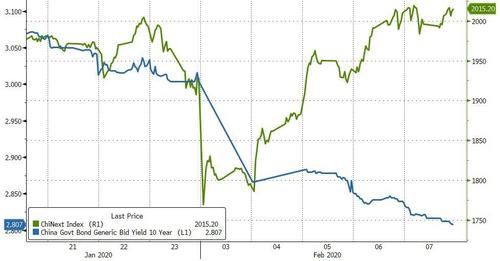 Source: Bloomberg
This is a decoupling that has been going on for weeks ahead of the Lunar New Year and long before coronavirus shutdown the economy...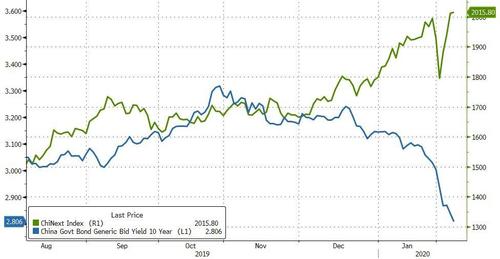 Source: Bloomberg
Of course, media are all too happy to blindly cheer the surge in stocks in the face of global pandemic and as Rabobank mocks, Bloomberg was even trying to sell the fact that Chinese government bond yields are dropping (-33bp this year) as a good news story.
It isn't, even if that single trade is one I have long supported if one simply has to be in Chinese markets.

If China is seeing its yields plummet, what does that say about global growth prospects? What does that say about global reflation? It's a long bonds story – full stop. Of course, lower yields mathematically means higher P/E ratios for equities too ("so buy stocks!").

Until yields have gone as low as they ever can, real activity has ground to a halt, and we have a world where bonds can't go any higher, equities can't go any higher, central banks and governments can't afford to let either collapse, and only FX markets have any pricing function.
We are already seeing supply-chain knock-on effects for a swathe of global firms and this, very much like the virus itself, will snowball as time passes if nothing changes. For a country that was already seeing foreign firms talk about shifting production to other locations this is a problem. Thus, perhaps, some of the urgency in trying to stress that everything is returning to normal soon, and that the WHO advice is worth following - this time.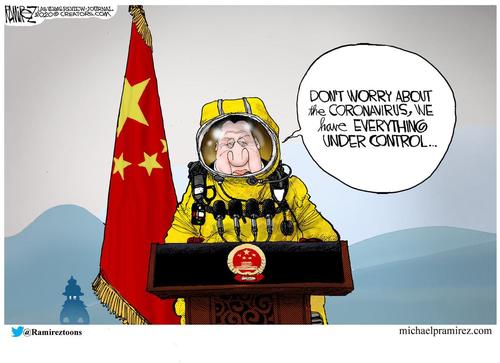 But, Chinese State Councilor and Foreign Minister Wang Yi stated unequivocally this morning that China will defeat the epidemic:
"We have the ability to minimize the impact of the epidemic and maintain the sustained and stable growth of the Chinese economy."
Indeed you have Mr.Wang... it just takes CNY2 trillion a month to keep the delusion alive!!