---
Here Are The States Where Trump Trade War Is Hammering China Exports
New data from the US Commerce Department shows at least 30 states, many of them Trump states, have observed double-digit declines in merchandise exports to China through Sept. of this year.
In Wyoming, which exports chemical products to China, recorded a -80% plunge in shipments in the first nine months. Alabama's automobile industry reported a -49% fall in shipments, Idoha -46%, Washington -45%, Aaraknsa -44%, Florida -40%, and Texas -39%. Merchandise exports to China as a whole slumped 15% to $78.8 billion during the period. 
Brad Setser, a senior fellow for international economics at the Council on Foreign Relations, spoke to Bloomberg about the trade war devastation impacting manufacturing hubs in US states. 
Setser said as the trade war escalated this year, China's demand for imports in many Trump states fell off a cliff. 
He warned that some of these manufacturing hubs "will never recover," even if there's a trade deal. 
It's becoming increasingly apparent that China, has struck back at the Trump administration, though it was silent, and now what appears to be very targeted, it could turn out to be a disaster for the administration ahead of an election year. 
With manufacturing hubs across the country crushed, it should be no surprise that the manufacturing recession continues to deepen into Q4.
Already, preliminary estimates for Q4 GDP data has fallen to a dismal 0.4% on Friday, take out government spending, and it's likely the recession has already started. 
On November 15, the #GDPNow model nowcast of real GDP growth in Q42019 is 0.3%. View GDPNow for more details. https://t.co/T7FoDdgYos pic.twitter.com/wOR961QYtv

— Atlanta Fed (@AtlantaFed) November 15, 2019
US economic data has been rather poor since Sept., including today's disappointing retail sales and dismal industrial production as the US economic surprise index has slipped back into the negative after peaking in late September.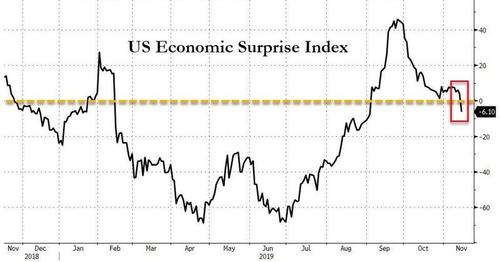 The manufacturing recession and services slowdown has already led to a downturn in employment. This will start to hit consumer spending trends and lead to a reverse in sentiment.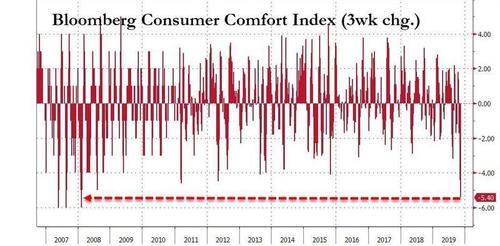 Put this all together, and a broader slowdown is already underway -- contagion has spread from manufacturing to services. Trump states are getting hit the hardest. It's only a matter of time before the next recession begins.