---
Here Comes The 2x Leveraged ARKK ETF
What's more fun to ridicule than just one ARKK ETF? A 2x leveraged ARKK ETF that experiences twice the "performance" of its underlying.
Though we're not sure why anyone would want to replicate ARKK's performance to a 2x degree, but for the idea that the "Innovation" ETF is due for a massive rebound, that appears to be exactly what is happening.
A filing on Tuesday with the Securities and Exchange Commission has introduced the AXS 2X Innovation exchange-traded fund (ticker TARK), which seeks to target 200% of the "performance" of the ARK Innovation Fund, according to Bloomberg Wednesday morning.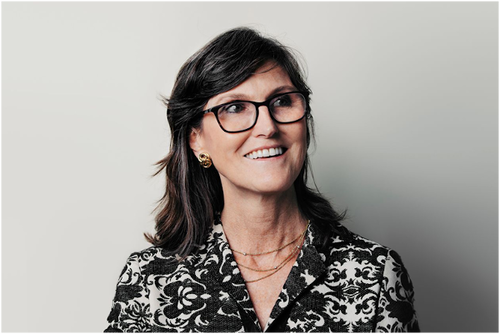 The product, being launched by Investment Managers Series Trust, won't come to market for at least 75 days. By then, who knows what will be left of ARKK? It's down 55% from its recent peak after plunging 25% year to date already. 
On the other hand, the creators of the Tuttle Capital Short Innovation ETF (SARK) inverse ARKK ETF actually have something to write home about. They are up 56.85% over the last six months while ARKK has tumbled more than 40%.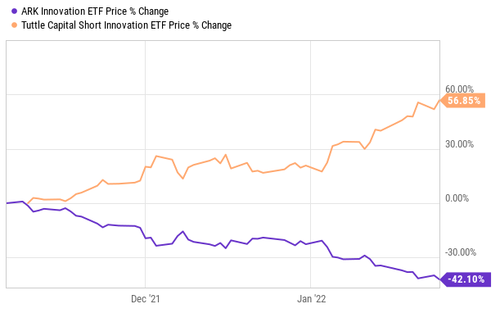 The fund uses swap contracts to short the Innovation ETF, Bloomberg wrote on Wednesday. 
SARK posted a record inflow of $94 million, its most recent data shows. This suggests that investors believe Cathie Wood's rout may only be getting started. Those who will take to the new TARK ETF will be betting against SARK owners. 
Either way, to some degree, the derivative ETFs are good press for Wood, whose ARKK experienced more than $4 billion in volume yesterday, we noted. Bloomberg ETF expert Eric Balchunas commented this week that, despite the ETFs losses, the robust volume portends well for the ETF trading like a popular sector ETF for years to come.