---
Here Is What Warren Buffett Bought And Sold In Q4
Today, the Q4 13-F season begins (and ends tomorrow) and while we will have a comprehensive summary of what hedge funds did in the fourth quarter (which ended 45 days ago), we start our reporting with what the grand daddy of all modern day hedge funds, Warren Buffett's Berkshire Hathaway, did.
Which actually was very little: the reported value of Berkshire's long-only equity portfolio rose modestly from $296BN to $299BN, with only modest underlying changes.
Here are the most notable ones:
Added to just three positions, and in very modest amount: boosted its stake in AAPL (which remains the fund's largest position worth just over $116BN as of Dec 31), by 333,856 shares and BRK now holds 895.136 million AAPL shares; increased its stake in Paramount Global by 2.7%, or 2.421 million shares to 93.637 million shares, and also boosted its Louisiana Pacific position by 21.5% or 1.249 million shares to 7.044 million shares.
Trimmed holdings in eight positions, including:

Chevron, 1.4% cut in shares held from 164.4 million to 163.0 million
Activision Blizzard, stake cut by 12.3% or 7.424 million shares to 52.717 million
Bank of New York Mellon, stake slashed by 59.7% or 37.1 million shares to 25.1 million shares
US Bancorp, stake slashed by 91.4% ot 71.1 million shares to 6.67 million shares

Most notable was the sizable cut in the Taiwan Semi position, which was cut by 86.2%, from 60.06 million shares to just 8.293 million as of Dec 31. This is a big change for a stock which as of Sept 30 was not only a new position for Berkshire, but one which just made the company's top 10 holdings with value of $4.1 billion as of Sept 30.
Remarkably, for the first time in years, Berkshire neither added new position nor fully liquidated existing holdings in the fourth quarter.
As of Dec 31, Berkshire's largest position remains Apple at 895.1 million shares or $116.3 billion as of Dec 31. Other top 5 holdings are:
Bank of America Corp.: unchanged at 1.01 billion valued at $33.5 billion
Chevron: cut by 2.4 million shares to 162.9 million valued at $29.3 billion
Coca-Cola: unchanged at 400 million valued at $25.4 billion
American Express: unchanged at 151.6 million valued at $22.4 billion
Full details of all Berkshire Q4 moves can be found in the table below.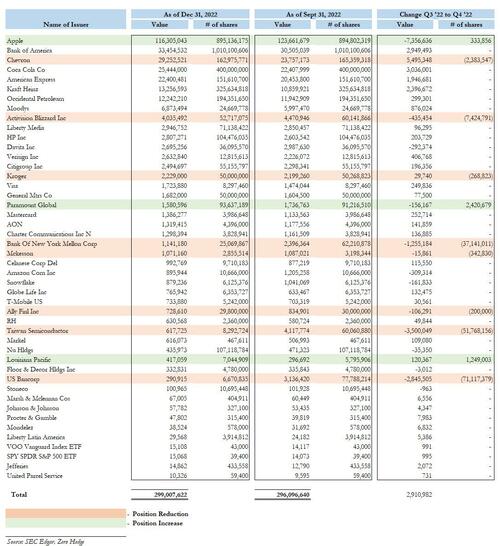 Soruce: SEC Edgar
Loading...