---
Here's What The Fed Will Say Today, And How The Market Will React
Over the weekend, Goldman sparked a hawkish frenzy when, in its latest FOMC preview, the bank added to the fuel started by Jamie Dimon who last week predicted "six or seven" rate hikes when it said that while its base case remains at 4 rate hikes and balance sheet runoff starting in July...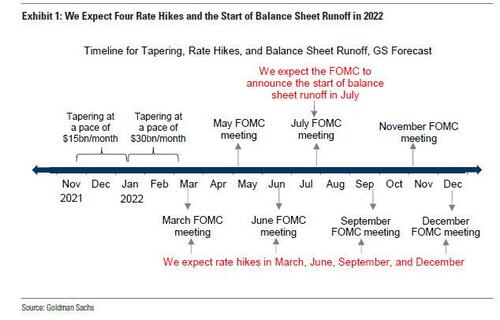 ... "recent developments have made us more concerned about the inflation outlook" and as a result there is risk "the FOMC will want to take some tightening action at every meeting" until the surging inflation picture changes. This, Goldman's chief economist Jan Hatzius says, raises the possibility of a hike or an earlier balance sheet announcement in May, and of more than four hikes this year, including the possibility of one rate hike at every meeting in 2022.
For its part, JPMorgan balked at this hawkish take, and as we discussed also over the weekend, the bank said that "the Fed is likely to strike a more dovish tone relative to extreme investor expectations" (expectations which reached panic levels thanks to JPM's own CEO, Jamie Dimon, who said there is a "good chance the Fed will hike six or seven times").
Still the damage from the outlandish hawkish warnings from Goldman has been made, and in its FOMC preview, JPMorgan wrote that while the Fed meeting should be a non-event, it now has investors questioning (i) will the Fed end QE next week; (ii) is next week a live meeting or does liftoff begin in March; and, (iii) is the first rate hike 25bps, 50bps, or more. The answer to all these, according to JPMorgan, is "stop freaking out", to wit:
(i) No – while the economy does not really need additional stimulus there is noticeable impact from Omicron without a clear answer as to when Omicron fully dissipates.
(ii) The JPM view is that liftoff begins in March. With a 6- 9 month lag between Fed action and economic impact, pulling forward liftoff to January does not have a material impact on the economy and the bond market, and thus financial conditions, reaction would potentially be negative enough to derail the Fed's attempt at a soft landing.
(iii) 25bps. While we have seen the Fed cut 50bps or more, we have not seen the Fed hike in those increments. While Powell seems the most likely Fed chair to attempt this, it seems unlikely. That said, we could see the Fed accelerate their hike schedule form an assumed once per quarter to once per meeting. But even that aggressive of an approach is not being price into markets and would seemingly violate Powell's preferred data-driven approach.
In short, while Powell pivoted hawkish after incorrectly saying inflation is transitory for much of 2021, he has not telegraphed - via the Fed's favorite mouthpiece - the WSJ - any incremental hawkishness, and it is virtually assured that Powell will not surprise to the hawkish side. As for everything else - a first rate hike in March, Fed balance sheet runoff in March and 25bps rate hikes, all of that is priced in.
That also explains why the recent surge in rate hike odds has collapsed and the market no longer sees even 4 rate hikes in 2022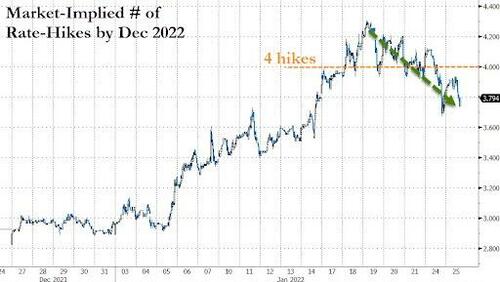 With that in mind, here is a handbook JPM's Allison McNellis put together ahead of today's 2pm meeting:
"After a swift move cheaper last week, we are now back under 4 hikes priced in 2022. Given we are still in the early innings of communication on both pace of hikes and balance sheet there is still plenty scope for the Fed to surprise to the hawkish side if they choose. Our traders have taken off their front-end shorts in whites and prefer a bearish bias in greens/blues. If we do price in more in fronts they think it is more likely to be 25bps at each meeting rather than a 50bp move. The vol desk continues to like risk that leans short duration, short vol, and short skew.
I think it is important to remember though consensus has formed around a fairly straight-forward release anything is possible in this environment given: 1) the range of data outcomes in the next 6ms 2) the level of uncertainty around financial conditions 3) the Fed being forced to pursue a communication strategy from behind the curve, not ahead of it."
SIGNALING MARCH LIFT OFF
Consensus view - Signal March without being 100% explicit in the statement. Feroli likes using "soon" but I believe this has only been used in reference to balance sheet policy historically. I prefer bringing back 2016 language that says the "case for an increase in the federal funds rate has continued to strengthen."
Hawkish option - Use of "next" in statement. This was used in October 2015 to explicitly signal December 2015 first hike. I think this is unlikely in the statement but possible the word surfaces in the presser.
Dovish option - Unchanged statement. An upgrade of inflation risks in the 1st paragraph but no change to the current last paragraph on monetary policy stance.
GUIDANCE ON THE PACE OF TAPERING
Consensus view - They will steer clear of using '04 or '15/16 language and instead describe the path as data dependent.
Hawkish option - Anything leaning towards "measured" and hinting at the potential for 50bps moves.
Dovish option - Anything leaning towards "gradual" or a more wait-and-see approach to the cycle.
BALANCE SHEET PLANS
Consensus view - No change but marginal progress shown at the presser. Recall at the December presser Powell signaled that they would be discussing run-off "at the next meeting and another at the meeting after that, I suspect." At the very least he would update that language and at most give some idea of pace/size options.
Hawkish options:

1) End QE early at this meeting
2) Release a normalization note
3) Use "relatively soon" in the statement.
Feroli has ending QE early at a 25% likelihood and from the title of my last note you can see I clearly think it is the right thing to do. However not a single Fed speaker has signaled that this is an option and the equity market is probably putting this at sub 5% chance. If it happens QT trades benefit most (tips get hurt). As far as I can tell not many are talking about a policy normalization principles note in the style of June 2017. If they are planning on changing balance sheet composition in any way – I would expect them to use this release at some point to keep their options open in terms of strategy around SOMA add-ons and MBS. In 2017 the meeting before they announced QT they used the term "relatively soon." I think it would be very strange for them to use this while still buying bonds. If they were to stop QE and signal QT this strongly, equities will be very unhappy.

Dovish option - Say nothing. Powell punts the discussion firmly in the presser with nonew level of detail.
THE PRESS CONFERENCE
Consensus view- Powell is asked about the move in asset prices including TIPS, risk, and MBS. He stands firm that upside risks to inflation warrant an upcoming change to policy. In December presser he highlighted that financial conditions can change rapidly.
Hawkish option- This is the first time a Fed member will comment on equities. He could be completely dismissive of a -10% move.
Dovish option- Powell throws the equity put on the table and shows real concern about the medium term impact of the correction. Inflation is far too high for him to do this now in my view.
* * *
Bloomberg Markets Live commentator Ven Ram also chimes in with his own forecast on what the Fed will say, writing that undeterred by U.S. stocks going down like ninepins, "the Fed is likely to signal that it is likely to start raising rates at its next meeting in March and also flag the end of its bond purchases - thank you for overstaying your welcome, QE."
The statement is also likely to acknowledge that members discussed allowing maturing Treasury securities to run off its gargantuan balance sheet some time later this year without specifying any date. (Chair Jerome Powell is likely to be asked about this at his briefing. While he may not commit to a start date, a specific reference to a particular quarter may be taken by the markets as being hawkish and cause a curve steepening as it would reflect confidence about the economy).
Other questions of particular interest to traders will be his take on the number of hikes being priced by the markets this year (His response: "Monetary policy isn't on a pre-set course") and whether the Fed would be averse to a 50-basis point increase in March (:If his response suggests that the Fed is receptive to the idea, that would be taken as pretty hawkish. However, my two cents is that he will toe the line set by Governor Christopher Waller").
Not hawkish enough? Well there is Mohamed El-Erian's view, who recently wrote that the Fed needs to stop its asset-purchase program immediately and announce its plans for quantitative tightening in March to restore its credibility in fighting inflation. Deutsche Bank economists see six to seven rate hikes in 2022 as a hawkish outlier.
But while these views lean far more to the hawkish side, a more nuanced view comes from Art Hogan, chief market strategist at National Securities, who notes that "recent gyrations in the stock market, largely caused by uncertainty about how quickly the Federal Reserve will tighten monetary policy to fight inflation, could preclude the central bank from taking or even communicating any surprisingly hawkish steps when it releases its policy statement this afternoon." As such, any more "measured" stance from the Fed could reassure markets and dampen volatility. 
Should the Fed surprise markets and lean overly dovish, the VIX would tumble and might provide a short-term pop to a very oversold equity market. Tallbacken Capital Advisors CEO Michael Purves recommended shorting the April VIX contract. Various metrics are pointing to "volatility exhaustion" which could send it lower even if the market continues to slide, he wrote in a note to clients.
Meanwhile, an even more more dovish take comes from Bear Traps report Larry McDonald who writes that "the Fed has been using their Street pawns – namely Goldman Sachs – to rachet up rate hike and quantitative tightening (QT) expectations. All this noise out of the Powell trombone has come with tightening FCIs. As we learned in Q4 2018, when front rates (2s from 20bps to 100bos since September) scream higher – financial conditions behind the scenes tighten FAR faster than clueless academics can measure on the fly."
His conclusion: "Powell has enough of a recent economic soft patch in the data to walk-back his insane declarations (4 hikes in 2022 and QT, for six-seven total). The slightest backtrack is all that is needed to trigger a large counter trend rally – gold and silver miners will be 15-25% higher on any softening of the language. Powell won ́t be doing high-speed "Michael Jackson moonwalk" in the opposite direction, but he will be moving gently that way. That should be enough of a fire hose to calm things down – for now. Look for high drama Monday – Tuesday with a large rally in risk assets by the end of the week"