---
"He's Terrified Of Being Sanctioned" - Abramovich To Sell Chelsea Football Club
Update (1320ET): Confirming what was leaked earlier, Chelsea Football Club has issued a statement from Roman Abramovich:
I would like to address the speculation in media over the past few days in relation to my ownership of Chelsea FC. As I have stated before, I have always taken decisions with the Club's best interest at heart. In the current situation, I have therefore taken the decision to sell the Club, as I believe this is in the best interest of the Club, the fans, the employees, as well as the Club's sponsors and partners.

The sale of the Club will not be fast-tracked but will follow due process. I will not be asking for any loans to be repaid. This has never been about business nor money for me, but about pure passion for the game and Club. Moreover, I have instructed my team to set up a charitable foundation where all net proceeds from the sale will be donated. The foundation will be for the benefit of all victims of the war in Ukraine. This includes providing critical funds towards the urgent and immediate needs of victims, as well as supporting the long-term work of recovery.

Please know that this has been an incredibly difficult decision to make, and it pains me to part with the Club in this manner. However, I do believe this is in the best interest of the Club.

I hope that I will be able to visit Stamford Bridge one last time to say goodbye to all of you in person. It has been a privilege of a lifetime to be part of Chelsea FC and I am proud of all our joint achievements. Chelsea Football Club and its supporters will always be in my heart.

Thank you,
Roman
*  *  *
It looks like Roman Abramovich, the Russian-Israeli billionaire and perhaps the best-known of Russia's oligarchs in the West, is looking to sell Chelsea Football club after initial reports that he was handing over the club's ownership to a trust.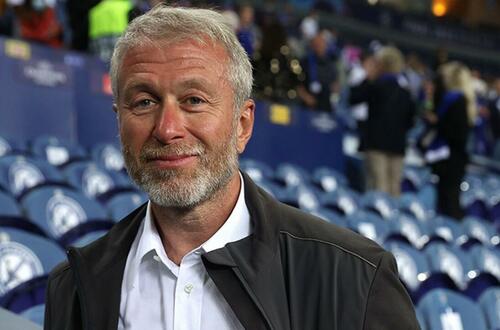 Reports of Abramovich's desire to sell first appeared in European newspapers after a Swiss billionaire said he had been approached on Tuesday with an offer to buy the club.
Swiss billionaire Hansjoerg Wyss said he had been approached on Tuesday with an offer to buy Chelsea, and he added that he could form part of a "consortium" of new ownership. He wasn't the only one who had been approached.
Here's more from Bloomberg:
Hansjoerg Wyss, the Swiss businessman, said he received an offer to buy Chelsea Football Club on Tuesday, along with three other potential buyers. He told the Swiss newspaper Blick that he's waiting a few days and that Abramovich is presently asking for too much money.

"He's in panic just like all other oligarchs," Wyss said in the interview.
Meanwhile, one British MP told the press that Abramovich is panic-selling his assets - including several luxury residences in the UK - because he is "terrified of being sanctioned."
Roman Abramovich is selling his London properties, according to British MP Chris Bryant, and a Swiss billionaire said he's been approached about buying Chelsea Football Club.

"He's terrified of being sanctioned, which is why he's already going to sell his home tomorrow and sell another flat as well," Bryant, a member of Britain's opposition Labour Party, said in Parliament in London.
The billionaire is reportedly looking for £3 billion (roughly $4 billion) for Chelsea. A mid-March deadline has been set for bids. As for Abramovich's real estate holdings, the property Bryant was referring to is a mansion at Kensington Palace Gardens, according to a person familiar with the matter.
While the UK has sanctioned more than 100 Russian individuals and businesses in response to the incursion into Ukraine by the Russian military, Abramovich, 55, has so far avoided the sanctions. However, the Russian billionaire has been under increasing pressure from British politicians. He has reportedly been enlisted to participate in talks with the Russian government on behalf of the government of Ukraine.
Abramovich derives most of his wealth from dividends and sales of assets he acquired from the former Soviet Union via the loans for shares program that led to the rise of Russia's oligarchs. Assets he controlled included Sibneft and Aeroflot. He's reportedly worth $13.5 billion, according to Bloomberg.
The West hasn't yet finished handing down sanctions to Russian businessmen, as Russian oligarch Alexei Mordashov on Wednesday resigned from the Tui Group, the world's largest leisure tourism company, after being sanctioned by the EU over his links to Russian President Vladimir Putin.
In other football news, English Premier League football club Everton FC has suspended "with immediate effect" all sponsorship deals with the Russian companies USM, Megafon and Yota.