---
High-Frequency Data Stumbles In Advanced Economies With Stocks At Record Highs 
2020 has taught us the importance of incorporating high-frequency data into economic forecasts can yield enormous benefits, especially in an unprecedented virus pandemic. 
When the pandemic hit China last January, high-frequency data was able to show us the slowing economic effects of lockdowns across the country and how spillover effects were going to ripple around the world, eventually crashing the global economy. 
One year later, Bloomberg has compiled high-frequency data from the world's largest advanced economies that suggests a resurgent of the virus and stricter social distancing measures is resulting in a stumbling of growth. 
The index, measured by Bloomberg Economics' alternative data gauges such as energy consumption, public transport, and mobility, has declined since mid-December.
In the third week of January, economic activity fell across the board, moving lower in Germany, Italy, and Japan and remained somewhat stable in the US and UK and showed modest improvement in Canada and Sweden.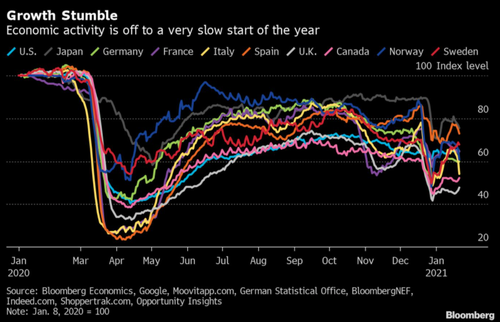 While markets are discounting machines, much of which, investors speculators are drunk on the central bank and government stimuli, and hopes of vaccines and reopenings, there needs to be a shock that snaps investors and speculators out of their daze of recovery hopes, back to reality, of a recovery that is faltering across the West. 
"Still for the stock market to have a real nasty unwind, rather than just a bull market correction, there needs to be a catalyst," wrote Jefferies analyst Christopher Wood. 
The trillion-dollar question: What will be the next catalyst to spark market panic?