---
Holiday Season In Jeopardy As Consumers Reign In Spending Amid Economic Downturn 
The continuing cyclical slowdown in US economic growth has already sparked a manufacturing recession that has transmitted weakness into the consumer segment of the economy. Wall Street continues to overlook the deceleration of hard economic data, with all their bets on the consumer this holiday season. 
Last week, ECRI's Lakshman Achuthan showed how YoY industrial production growth in manufacturing is in a recession, already at a 3.5 year low. And real retail sales growth has been falling simultaneously. 
"On the manufacturing side, you have IP [industrial production] at a 3½-year low. It's deeply negative," he said. "On the retail sales front, you have deceleration."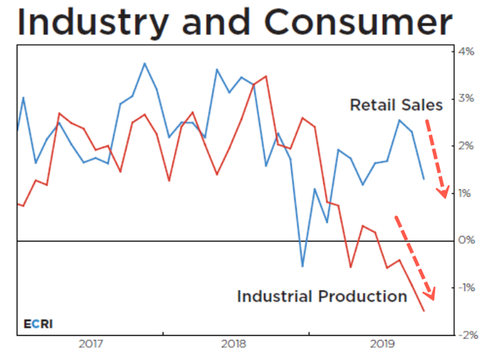 Achuthan said the US economy is likely to continue slowing in the months ahead. There's no indication that a turning point in economic growth will be seen in 2019, as it's likely the consumer will continue to deteriorate. 
"All the hopes are the consumer is somehow going to rev up, and that's coinciding with the holiday season here," said Achuthan. "But when we look at all of our leading indexes that anticipate turning points in the US economy, it's not there yet. So, we have more slowdown to go."
Consumers are conscious of the economic slowdown. They're boosting savings and preparing for the downturn by limiting their spending habits this holiday season, according to a new survey from TD Bank. 
The second annual Holiday Retail Report, published by TD, says 30% of respondents are going to rein in their spending this holiday season. 
The survey offered little insight into the abrupt change in spending. 
Though we've outlined before, consumer sentiment has been plateauing for the last 12 to 16 months as economic growth slows. Employment slowdown has also been another factor, which can lead to a reversal in consumer sentiment if layoffs start. And on top of the downturn, consumers are all leveraged up with insurmountable debts, such as auto loans, student debts, and credit card loans. 
At least 84% of the respondents will rely on credit cards this holiday season -- but with credit card rates at a two-decade high -- it could be hard for consumers this year to justify spending obscene amounts of money on gifts.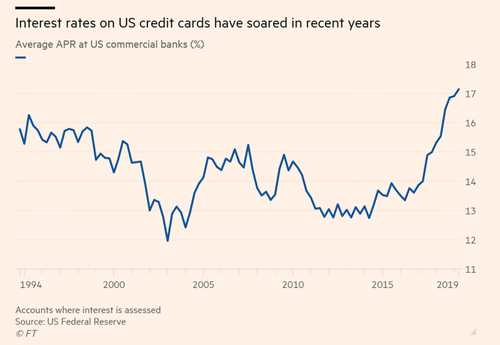 Respondents said they would spend approximately $735 on holiday-related expenses this season. Those with credit cards are expected to spend around $840. 
"Regardless of how much you plan to spend this holiday season, it's important to remember that the expenses you accrue now can impact your financial situation well into the new year," said Mike Kinane, head of US Bankcard for TD Bank."For example, a credit card with a 22% APR will charge shoppers $15 per month on a balance of $840. If shoppers take too long to pay their balance off, they're likely to cancel out any deals they were able to take advantage of during the holiday season."
And it's important to note that the consumer is 70% of GDP. Already, GDP in Q4 is set to print at the lowest level in 4 years at around 0.35%, and would be only the fifth time in 42 quarters since the Q3 2009 exit from the recession when US growth has risen by less than 0.5% Q/Q.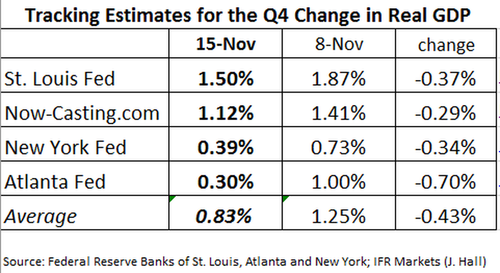 What this all means is that preliminary data is already pointing to a weak holiday season, and with GDP already growing near zero in Q4, it's like that the consumer could tilt the economy into below-trend growth in the months ahead.