---
Home Depot Plunges After Worst Revenue Miss In 20 Years, Slashes Guidance; Blames Weather, Lumber And Faltering Consumer
Ahead of this week's earnings-season ending barrage of retail data, analysts and traders were asking if the strong consumer spending momentum from early in the season would carry through or if we would see an uglier side to the US consumer. The answer was delivered moments ago from Home Depot, is decisively the latter.
Home Depot reported its biggest revenue miss in more than 20 years and slashed its outlook for the year as consumers delay large projects and buy fewer big-ticket items like patio sets and grills, the latest sign consumers have maxed out their credit cards after splurging on Weber grills, hot tubs, and patio sets during the pandemic years. 
The largest US home improvement chain said comparable sales are expected to decline between 2% and 5% this fiscal year compared with last year, both missing badly the consensus estimate of -0.73%. Home Depot previously forecasted sales would remain flat. It blamed lower lumber prices and bad weather on the rough start to the year. 
For the first quarter, comparable sales fell 4.5%, far worse than the expected 1.4% drop, the latest indication that the housing market boom is cooling, which may be a symptom the Federal Reserve's restrictive monetary policy is working. 
"After a three-year period of unprecedented growth for our sector, during which we grew sales by over $47 billion, we expected that fiscal 2023 would be a year of moderation for the home improvement market. Our sales for the quarter were below our expectations primarily driven by lumber deflation and unfavorable weather, particularly in our Western division as extreme weather in California disproportionately impacted our results," said Ted Decker, chair, president and CEO.
"We also observed more broad-based pressure across the business compared to when we reported fourth quarter results a few months ago. Despite a more challenging environment, our associates maintained their relentless focus on our customers, and I would like to thank them and our many partners for their hard work and dedication. While the near-term environment is uncertain, we remain very positive on the medium-to-long term outlook for home improvement and our ability to grow share in a large and fragmented market," said Decker.
Here are the earnings highlights (via Bloomberg): 
Q1 Results:
Net sales $37.26 billion, -4.2% y/y, estimate $38.34 billion
EPS $3.82 vs. $4.09 y/y, estimate $3.80 * Customer transactions -4.8%, estimate -5.36% 
Comparable sales -4.5% vs. +2.2% y/y, estimate -1.42%
US comparable sales -4.6% vs. +1.7% y/y, estimate -2.14% 
Average ticket sales $91.92, +0.2% y/y 
Average ticket +0.2%, estimate +2.63%
Sales per square foot -4.7%
Merchandise inventories $25.37 billion, estimate $26.16 billion
Total location count 2,324, +0.3% y/y, estimate 2,323
SG&A expense $6.36 billion, -3.9% y/y, estimate $6.84 billion
2024 Forecast:
Sees comparable sales -2% to -5%, estimate -0.73%, saw approx. flat (Bloomberg Consensus) 
Sees sales -2% to -5%, saw approx. flat
Sees EPS down 7% to 13%, saw down mid-single-digits 
Sees operating margin 14% to 14.3%, estimate 15.5%
Richard McPhail, executive vice president, and chief financial officer, warned about the "continued uncertainty regarding consumer demand." 
Home Depot was the first major retailer to report its first-quarter earnings. Target and TJX Cos. will release earnings on Wednesday. Walmart is on Thursday.  On Monday, we shared the latest monthly Consumer Checkpoint report published by Bank of America which showed signs of a slowdown in consumer spending. 
In kneejerk reaction, Home Depot shares tumbled as much as 5% before recovering some losses.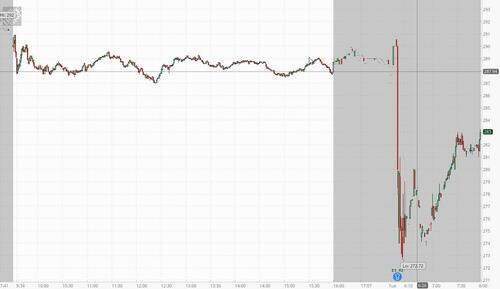 In retrospect, it was all so obvious...
Jim Cramer strikes again

Exactly one week ago he was bullish on Home Depot $HD

This morning $HD just reported their worst renevue miss in 20 years pic.twitter.com/V5qHBPhNx2

— Dividend Hero (@HeroDividend) May 16, 2023
Loading...