---
US, UK "Deeply Concerned" About Arrests Of Jimmy Lai, Others As Critics Decry "Death Of HK Press Freedoms"
Update (1200ET): Pompeo has also released a statement saying he is "deeply troubled" by this latest crackdown.
I'm deeply troubled by reports of the arrest of @JimmyLaiApple under Hong Kong's draconian National Security Law. Further proof that the CCP has eviscerated Hong Kong's freedoms and eroded the rights of its people.

— Secretary Pompeo (@SecPompeo) August 10, 2020
* * *
Update (0910ET): Reports about more arrests in Hong Kong are hitting the tape as activist Agnes Chow is reportedly arrested, according to local media reports. Additionally, the UK has issued a statement saying it's "deeply concerned" about this latest arrest of Lai, who holds British citizenship, along with his sons and others. Aside from Lai, six others were reportedly arrested (and police raided the offices of Lai's publicly traded company, Next Digital, the owner of popular newspaper Apple Daily).
"We are deeply concerned by the arrest of Jimmy Lai and six other individuals in Hong Kong," said James Slack, a spokesman for British Prime Minister Boris Johnson. "Freedom of the press is explicitly guaranteed in the Sino- British Joint Declaration and Basic Law and is supposed to be protected under Article 4 of the national security law," Slack tells reporters on conference call."

"This is further evidence that the national security law is being used as a pretext to silence opposition. The Hong Kong authorities must uphold the rights and freedoms of its people."
We now wait for Beijing to tell the British to respectfully mind their own business, while accusing them of destabilizing 'foreign interference.'
* * *
Mark your calendars, because critics of the CCP are saying that Hong Kong's press freedom officially died on Monday.
In what appears to be the most high-profile usage of Hong Kong's new national security law to crack down on Hong Kong civil society for allegedly "colluding with foreign governments" - ie trying to preserve the press freedoms promised by 'the Basic Law' - Hong Kong police on Monday arrested Jimmy Lai, a high-profile Hong Kong media mogul and a holder of joint Hong Kong-British citizenship.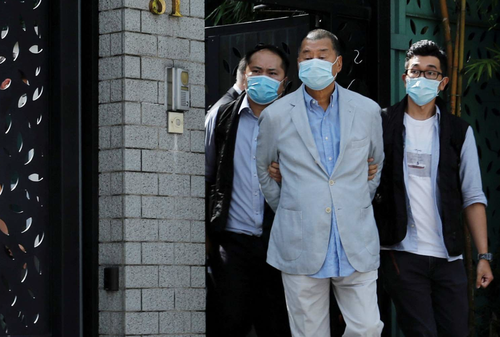 This is the second time Lai has been arrested for his political activities this year. Police arrested him in April for his support of Hong Kong protests after he met with US Vice President Mike Pence and Secretary of State Mike Pompeo.
Lai is widely regarded as a traitor by the CCP for his pro-democracy news.
But according to media reports, the charges Lai is currently facing are much more serious, although he has already been released on bail. His sons were also arrested.
Shares of Hong-Kong listed media company Next Digital, which was founded and is currently run by Lai, surged more than 340% on Monday as his supporters bought up shares in a display of defiance following his arrest. Initially, news of Lai's arrest sent shares of Next Digital, which owns Apple Daily, the most popular Chinese-language paper in the city, spiraling lower.
The company's shares initially lost 20% of their value on speculation that Lai might be forced to sell Next Digital, a perpetual thorn in the side of the CCP establishment as it seeks to "correct" the "rotten social foundation" of the Hong Kong people.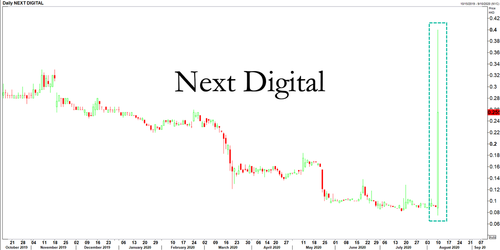 Reuters reported that the surge was described by locals as only way to show support and they didn't care if they lost all their money. Some even posted screenshots of their share purchases on Facebook.
An Apple Daily executive told Reuters the paper would be published as usual on Tuesday.
"Even if Apple Daily publish a pile of blank paper tomorrow, we would go and buy a copy of it until it's sold out," said notorious pro-democracy activist Joshua Wong on Facebook. Pro-democracy lawmaker Ted Hui, meanwhile, urged people to buy copies of the edition no matter what.