---
Draconian COVID Restrictions Spark Exodus From Hong Kong
As the omicron wave of the COVID pandemic continues to wane in the US (recently convincing the CDC to finally drop its federal masking guidance), the situation in Hong Kong couldn't be more different. As case numbers continue to soar despite the government's suddenly draconian measures to suppress spread, thousands of Hong Kongers have decided to flee, escaping both the crushing COVID restrictions, and the city-state's increasingly authoritarian tendencies now that Beijing has reasserted political control.
Hong Kong's response to the virus has gotten increasingly heavy-handed as authorities demand that it fall in line with Beijing's "COVID zero" policy, which requires mass testing and liberal use of mass quarantines to isolate areas experiencing outbreaks. For much of the pandemic, Hong Kong's decision to close itself off from international travelers appeared to be enough to keep COVID at bay.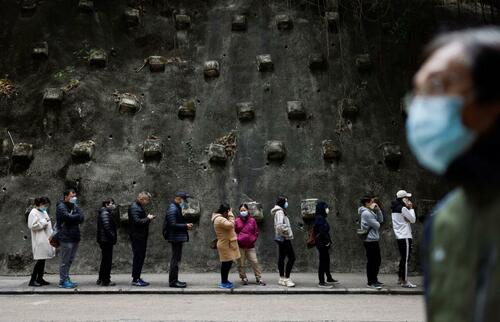 But omicron punctured its defenses, and now thousands of sick individuals are being shipped off to quarantine "camps".
These and other strict measures risk transforming Hong Kong's trickle of emigres into a flood.
WSJ caught up with one individual,  a western expat living in Hong Kong named Charles Murton. Murton first arrived in the city during his teenage years, but is now preparing to flee with his family, perhaps to Singapore, a destination that beckons for many Hong Kongers since the government there has continued to encoourage migration from Hong Kong, despite harboring increasing levels of COVID infection itself.
Murton said the city's decision to shutter schools next month as it seeks to test all 7.4M of its reisdents for COVID was the last straw.
"The virus is something that you've got to live with, but that doesn't seem to be the thought process here," the 41-year-old logistics executive told WSJ.
Making matters worse, the latest clampdown in Hong Kong contrasts sharply with decisions to deescalate restrictions by the US and Europe, making the city's stringent restrictions seem increasingly painful by comparison.
The latest data confirm the exodus. Immigration data cited by WSJ shows nearly 69K more Hong Kong residents have left the city than arrived so far since the start of 2022. Almost 80% of those departing have left since the start of February, a massive increase by all accounts. The data on population outflows from Hong Kong dates back to January 2020.
But other economic factors attest to the sudden will to flee: there have been hastily canceled doctors appointments, children taking online classes while on the airport shuttle and a rush to find tenants to take over apartment leases.
As a reminder, Hong Kong's restrictions include the following: practically all nonresidents are barred from entering the city, and returning travelers must pay out of pocket for weekslong hotel quarantines no matter their test results or vaccination status. Hong Kong has also banned gatherings of more than two people and halted all indoor dining after 1800 local time. Gyms have been shut, bars, hair salons and even campsites have been forced to close. Beginning on Thursday,  the unvaccinated can no longer shop in supermarkets and malls, essentially making a vaccine a prerequisite for continuing to survive in the city.
Despite all of this, cases in Hong Kong have continued to climb at a shocking rate: the city has recorded more than 126K confirmed cases between Dec. 31 and Saturday, about 10x the number of infections seen in 2020 and 2021 combined.
On Sunday, the city reported a record 26.026K new COVID infections and 83 deaths, a new daily record for cases.
With the National Party Congress in Beijing set for later in the year, President Xi has proclaimed that the defeat of the coronavirus is now Hong Kong's "overriding mission".
But at the end of the day, it's regular Hong Kongers, not CCP bureaucrats in Beijing, who will shoulder the burden of the crackdown.
Loading...