---
Horrific 3Y Auction Sours Post-Powell Bond Rally
One month ago, when commenting on January's 3Y auction, we said that it could "only be described as an absolute whopper" with record foreign bidder demand and "blowout" metrics including record indirects and a record stop through. Today's 3Y auction was an absolute mirror image, with the auction about as horrific as they come.
The high yield of 4.073% was not only well above last month's 3.977%, but also stopped through the When Issued 4.033% by a 4bps which was a record in our data set which goes back to 2016. More remarkably, it was the polar opposite of last month when the 3Y was also a record, only in the other, stop through direction!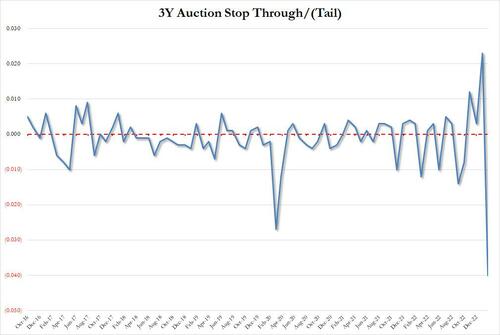 The bid to cover was also a huge swing from last month's 2.839, the highest since 2018, to just 2.333, the lowest since Dec 2020!
The internals were ugly, if not as much of a delta from January: indirects took down 59.1%, down sharply from January's record 69.5%, and the lowest since October 2022. And with Directs awarded 21.1%, well above last month's 13.2%, and the hightest since June 2022, Dealers were left holding 19.9% of the auction, the highest since November's 20.8%.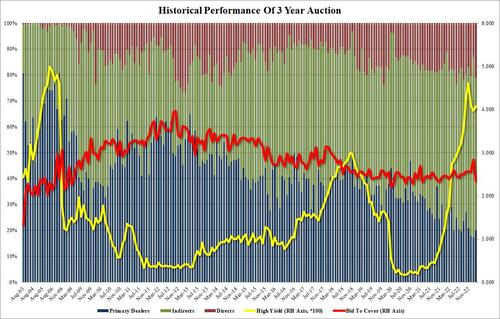 Bottom line, this was a very ugly auction, and while much of the ugliness can be explained with Powell's latest dovish comments which sent yields sliding lower and risk spiking, demand was simply not there especially when looked alongside January's blowout, record auction. Whether the market's nerves were the result of CPI jitters (the number is due one week from today), or fears that the Fed may keep hiking above 5%, it remains to be seen.
Loading...