---
House Democrats Pass $2.2 Trillion Virus Relief Bill, Crushing Hopes For Compromise Stimulus Before The Elections
Just after 8pm ET, the Democrat-controlled House approved a massive, Democrat-proposed $2.2 trillion fiscal stimulus package, i.e., the HEROES Actin a move cementing the split between the two parties and designed to cast blame on Senate republicans for killing passage of the outsized stimulus after bipartisan negotiations failed to yield the fifth covid agreement.
The vote, which passed 214-207 with no Republican support, effectively precludes any hope that a compromise fiscal stimulus can be passed before the elections even though Speaker Pelosi earlier insisted the vote wouldn't slam the door on negotiations with the White House on a bill President Donald Trump could sign into law.
The one page summary on the revised HEROS Act is presented below:
After sitting down with Treasury Secretary Steven Mnunchin Wednesday, she spoke with him several times by phone again Thursday, although talks far failed to bridge what's been a gap of roughly $600 billion dollars between the two sides. Sharp differences also remain on components of coronavirus relief, with the Trump administration rejecting the scale of aid Democrats want for state and local authorities - which would effectively represent a taxpayer-funded bailout for decades of mismanaged pensions - while Pelosi demanded the end of tax breaks she says are devoted to the wealthy.
Pelosi told reporters Thursday evening that she would review documents that Mnuchin had sent her to determine where to go next after several calls during the day, although when one strips away the theatrics, the answer is nowhere. "We are going back and forth with our paper," she said, underscoring the importance of the language used in any deal.
Pelosi said the House's vote on its own bill would help present in a more public way what Democrats are unified in "pushing for" in the negotiations. Last month, Republicans in the Senate, where they have a majority, also attempted to pass their own $650 billion "skinny" package - but that in turn was blocked by Democrats.
The bottom line is that unless Senate Republicans agree to state and local bailouts, and they won't even if Trump demands they do, this likely marks the end of any hopes for a fifth and much needed fiscal stimulus, even as American savings generously built up in the aftermath of the covid lockdowns thanks to trillions in government handouts, are rapidly dwindling.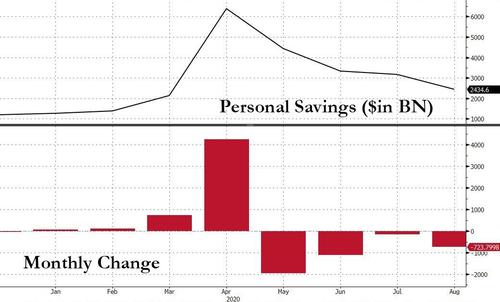 Indeed, as noted earlier, and as we warned back in June, the economic data is already sharply slowing due to the "fiscal cliff" - the fading impact of the $2 trillion stimulus enacted in March. Americans' incomes fell in August by the most in three months after the government's supplemental unemployment benefits expired.
Meanwhile, with the presidential elections 33 days away and Congress expected to adjourn beforehand for the final leg of the campaign, time for a deal in the next month is effectively gone. Meanwhile, Wall Street economists have already sharply cut their growth forecasts for the fourth quarter after they wrongly predicted - much to our amusement - that a $1.5-$2 trillion deal would pass.
"People say we should have a skinny package -- no, we don't have a skinny problem. We have a massive problem," Pelosi said on the House floor Thursday, making it clear that Democrats intend to use the pandemic as a smokescreen for every single bailout they can cobble together, including state and local.
While Democrats reduced their stimulus demands from a $3.4 trillion bill the House passed in May, the legislation just approved by the House is still more than Republicans have said they could accept. As reported previously, Senate Majority Leader Mitch McConnell said earlier that it was rife with "poison pills" that have nothing to do with pandemic relief.
Meanwhile, Senate Republicans have expanded their proposed bid from $300 billion to $1.6 trillion, and while the difference is shrinking, at this point the bulk of its represents the state bailouts that is a redline for most Congressional republicans.
That's also why House Republicans cast the bill as pure political messaging, more of a left-wing, campaign-year wish list that showed how far apart the two sides are than genuine legislating.
Top Appropriations Committee Republican Kay Granger of Texas characterized the package as a "damaging partisan bill." She said it "was crafted without the input from members on our side of the aisle and does not have the support needed to pass the Senate or be signed by the president."
Meanwhile, Mnuchin said Trump instructed his negotiators "to come up significantly" from the initial GOP proposal of a $1 trillion pandemic relief plan, which they did but not enough to match the Democrat ask.
"I can't tell how much of this is genuine effort to pass a bill and how much is position-taking prior to the election," said Josh Huder, a senior fellow at Georgetown University's governmental affairs institute. We can help you Josh: all of this is nothing more than theatrics.
And since some analysts suggest Pelosi and House Democrats have less to lose politically from a stalemate on stimulus than the White House and Republicans - especially with Trump reportedly lagging in the polls - both sides now appear resigned to no new stimulus before the election, and - should Republicans retain the Senate - perhaps after as well.
S&P Futures dropped about 13 points on the news but have since rebound, perhaps expecting that this is just a Democratic gambit to force the GOP to capitulate under added pressure from Trump.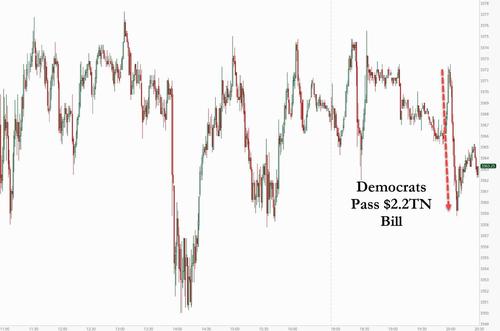 Here's the bottom line: unless we have another real crash - we are talking down more than 20% from here - nothing will change, and no bill will be passed in the immediate and not so immediate future.