---
House Passes Funding Bill, Averting Government Shutdown
After several days of terse negotiations, on Tuesday evening House Democrats readers a deal with Republicans on a stopgap funding bill to keep the government operating after restarting talks over disputed farm assistance. Shortly after, just after 8pm ET, lawmakers passed the bill in a bipartisan vote of 359-57.
With government funding set to run out on Sept. 30, leaders of both parties had been working on legislation to continue funding most programs at current levels and thus avoid a government shutdown in the middle of a pandemic, and with the Nov. 3 elections fast approaching.
House Democrats announced Monday they had filed the stopgap funding legislation to last until Dec. 11, which however angered Republicans by leaving out some farm money that Trump wanted.  The Monday version did not include the $21.1 billion the White House sought to replenish the Commodity Credit Corporation, a program to stabilize farm incomes, because Democrats considered it a blank check for political favors.
Republicans had been furious at the omission. Senate Majority Leader Mitch McConnell said Pelosi's resistance to including farm aid in the bill had been "basically a message to farm country to drop dead."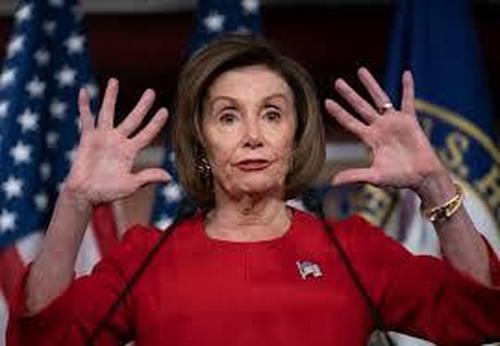 In response House Speaker Nancy Pelosi issued a subsequent statement announcing a deal with Treasury Secretary Steven Mnuchin and Republicans on the continuing resolution, or CR, which included the farm relief as well as nutritional assistance sought by Democrats. Trump had promised more farm aid last week during a political rally in Wisconsin, a key battleground state in the Nov. 3 elections.
The agreement struck between the two parties adds $8 billion in nutrition assistance programs and allows for the farm aid distributed through the CCC to continue, but with measures sought by Democrats to prohibit payments to fossil fuel refiners and importers.
"We have reached an agreement with Republicans on the CR to add nearly $8 billion in desperately needed nutrition assistance for hungry schoolchildren and families," Pelosi said in a statement, adding that "we also increase accountability in the Commodity Credit Corporation, preventing funds for farmers from being misused for a Big Oil bailout."
Separately, the funding deal prohibits financial aid to oil refiners that have been denied waivers from having to comply with biofuel mandates. The bill  prohibits the Commodity Credit Corporation or the Department of Agriculture from "providing payments or otherwise supporting fossil fuel refiners and importers." This comes after Trump administration officials had been developing a plan to help small refiners who may have suffered financial damage after the EPA denied waivers they sought to avoid complying renewable fuel standard requirements
The rest of the bill generally continues current spending levels. It would give lawmakers more time to work out spending through September 2021, including budgets for military operations, healthcare, national parks, space programs, and airport and border security.
The Senate is likely to take up the bill - which will now set up a clash over government funding in the lame-duck session after the November elections - as soon as this week.
Senate Republicans hoped to avoid a damaging potential government shutdown and instead are focusing on filling the Supreme Court vacancy left by the late Justice Ruth Bader Ginsburg, who died on Friday.