---
"The Housing Recession Is Over": Pending Home Sales Post First Increase Since February
The housing market may be paralyzed, with the gap between bids and asks wide enough for an army of Hummers to drive though, but where the rare transasction is still taking place, buyers have been aggressively chasing offers as recent existing home sales and the just released pending home sales data revealed.
In June, pending home sales registered a modest increase of 0.3% the previous month – the first increase since February – according to the National Association of Realtors, beating estimates of a -0.5% drop and following last month's -2.5% decline. The modest sequential increase raised the annual drop to -14.8%, an improvement from the -20.7% drop in May.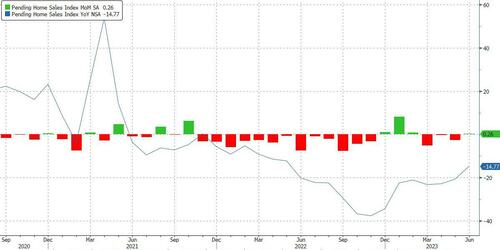 Regionally, the South and West posted monthly losses, while sales in the Northeast and Midwest grew. All four U.S. regions saw year-over-year declines in transactions.
"The recovery has not taken place, but the housing recession is over," said the always cheerful NAR Chief Economist Lawrence Yun, "The presence of multiple offers implies that housing demand is not being satisfied due to lack of supply. Homebuilders are ramping up production and hiring workers."
Still, when one looks at both the pending and existing home sales index, it is difficult to share Larry's enthusiasm. Also notable is the record disconnect between existing/pending transactions and new home sales which have been storming higher in recent months.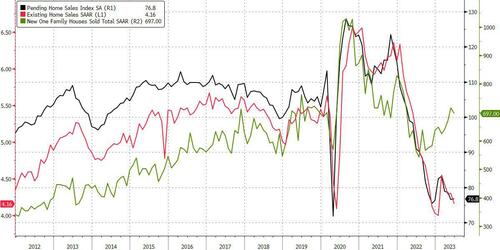 The Pending Home Sales Index – a forward-looking indicator of home sales based on contract signings – rose 0.3% to 76.8 in May. Year over year, pending transactions fell by 15.6%. An index of 100 is equal to the level of contract activity in 2001.
NAR forecasts that the 30-year fixed mortgage rate will hit 6.4% this year and then decline to 6.0% in 2024, while the unemployment rate will rise slightly to 3.7% in 2023 before increasing to 4.1% in 2024.
"With consumer price inflation calming close to the Federal Reserve's desired conditions, mortgage rates look to have topped out," Yun added. "Given the ongoing job additions, any meaningful decline in mortgage rates could lead to a rush of buyers later in the year and into the next."
NAR expects existing-home sales to decrease 12.9% from 2022 to 2023, settling at 4.38 million, before climbing 15.5%, to 5.06 million in 2024. Compared to last year, national median existing-home prices will remain steady – declining 0.4%, to $384,900, before rebounding by 2.6% next year, to $395,000. The West – the country's most expensive region – will see reduced prices while the more affordable Midwest region is likely to see a small, positive increase. Housing starts will drop 5.3% from 2022 to 2023, to 1.47 million, before increasing to 1.55 million, or 5.4%, in 2024.
"It is critical to expand supply as much as possible to widen access to homebuying for more Americans," Yun said. "Home prices will be influenced by how much inventory is brought to market. Increased homebuilding will tame price growth, while limited construction will lead to home price appreciation outpacing income growth."
Newly constructed home sales will increase from last year by 12.3% in 2023, to 720,000 – due to additional inventory in this segment of the market – and increase by another 13.9% in 2024, to 820,000. The national median new home price will decrease by 1.9% this year, to $449,100, and then improve by 4.2% next year, to $468,000.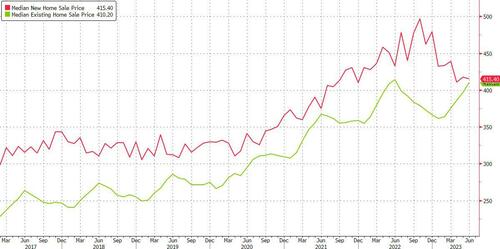 Loading...