---
How Much Market Stress Is Enough
By Nick Colas of DataTrek Research
Topic #1: How bad do capital markets have to get before the Federal Reserve and Chair Powell change their minds about raising interest rates and/or reducing the size of the balance sheet? We have one recent historical precedent to consider: December 2018. Recall that during Q4 2018 Chair Powell was quite vocally saying that Fed Funds were still "a long way from neutral"; they were 2.0 percent at the time, and the Fed had been bumping them higher all year.
In December 2018, capital markets sent a strong signal to the Fed: policymakers there were wrong about the neutral rate of interest. Chair Powell got the message and changed his stance in early January.
Here is how various markets performed that month, and how that compares to January 2022:
S&P 500: -14.8 percent from the start of December 2018 to the lows (December 24th)

Now: -8.3 pct from 2022 highs (January 3rd, 2022)

Dow Jones Industrials: -14.7 percent from the start of December 2018 to the lows (also on the 24th)

Now: -6.9 pct from the 2022 highs (January 4th, 2022)

CBOE VIX Index: peaked at 36.1 on December 24th, 2018
Investment grade US corporate bond spreads over Treasuries: 159 basis points, on December 31st, 2018

Now: 100 bp over Treasuries

High yield US corporate bond spreads: 533 bp over Treasuries on December 31st, 2018

Now: 310 bp over Treasuries
Takeaway: by any measure as the Fed looks to assess capital markets stress (e.g., stock prices, VIX, corporate bond spreads), we are nowhere near the same point as in 2018 where the central bank reconsidered its monetary policy stance. The gap in terms of near-term stock price performance is 7-8 percentage points and the VIX needs to go to 36 (2 standard deviations from the mean) rather than the current 29 level (just over 1 standard deviation).
Put another way: until we get a further selloff in risk assets, the Fed will simply not be convinced that raising interest rates and reducing the size of its balance sheet in 2022 will more likely cause a recession rather than a soft landing. Either outcome would dampen inflation, of course, which is why 10-year Treasury yields have stopped climbing. But only a soft landing would allow public companies to continue to post strong earnings. The risk of a hard landing is why US large caps are under so much stress.
Topic #2: Building on the prior point, let's look at US corporate bond spreads over the last 3 years. The chart below shows investment grade (IG, green line, left axis) and high yield (HY, red line, right axis) spreads from 2019 to the present. As noted, IG spreads are currently right in line with their pre-pandemic lows (99 – 100 bps) and HY spreads are actually lower than early 2020 (310 bp now, 338 bp then).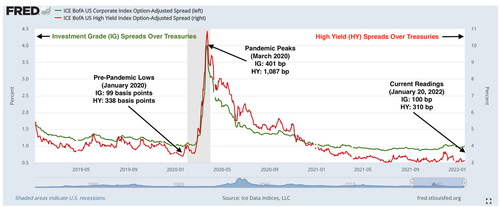 We had a long conversation on Friday with a senior NYC investment banker who specializes in leveraged finance about why HY spreads remain so tight. His answer was that this market is taking a "wait and see" approach to recent equity market volatility. HY investors, in his view, remain confident in US economic growth and feel the companies in this space will continue to generate free cash flow. Also, the duration of paper in the HY bond/leveraged loan market is substantially shorter (3-4 years) than investment grade (10 years) so it is not as susceptible to moves at the long end of the yield curve.
Takeaway: as much as US equities are ringing alarm bells, the corporate bond market is not. We have a deeper dive into BBB paper in "Data", below.
Topic #3: A brief update on Fed Funds Futures' current odds for how rate policy develops in 2022:
There is almost no chance (just 5 percent odds) that the FOMC will increase interest rates at this week's meeting (January 26). This makes sense given that the Fed is still purchasing bonds, albeit at a reduced rate, and will not be done with tapering until March.
The March 16th meeting will almost certainly see a rate hike of 25 basis points (89 pct odds), but not 50 basis points (5 percent odds).
The May 2nd meeting will most likely see another rate hike of 25 bps (55 pct odds), but there's also a reasonable chance (40 pct odds) that the FOMC will stand pat after raising rates in March.
The odds of a 3rd sequential 25 bp rate hike at the June 15th meeting are low (32 percent). This implies that Fed Funds Futures believe the FOMC will move twice between March and midyear but then stand back in June to see the near-term effects of its change in policy.
By December, Futures put the highest odds on 4 rate hikes in 2022 (32 pct), followed by 5 hikes this year (23 pct) or just 3 hikes (23 percent). The odds of 6 hikes is small (9 percent) but higher than either a week ago (8 percent) or a month ago (2 percent).
Takeaway: Fed Funds Futures are very clearly expecting the FOMC and Chair Powell to strike a much more hawkish stance than its December guidance at this week's meeting and Chair press conference. US stocks have been weak as a result and even 10-year Treasury yields have pulled back since Tuesday, mirroring the equity market's concern about a monetary policy overtightening mistake.