---
HSBC Crashes To 11 Year Low As Profit Plunges And Loss Reserves Soar
HSBC Holdings shares tumbled 6.4% Monday morning, hitting 11 year lows not seen since the 2008-09 financial crisis, following the bank's latest earnings report that warned the virus-induced global downturn might trigger $13 billion in loan losses.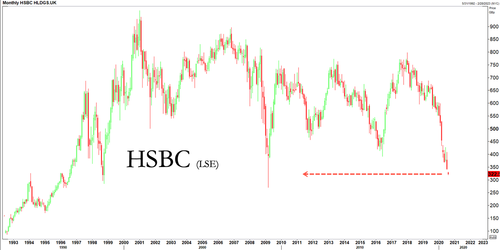 Investors were spooked after HSBC increased the range of loan losses to $8 billion-$13 billion from $7 billion-$11 illion, reflecting a challenging second quarter and even more challenging, well, future quarters.  Bloomberg Intelligence said the new credit loss guidance for 2020 was $2 billion more at the top end, while Jefferies said the bank's management "unhelpfully" increased the range of credit loss guidance.
"What we have seen this quarter is quite a sharp shift in the economic outlook for the global economy, the famous 'V' has got a lot sharper, and as a result, we have materially increased our provisions," CFO Ewen Stevenson told Reuters.
For the current quarter, the bank reported a pre-tax profit of $4.32 billion in 1H20, down from $12.41 billion a year ago, which missed the average of analysts' forecasts of $5.67 billion.  Morgan Stanley's Magdalena Stoklosa wrote in a note that pretax profit missed consensus by 12%, driven mostly by provision. 
The bank's revenue fell 9% to $26.7 billion over the first half, slightly above analysts' expectations of $26.41 billion.
Stevenson said HSBC's business in the U.K. was hit hard, took a $1.5 billion charge against expected credit losses.
CEO Noel Quinn wrote in the earnings update that HSBC was severely "impacted by the Covid-19 pandemic, falling interest rates, increased geopolitical risk, and heightened levels of market volatility."
"The first six months of 2020 have been some of the most challenging in living memory. Due to the Covid-19 pandemic, much of the global economy slowed significantly, and some sectors drew to a near-total halt," Quinn said.
He cited tensions between China and the U.S. that challenged banking operations:
"Current tensions between China and the U.S. inevitably create challenging situations for an organization with HSBC's footprint. We will face any political challenges that arise with a focus on the long-term needs of our customers and the best interests of our investors."
Quinn expects to "accelerate implementation" of a restructuring plan announced earlier this year will allow it to pivot away from Europe and the U.S. to focus on the Chinese market.
RBC analyst Benjamin Toms said the results reflect a "bleak outlook" for the bank...