---
Bud Light's Disastrous Pro-Trans Marketing Sparks Major Job Losses As Bottle-Suppliers Start Shutting Down
Bud Light's self-destruction after its botched TikTok promotion with clownish, male-to-female trans influencer Dylan Mulvaney, resulting in what Deutsche Bank analyst Mitch Collett recently said is a permanent loss of nearly 25% of its business, has forced one of its glass bottling producers to shut down plants. 
The Ardagh Group, a glass bottle producer who contracts with Anheuser-Busch company, is preparing to close plants in North Carolina and Louisiana, according to new documents obtained by local news WRAL. The closures will result in the firing of 645 employees -- all because Bud Light's Harvard-educated marketing director thought it would be a great idea to celebrate Mulvaney's "365 Days of Girlhood."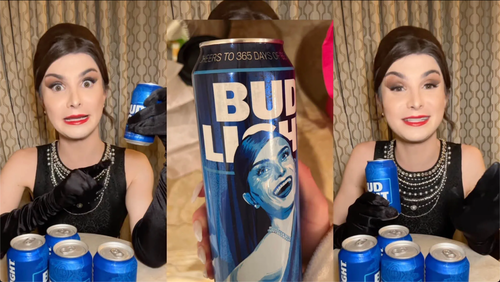 While Ardagh Group did not reveal why the plants were shutting down in the next few weeks, WRAL said workers at both plants noticed sliding production after Mulvaney's video in early April. One employee said:
"Since April, we've had a couple of machines down.

"It was, of course, being pointed towards the Bud Light situation."
An internal Ardagh Group memo, dated May 18, from a manager at the plant in Wilson, North Carolina, said two of the factory's production lines would be going offline because of "slow sales with Anheuser Inbev." 
Last Wednesday, employees at the Wilson plant said the manager told them the plant's upcoming closure is directly related to the nationwide Bud Light boycott. 
Data gathered by Deutsche Bank shows that a staggering 24% of Bud Light consumers no longer purchase the brand, while another 18% are buying less. This implies a permanent reduction in the brewer's business and underscores why bottle demand has slid.
Another analyst, Evercore's Robert Ottenstein, said Bud Light will "permanently lose" between 15 and 20% of its volume, after which "declines will resume at about the average rate of the prior 10 years."
In May, HSBC downgraded the stock to "hold" over its "Bud Light crisis," adding that there may be "deeper problems" at the company.
And it's not just bottlers. Bud Light distributors are under severe distress because of crashing demand:
Bud Light tried a new ad mocking its customer base to reignite sales, but that failed miserably as Twitterverse roasted the brewer. 
Crack a cold one: we've got an epic summer ahead. Sock tans included. pic.twitter.com/CGRCvkHC60

— Bud Light (@budlight) June 22, 2023
All told, hundreds of jobs, if not more, have been impacted by Bud Light's decision to allow a 'woke' Harvard-educated millennial to run the marketing department. She has also been fired. 
Loading...