---
"I Felt Like I Was In Hell" - NYT Exposes Rampant Sexism, Harassment & "Toxic Masculinity" At Victoria's Secret
The reaction that L Brands shareholders displayed last week following reports that Les Wexner was planning to sell Victoria's Secret and step down from leading the parent company is all readers really need to know when it comes to Wexner's legacy.
As the founder and CEO of L Brands, Wexner took Victoria's Secret, a brand he bought in 1980 for a million dollars and transformed it into a multibillion dollar juggernaut in women's fashion. But years of tepid sales, combined with the cancellation of the VS fashion show and the canning of longtime marketing chief Ed Razek last August were harbingers of more change to come. And after Wexner's name was once again dragged through the mud thanks to his status as a key enabler of former protege Jeffrey Epstein (with whispers that his conduct as Epstein's biggest financial benefactor might even have verged on criminal), it seemed obvious that the man who once ruled the company from a position of untouchable strength had finally lost the confidence of the board, and - more importantly - of its investors.
When news of the pending sale of VS and Wexner's plan for retirement hit the tape last week, some wondered about the timing, seeing as the company's earnings report isn't due for another three-and-a-half weeks.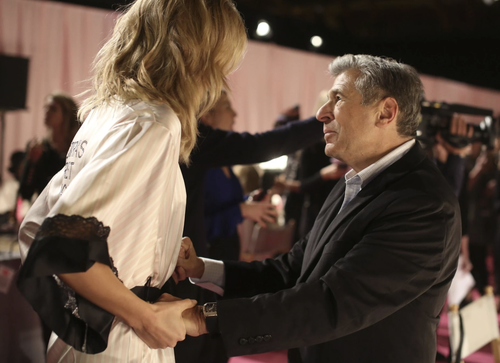 Well, a report published Saturday by the New York Times might offer a few clues. After four Times reporters interviewed more than two dozen former models and employees, the paper put together a #MeToo-style expose revealing allegations of abusive behavior by top executives - behavior that Wexner was aware of, and which he openly condoned.
But rampant sexism and a culture that protected bullies and sex pests weren't Wexner's only shortcomings, according to NYT. He also rebuffed and punished executives who tried to steer Victoria's Secret in a more progressive and contemporary direction - for example, executives who suggested selling underwear that could actually fit American women.
Six current and former executives said in interviews that when they tried to steer the company away from what one called its "porny" image, they were rebuffed. Three said they had been driven out of the company.

Criticism of Victoria's Secret's anachronistic marketing went viral in 2018 when Mr. Razek expressed no interest in casting plus-size and "transsexual" models in the fashion show.
When it came to depredations targeting models, Razek showed no qualms about flexing his power and leverage to try and push models to date him.
He also clearly allowed Epstein to portray himself as an executive at the company as a ruse to meet with models.
"I had spent all of my savings getting Victoria's Secret lingerie to prepare for what I thought would be my audition," a woman identified as Jane Doe said in a statement read aloud last summer in a federal court hearing in the Epstein case. "But instead it seemed like a casting call for prostitution. I felt like I was in hell."
Razek left the company in August, just before the company cancelled the Victoria's Secret fashion show. But the blame for his behavior ultimately falls on Wexner, an executive who clearly had no qualms about enabling abusers, especially when their victims were minors and/or women.
"With the exception of Les, I've been with L Brands longer than anyone," Mr. Razek wrote to employees in August when he announced he was leaving the company he had joined in 1983.

Mr. Razek was instrumental in selecting the brand's supermodels - known as "Angels" and bestowed with enormous, feathery wings - and in creating the company's macho TV ads.

But his biggest legacy was the annual fashion show, which became a global cultural phenomenon.

"That's really where he sunk his teeth into the business," said Cynthia Fedus-Fields, the former chief executive of the Victoria's Secret division responsible for its catalog. By 2000, she said, Mr. Razek had grown so powerful that "he spoke for Les."
Wexner was also portrayed as behind the times, particularly where his views on the 'body positive' movement were concerned
In March, at a meeting at Victoria's Secret headquarters in Columbus, Ohio, an employee asked Mr. Wexner what he thought about the retail industry's embrace of different body types. He was dismissive.

"Nobody goes to a plastic surgeon and says, 'Make me fat'" Mr. Wexner replied, according to two attendees.
Razek would sometimes directly remind models that he could make or break their careers.
Mr. Razek often reminded models that their careers were in his hands, according to models and current and former executives who heard his remarks.

Alyssa Miller, who had been an occasional Victoria's Secret model, described Mr. Razek as someone who exuded "toxic masculinity." She summed up his attitude as: "I am the holder of the power. I can make you or break you."
He would sometimes pester models for their phone numbers while they were standing around in VS lingerie. He also showed a preference for young, typically barely legal models.
At castings, Mr. Razek sometimes asked models in their bras and underwear for their phone numbers, according to three people who witnessed his advances. He urged others to sit on his lap. Two models said he had asked them to have private dinners with him.

One was Ms. Muise. In 2007, after two years of wearing the coveted angel wings in the Victoria's Secret runway show, the 19-year-old was invited to dinner with Mr. Razek. She was excited to cultivate a professional relationship with one of the fashion industry's most powerful men, she said.

Mr. Razek picked her up in a chauffeured car. On the way to the restaurant, he tried to kiss her, she said. Ms. Muise rebuffed him; Mr. Razek persisted.

For months, he sent her intimate emails, which The Times reviewed. At one point he suggested they move in together in his house in Turks and Caicos. Another time, he urged Ms. Muise to help him find a home in the Dominican Republic for them to share.

"I need someplace sexy to take you!" he wrote.

Ms. Muise maintained a polite tone in her emails, trying to protect her career. When Mr. Razek asked her to come to his New York home for dinner, Ms. Muise said the prospect of dining alone with Mr. Razek made her uneasy; she skipped the dinner.

She soon learned that for the first time in four years, Victoria's Secret had not picked her for its 2008 fashion show.
One incident reported by the NYT is particularly cringe-worthy: Razek allegedly made a lewd comment about supermodel Bella Hadid's "titties", and whether they would meet TV standards, right in front of the influential model and her team.
In 2018, at a fitting ahead of the fashion show, the supermodel Bella Hadid was being measured for underwear that would meet broadcast standards. Mr. Razek sat on a couch, watching.

"Forget the panties," he declared, according to three people who were there and a fourth who was told about it. The bigger question, he said, was whether the TV network would let Ms. Hadid walk "down the runway with those perfect titties." (One witness remembered Mr. Razek using the word "breasts," not "titties.")

At the same fitting, Mr. Razek placed his hand on another model's underwear-clad crotch, three people said.
And with that, the same newspaper that helped launch the #MeToo movement has claimed another scalp in its crusade to rework American culture in accordance with its progressive, 'body positive' agenda. The age of Wexner and Razek at L Brands has ended. What's next? Only time will tell.