---
"I Would Literally Do Any Other Job Right Now" - Workers Are Leaving The Restaurant Industry In Droves
Authored by Heather Lalley, of Restaurant Business,
Gina Restivo has held virtually every restaurant job during her 30 years in the industry. Dishwasher, cook, host, bartender, server. But, after being exposed to COVID-19 while working as the general manager of a high-volume restaurant in Ocean City, Md., Restivo put in her resignation and is currently looking for jobs in other industries.
"I'm considering really anything," Restivo said. "I would literally do any job right now that is not working in a restaurant."
After self-quarantining in her back bedroom, away from her boyfriend, following her exposure at work, Restivo tested negative, she said. But 13 cases have so far been tied back to her former restaurant, she said. "People who are not in the industry don't realize the instances you could have contracted this in a single day," she said. "Something as small as the sink handle where everyone washes their hands, or touching people's dirty silverware or dirty dishes in the bus tub. You're also dealing with people who are racing around."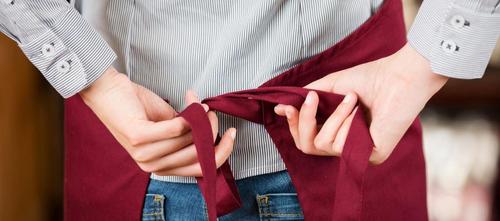 A shrinking talent pool?
As the pandemic is still raging in many states, the full picture of its impacts on restaurant employment is unclear.
Around the country, restaurants are closing every day, leaving workers unemployed and potentially forced to find other lines of work.
The unemployment rate in the leisure and hospitality industries, including restaurants, soared from 5.7% in February to 39.3% in April, and in June was still at an unprecedented 28.9%. By comparison, the overall unemployment rate is 11.1%, and no other industry comes close to restaurants' level.
The restaurant industry employed nearly 9.2 million people in June, almost 3 million more than in April but still 25% below where it was in February. Anecdotally, though, restaurant workers—even those who've spent decades in the industry—say they're looking to get out. The line of work that had been stable, geographically flexible, reliable and largely safe for generations is no more, they say.
Pre-pandemic, some of the biggest stressors for restaurant operators had been recruiting, hiring and retaining employees. It's a headache that could potentially intensify as industry conditions normalize and operators find that their employee pool has shrunk.
A recent post on an industry-focused Facebook page asking for a "show of hands" on whether people are thinking of leaving bar-restaurant work drew more than 100 responses, most from people saying they are seeking other jobs.
'It's in my blood'
Michelle A., who asked that her last name not be published, is currently furloughed from her job as a server at a large casual-dining chain restaurant on Long Island, N.Y. She said it "breaks my heart" to think about leaving the industry.
"I'm so conflicted," she said. "It's either in your blood, you have it, or you don't. It's in my blood. I love what I do. I'm so sad that I'm watching an industry that I've been in for 25 years not only crumble into chaos but be decimated … I sat down with a glass of wine and cried. This industry has seen me through so much and done so much for me."
Michelle always counted on a restaurant job, no matter where she moved in the country. Now, however, she worries about the lack of stability with frequent closures as well as the safety risks amid the pandemic.
"I'm not sure I'll have a job to go back to," she said. "I'm 39 years old and I need to make a living. I need health insurance."
Plus, she said, "My mom is very high-risk. If I go back to work, I'm never going to be able to see my parents again because it's never going to be safe."
'A heartbreaking decision'
Matt DeAngelo started cooking at 15 while working his first job at a bowling alley snack bar. He eventually moved into fine dining and was the chef at a steakhouse in Woodstock, Ga., when coronavirus hit.
Today, he's working at an auto repair shop as a mechanic. The lack of communication from his restaurant's owner, coupled with mounting concerns over pay and safety, led to his decision to leave the industry, he said.
"It was a heartbreaking decision," DeAngelo said. "It was not easy. It's still not easy. Some weeks I make like $6 an hour. It's hard to go from the top of my field … It broke my heart. It's like breaking up with a spouse when you've been in a really toxic relationship. That's how it feels."