---
IBM Plunges After Reporting Lowest Q4 Revenue This Century, Slowdown In Cloud And Another Grotesque EPS Fudge
There was some hope last year that IBM was finally turning things around: after all, after 5 consecutive quarters of declining revenues, the company had just managed to grow its top-line for the first time since Q2 2018 - when revenue grew by a paltry 0.1% - and only for the 4th time in the past 8 years. Alas it was not meant to be, and moments ago IBM revealed that revenue declined again in Q4, dropping for the third consecutive quarter, sliding a whopping 6.5%, the biggest decline since 2015 - and while Red Hat revenue rose by 19%, boosting cloud revenue by 10% (including $738MM in internal revenue), total external cloud and cognitive revenues of $6.8 billion once again missed expectations of $7.3BN, and more ominously, were a decline of 4.5% from last year.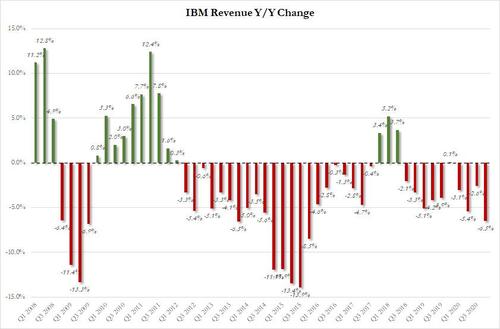 Then again "boosted" may be using the term loosely: at $20.4BN in total revenue, and once again missing consensus expectations of a $20.6BN print, IBM's Q4 2020 was its worst fourth quarter for sales this century.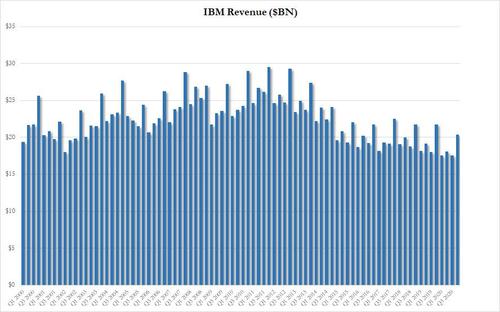 Some more Q4 revenue details, which missed across all key categories, including cloud and cognitive:
Cloud and cognitive software revenue $6.84 billion, estimate $7.26 billion
Global business services revenue $4.17 billion, estimate $4.17 billion
Global technology services revenue $6.57 billion, estimate $6.79 billion
Systems revenue $2.50 billion, estimate $2.48 billion
Adjusted gross margin 52.5%, estimate 51.2%
Total cloud revenue of $7.5 billion, up 10%
Red Hat revenue up 19%, normalized for historical comparability
And visually: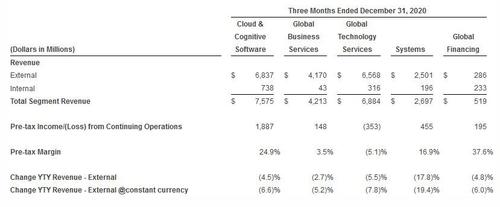 And while IBM's Q4 adjusted, non-GAAP EPS of $2.07 beat expectations of $1.79, if down a whopping 56% Y/Y, as usual this was the product of lots of "artificial intelligence" and aggressive accounting magic because the unadjusted EPS was $1.41, or 32% below the adjusted number. Oh, and the only reason why EPS was this high: IBM reverted to its grotesque "accounting trick" of slashing its effective tax rate, which in Q4 tumbled to just 1.9% down from 8.1% a year ago.
But wait there's more, because the GAAP to non-GAAP bridge was, as usual, ridiculous and a continuation of an "one-time, non-recurring" addback trend that started so many years ago we can't even remember when, but one thing is certain: none of IBM's multiple-time, recurring charges are either one-time, or non-recurring.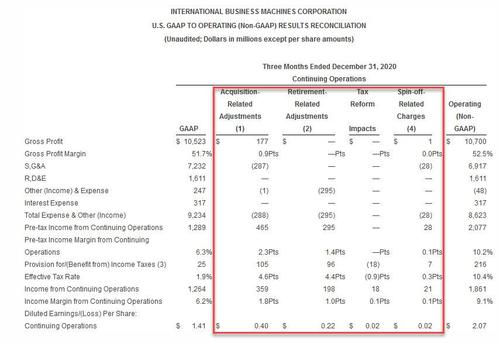 We have said it before, but we'll say it again: here is IBM's "one-time, non-recurring" items In Q3...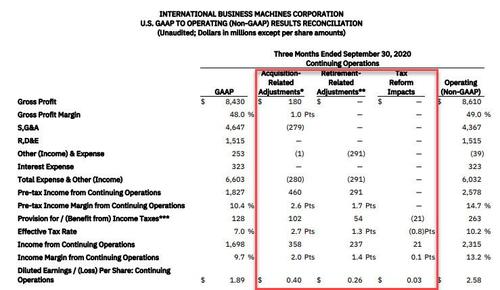 ... and in Q2 ...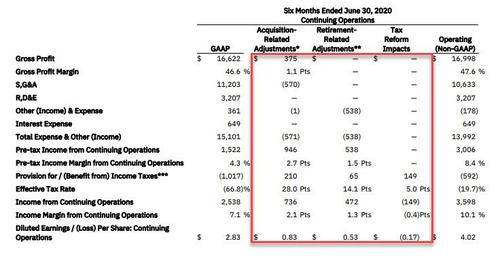 .... and in Q1 ...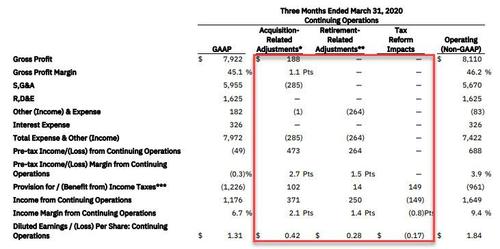 ... and Q4 2019...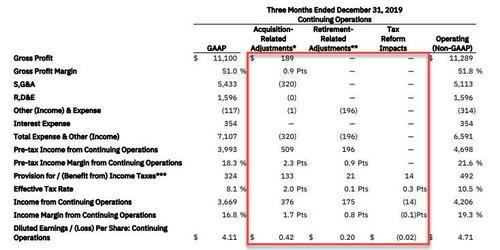 And here is the actual "beat" in context: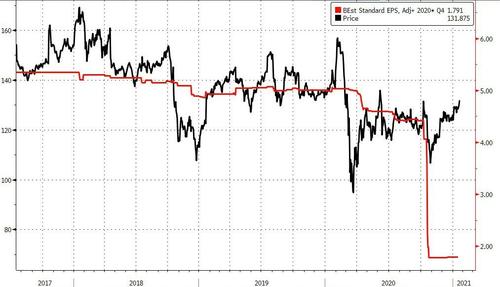 "We made progress in 2020 growing our hybrid cloud platform as the foundation for our clients' digital transformations while dealing with the broader uncertainty of the macro environment," said Arvind Krishna, IBM chairman and chief executive officer. "The actions we are taking to focus on hybrid cloud and AI will take hold, giving us confidence we can achieve revenue growth in 2021."
Maybe... and yet just like the past three quarters, IBM did not have enough "visibility" into the future to give any guidance for 2021.
There was some good news: in Q4, when IBM's free cash flow was $6.1 billion, the company did not return all of that to shareholders; instead it handed out just $1.5 billion in dividends.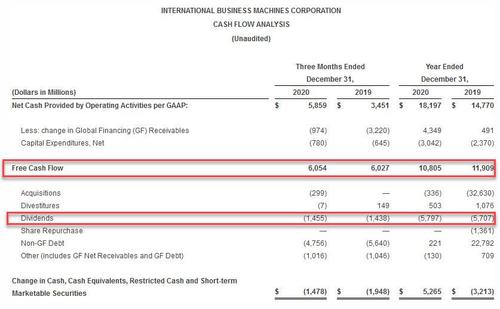 So where did the remaining cash go? "In 2020 we increased investment in our business across R&D and CAPEX, and since October, announced the acquisition of seven companies focused on hybrid cloud and AI," said James Kavanaugh, IBM senior vice president and chief financial officer. "With solid cash generation, steadily expanding gross profit margins, disciplined financial management and ample liquidity, we are well positioned for success as the leading hybrid cloud platform company."
And speaking of cash flow, IBM ended the second quarter with $14.3 billion of cash on hand which includes marketable securities, up $1.3 billion from Q2. Debt, including Global Financing debt of $20.9 billion, totaled $65.4, up from $64.7 billion.
And some more good news: it appears that IBM is finally paying down its debt, which, including Global Financing debt of $21.2 billion, totaled $61.5 billion, down $3.9 billion since the end of the third quarter, and down $11.5 billion since closing the Red Hat acquisition.
Bottom line: while IBM's core business remains a melting ice cube, the bigger concern was the slowdown in Cloud growth, which led to another dismal quarter for revenue and (unadjusted EPS). Worse, now that IBM is in cash paydown mode, it means little to no growth opportunities, and after algos read through the boilerplate, was enough to send IBM stock tumbled over 3%, erasing all gains for 2021.